This month: 'A Vogue for Vogue'
Downbeat magazine called them "the discs that sparkle with color." Gimbel's trumpeted their "new and wonderful" arrival with a full-page ad in The New York Herald Tribune. Sears, Roebuck touted them as "amazing—with some of the most sensational improvements ever made in the history of phonograph records!"
The subject of all the talk? Vogue picture records, those illustrated musical curiosities that have retained a unique appeal for over 75 years. Picture discs preceded Vogue, with Noel Coward, Paul Whiteman, and the cast of Music in the Air all depicted on records of the 1920s and '30s. They've also continued into the present, with vinyl visuals devoted to Elvis, the Beatles, and even Snow White. Vogue, however, brought picture records to the forefront.
Although the company's heyday was brief, (from early 1946 through mid-1947), the Vogue catalog serves as a colorful time capsule of the post-World War II era. While Billboard dismissed Vogue illustrations as "strictly of the coal company calendar type," the scenes depicted, (often romantic, patriotic, or humorous), retain a freshness and optimism totally in keeping with the spirit of mid-1940s America.
The visionary behind Vogue was 29-year-old Tom Saffady, president of Detroit's Sav-Way Industries. Saffady's dream: an "unbreakable" picture record, replacing easily-shattered shellac discs. Each 10-inch Vogue 78 had an interior aluminum core bonded to Sav-Way's transparent Vinylite plastic. In addition to increasing durability, the aluminum core also made the records warp-proof, while the plastic reduced surface and needle noise.
All production, except label printing, was centered at Vogue's Detroit plant. A Saffady-invented automatic record pressing carousel dramatically sped up record production, with discs stamped out some 80 times faster than before. There was also a complete in-house recording studio, plus a nearby Saffady-owned nightclub, where Vogue acts could perform when not busy cutting records for the label.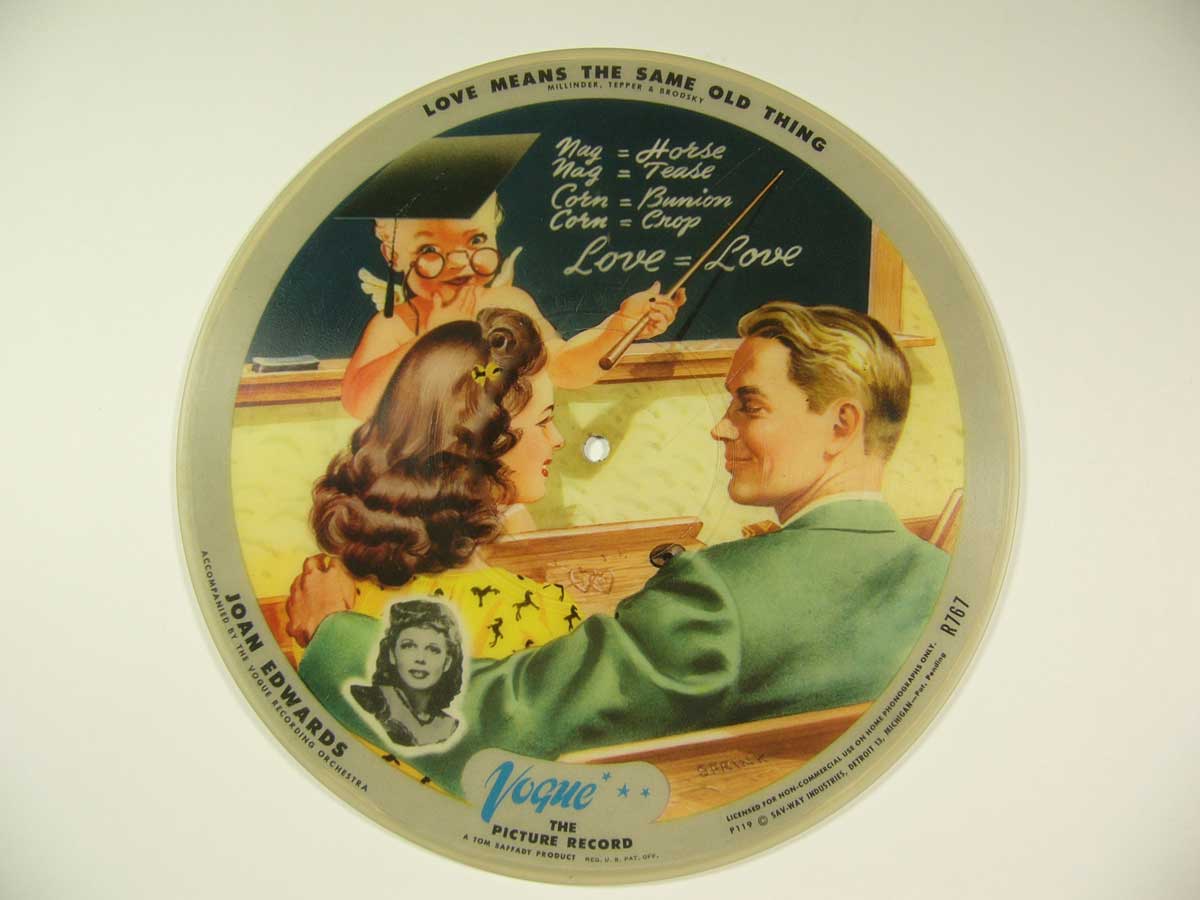 Ouch!
Ouch! #R731, "Between the Devil and the Deep Blue Sea," Marion Mann. $100-$125. (Image courtesy of the author and photo associate Hank Kuhlmann)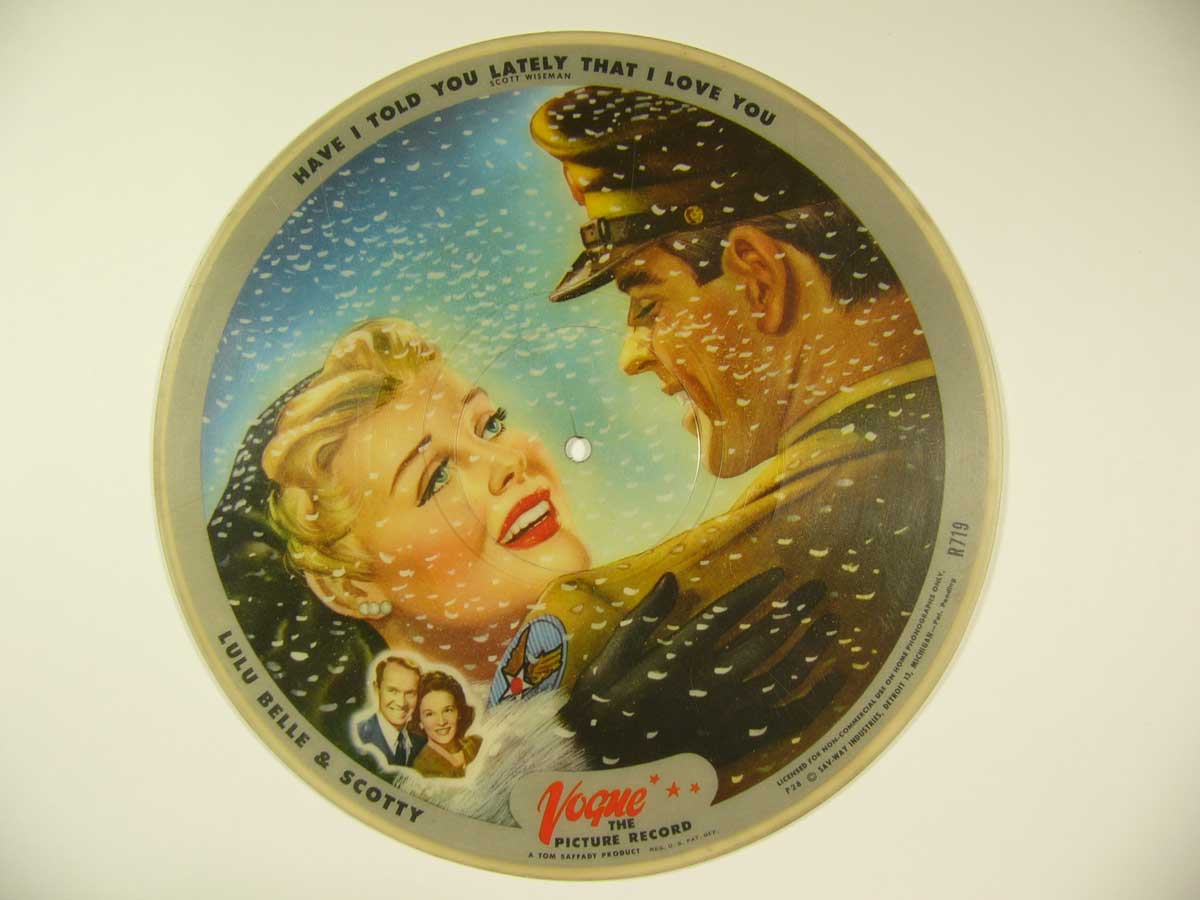 Warming up Winter
Warming up winter: #R 719, "Have I Told You Lately That I Love You?" by Lulu Belle & Scotty. $75-$100. (Image courtesy of the author and photo associate Hank Kuhlmann)
The Vogue roster included such musical luminaries of the time as Clyde McCoy, the Charlie Shavers Quintet, Patsy Montana, and Phil Spitalny's All-Girl Orchestra, but Saffady was unable to sign such top-tier performers as Frank Sinatra and Bing Crosby. Since Vogues were priced at just over a dollar, (about twice the going rate for a traditional 78), buyers wanted more than just an illustrated, unbreakable record: they wanted a hit, which Vogue could not provide. Hampered by declining sales and high overhead, Saffady filed for bankruptcy in August 1947.
His picture discs, however, live on. In recent years, the records have become popular with collectors worldwide. Few are lured by the actual recordings themselves ("Does anyone," said one collector, "actually play a Vogue record?") The artwork is what draws us in, combining elements of Hollywood glamour, pinup art, old-fashioned unabashed sentiment, and just a touch of all-American 1940s whimsy. That unique visual style came courtesy of artists Ruth Corbett, Walter Sprink, Richard Harker, Will Wirts, M. Kanouse. and R. Forbes. Thanks to the impenetrability of the Vinylite coating, many of their Vogue illustrations retain colors as vibrant as the day they were first pressed.
Approximately 75 recordings, (not all consecutive numbers), were issued in the Vogue "R700" series; all but a handful show up with regularity on the secondary market. Collectors drawn to the themes and the colors of a Vogue record also get "two for the price of one," since each side features a different illustration. Whether framed, displayed on plate stands, or hung on a wall, the flip side of a Vogue can easily be viewed whenever the mood strikes. (A limited series of black-rimmed Vogue vinyl facsimiles, released in later years by Bear Family Records, should not be confused with the originals.)
In 1946, as Vogue picture records took their first bow, Gimbel's proclaimed them "just right for collectors, jitterbugs, old tune hummers, and all the other disc devotees of America." Today, long after the Vogue turntables stilled, the "Recordings With Color"—Tom Saffady's personal dream—remain as colorful and dream-inspiring as ever.
Donald-Brian Johnson is the co-author of numerous Schiffer books on design and collectibles, including "Postwar Pop," a collection of his columns. Please address inquiries to: donaldbrian@msn.com