Trendy autograph collecting needs careful research
While many once- popular collectibles are languishing, nothing seems to stop autograph collectors from spending big bucks. The question is, are their purchases authentic? What about their future value? A good example to consider are old-time movie and stage stars? Who in this generation ever heard of Clara Bow or Eddie Cantor? Consider Joan Crawford autographed photos, once-hot collectibles. Were they even autographed by the stars?
Consider current "hot" celebrities and their autographs. Currently, you could pay $1,200 for a Madonna autograph. Bob Dylan's autograph could cost $1,275. Fast forward a few decades and who will remember them? On the other hand, a Neil Armstrong (first man on the moon) now fetches $76,500. He will be remembered, and prices will go up.
Historically, the first autograph book or "book of friends" was created in 1466. Some inscribers made small sketches next to signatures. Seventeenth-century students at universities like Oxford and Paris collected signatures of classmates, just like today's students. Serious autograph collecting began in America around 1815.
Collectors often specialize in categories. Among them are: presidents, military soldiers, athletes, movie and stage stars, artists, social and religious leaders, astronauts, and authors. Many of them had others sign their names. During the Civil War, Jefferson Davis' wife signed his name to his letters and documents.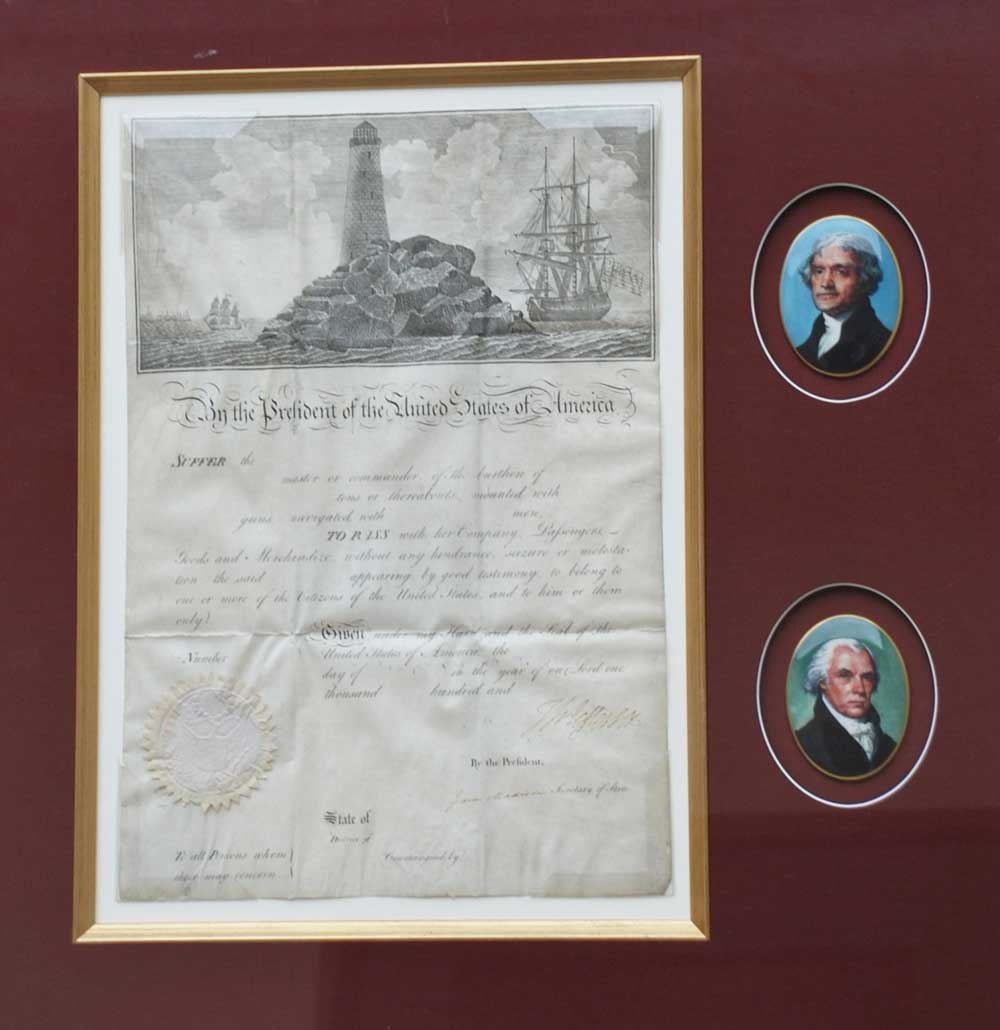 Autographed
Autographed ship's papers. (Image courtesy of One of a Kind, Coral Gables, FL)
Since the 1950s, almost all presidents have had an "autopen" or robotic machine signing. Astronaut Alan Shepard used an autopen machine to sign his correspondence.
Over the last several decades, pop culture autographs were and are popular. Many dealers with photos of them would stake them out and get the photos signed, afterwards selling the photos for top dollar.
Forgers often buy a real document from the American Revolutionary War and sign other famous patriots' names. Other times, copies are aged with tea or tobacco stains.
Some celebrities refused to sign autographs, including Paul Newman, Greta Garbo and Charles Lindbergh.
In the 19th century, it was commonplace to tuck old letters and documents in the family Bible. If you have an old Bible or scrapbook, carefully go through it.
To learn what's happening these days, check out current auction galleries that specialize in autographs. Prices will amaze you. For example, at a recent "O.A.K" (One Of A Kind) auction, in Coral Gables, FL, "Ship's papers" signed by Thomas Jefferson and James Madison sold for $8,850.00.  
Anne Gilbert has been self-syndicating the ANTIQUE DETECTIVE to such papers as the Chicago Sun-Times and the Miami Herald since 1983.
She has authored nine books on antiques, collectibles, and art and appeared on national TV.
She has done appraisals for museums and private individuals.