Toy farm tractors come to town for child and adult collectors
Antique Toy Farm Tractors
Farm toys have been collected for decades. One of the most popular categories is the small toy farm tractor. While late 19th century and some vintage examples are priced in the thousands of dollars, new ones can be less than $50.
Historically, two of the earliest makers of farm toy tractors included the Hubley Co., founded in 1894 in Lancaster, PA. They made molded metal toys that were painted and detailed at the company foundry. The Arcade Manufacturing Co., Freeport, IL, founded in 1885, made the first commercially made toy tractor, "the Fordson."
The Wilkins Toy Co., in Keene, NH, was making cast iron toy tractors around 1886. They were sold in the Montgomery Ward and Sears, Roebuck and Co. catalogs for a few dollars. These days, prices could be in the thousands of dollars if they can even be for sale. They are among the makers of the "Golden Age." Others are arcade, such as those from the Dent Hardware Co., founded in 1898.
The Ertl Co. was founded in 1945 in Iowa by Frederick Ertl, who made some of the most important John Deere toy tractors. He is credited with starting collector interest. It began with a sand cast toy farm tractor he made in his home furnace in Dubuque, IA, in 1945. These days, one of his tractors could sell for more than $900. The Ertl Co. is one of the biggest farm toy tractor makers these days.
By the 1970s, collecting toy farm tractors was hot. A price guide on the subject by Bill Vossle in 1978 set it off.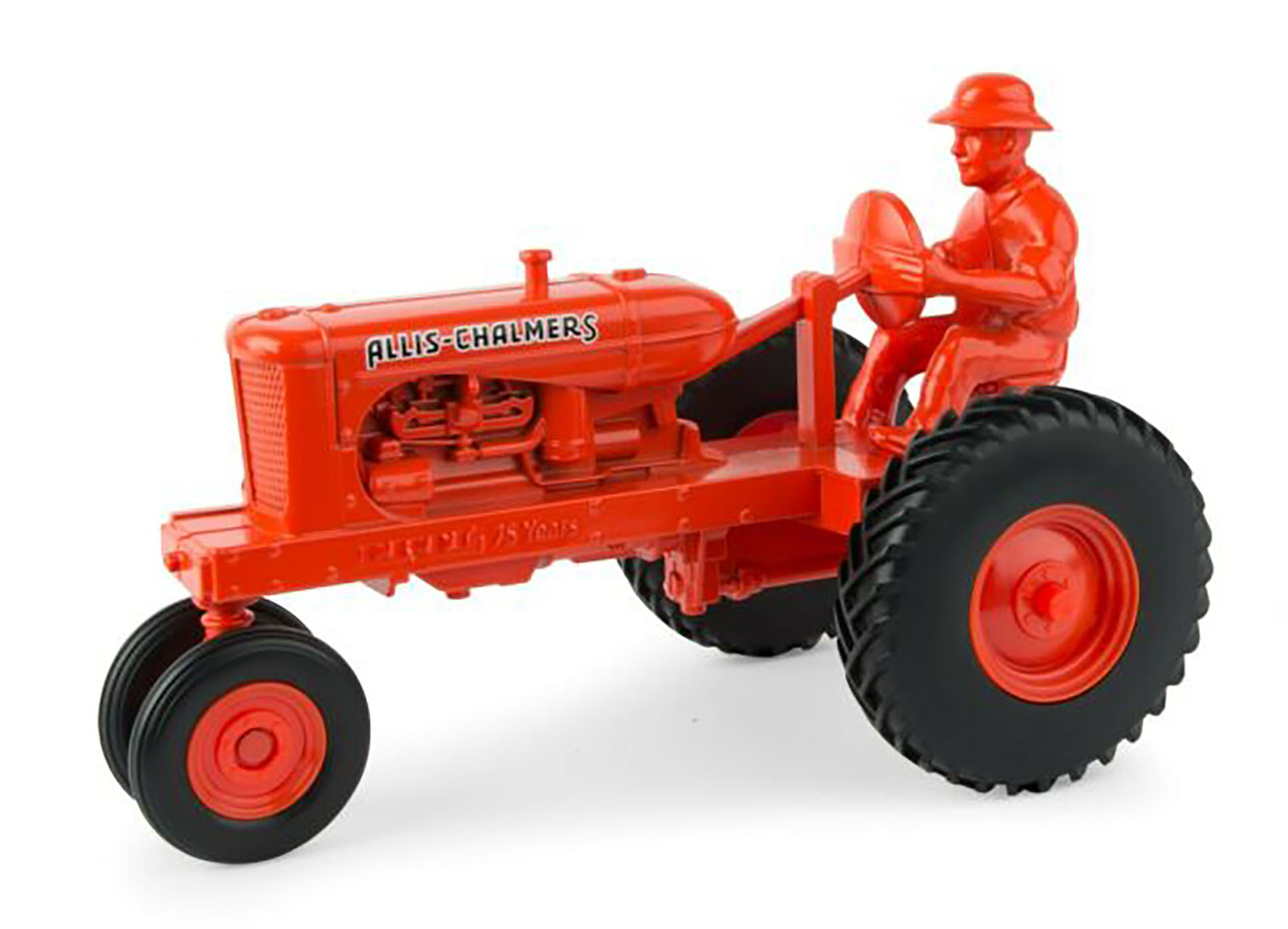 Antique Allis Chalmers toy farm tractor
Some older cast iron toy tractors, like the Fordson, have been reproduced and can be mistaken by buyers and sellers. Newer pieces often have thin paint and few painted details. Repros are usually smaller than the originals due to newer molding and production techniques.
Things to consider: Are all the pieces intact, including tires and steering wheels? Is the paint new, chipped off, scratched, worn off in places or even completely missing? Are all the pieces intact, including steering wheels and tires?
Limited edition toy farm tractors are offered in small quantities, usually as a onetime production or with a specific number of pieces.
Toy farm tractors with original box adds to the value.
Knowing the type of material the toys are made of helps to date them. Cast iron was used from the 1880s to the 1920s. Pressed steel was used from the 1950s to 1986. They were stamped out of steel that was rolled flat. After World War II, plastic became a popular material for the toy farm tractors. They continued to be made into the 1990s. In the 1980s spun-cast tractor toys (aluminum, zinc, and pewter) were made in a mold.
To learn more, check out the National Farm Toy Museum site. Their collectors corner page shows a group of new reproductions as well as vintage collectibles. Keep tabs on current and recent past auctions to get an idea of pricing and rarities.
Make sure you get an authenticity agreement before paying too much for a reproduction.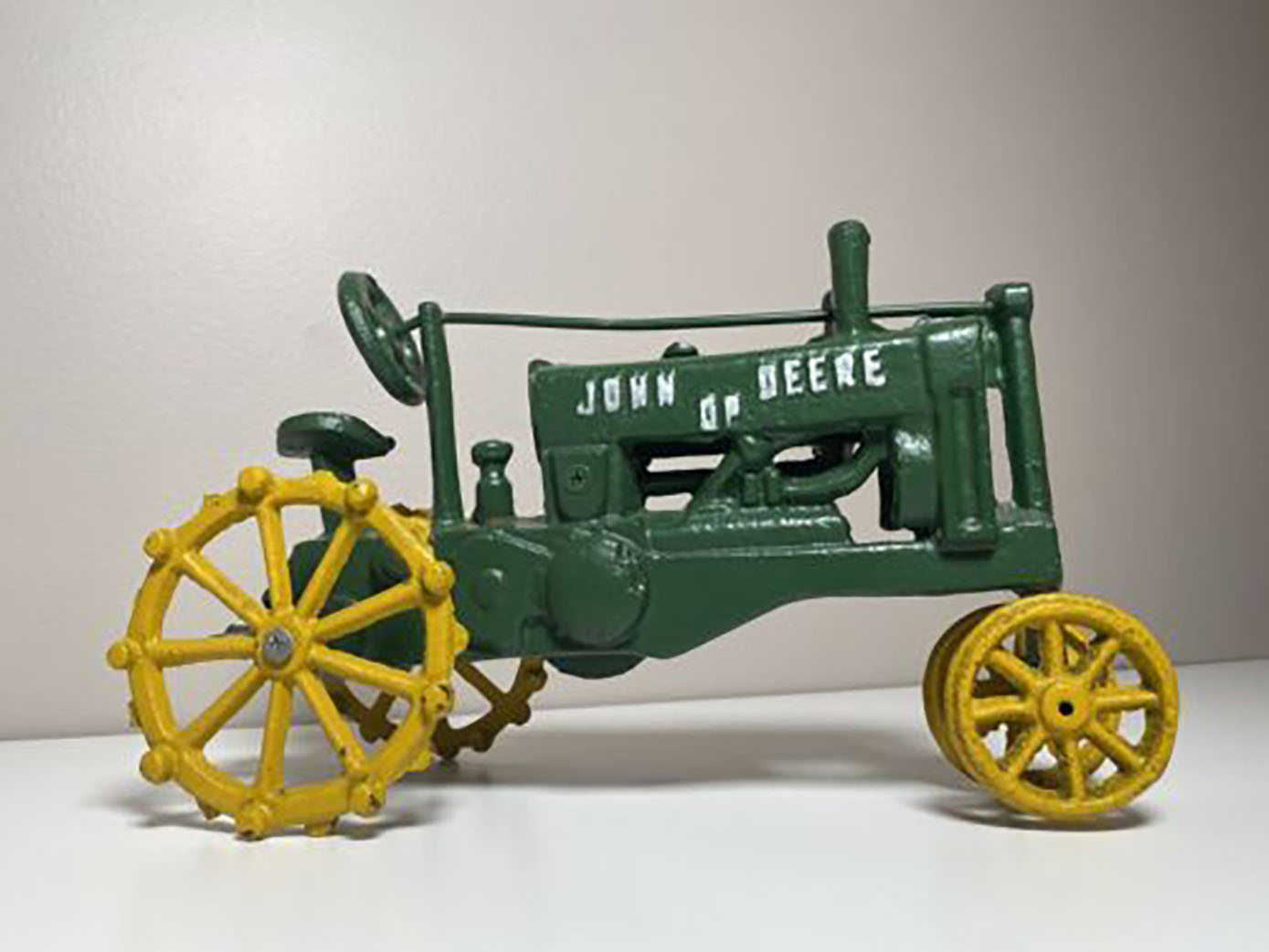 Antique John Deere toy farm tractor
Anne Gilbert has been self-syndicating the ANTIQUE DETECTIVE to such papers as the Chicago Sun-Times and the Miami Herald since 1983.
She has authored nine books on antiques, collectibles, and art and appeared on national TV.
She has done appraisals for museums and private individuals.