The history of animal cracker containers and other tins
Chances are that you or someone in your family have eaten animal crackers and loved every bite. Perhaps you are even a collector of the tin boxes they came in. They have been woven into our culture in many ways. One example is the song sung by Shirley Temple in 1935, "Animal Crackers In My Soup." "Animal Crackers" was also the name of a 1938 Marx Brothers film. In 2017 they were part of an animated film by the name "Animal Crackers" as magical animal crackers.
The original tin box design depicted four caged wild circus animals. However, in 2018 the animal rights group PETA forced a design change that now shows five wild animals together, free in an African landscap.
The tins are an important part of advertising tin box history that began in England in 1877 with the development of colorful lithography. By the end of the 19th century, companies were hiring artists to showcase their products on tin. Early designers often depicted popular fads and fashions from mid-Victorian through the Art Nouveau to Art Deco eras.
By the late 19th century, animal-shaped crackers or "biscuits," in British terms were imported to America. They became so popular that bakers in America began making them by 1871, Animal "biscuits" were made in 1902 by The National Biscuit Co. They became officially known as "Barnum's Animals" after the then-popular Barnum & Bailey Circus. Fifty-three different animals have been depicted since 1902.
In 1948, the company changed the product name to the current name of "Barnum's Animal Crackers."  Currently, several American companies make animal crackers and sell them in a variety of tin containers.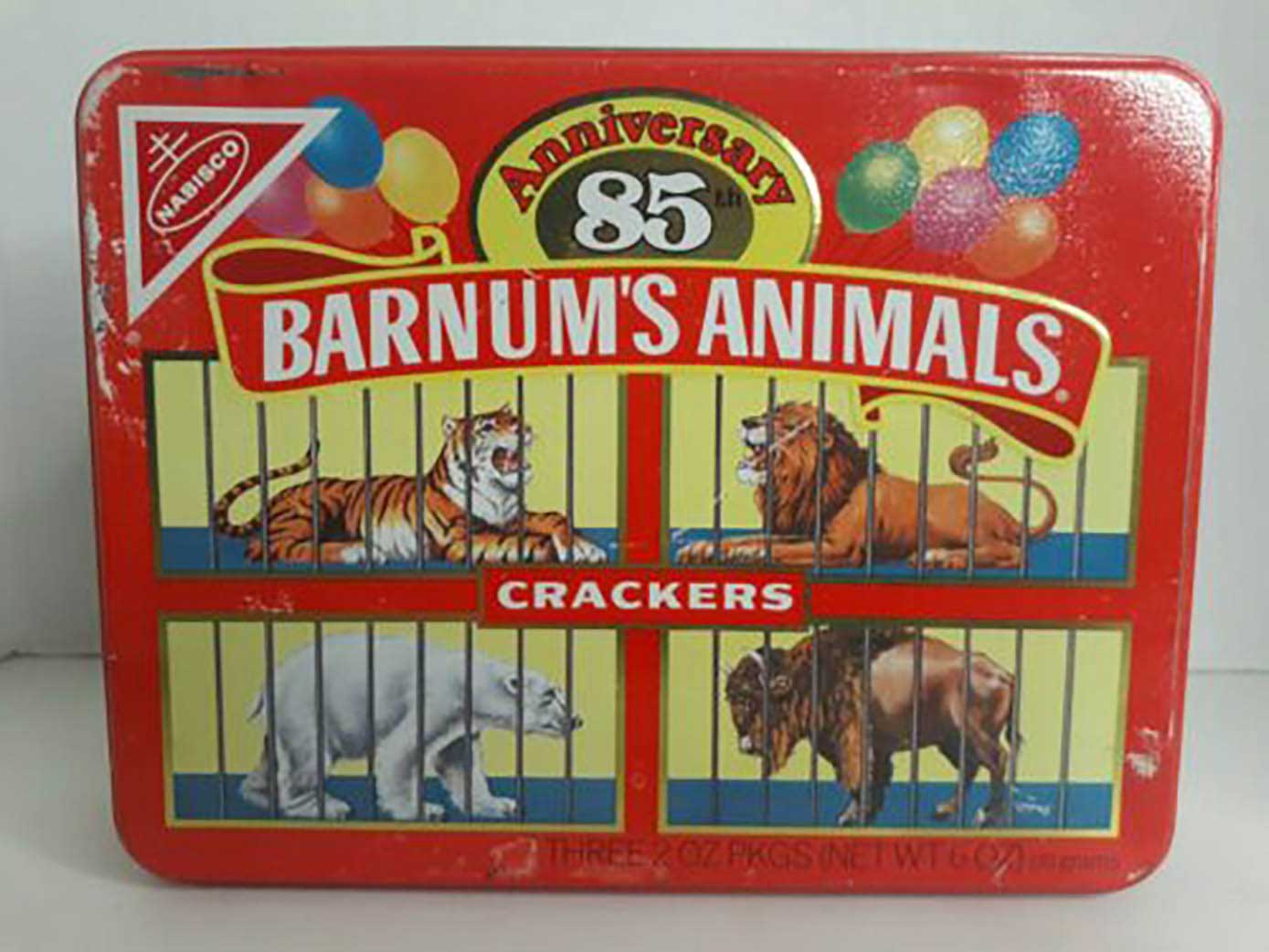 85th anniversary original design tin
The 85TH anniversary original design of the animal crackers tin. (Image courtesy of Jametek@gmail.com.)
Collector Interest
Collector interest took off in the 1960s. At that time, there were still plenty of authentic and unusual examples to be found. When small grocery and drug stores closed to make way for supermarkets and drug chains, old advertising items, including tins, were tossed.
Many of the early collectors were young, "hip" advertising executives. They saw it as a great career-collectible that tied in with their work. By the 1970s reproductions of early novelty, tins appeared.
Prices are modest, usually in the $25 range. However, the 1987 anniversary tin box in the original design can cost more than $100. Now is the time to add to a collection.
Anne Gilbert has been self-syndicating the ANTIQUE DETECTIVE to such papers as the Chicago Sun-Times and the Miami Herald since 1983.
She has authored nine books on antiques, collectibles, and art and appeared on national TV.
She has done appraisals for museums and private individuals.