Old figural glass bottles still popular collectibles
Old Figural Glass Bottles
Proof that there is still interest in collecting old figural glass bottles was the recent auction price of over $1,000 for a 19th-century Indian Queen bitters bottle. It happened at a American Bottle Auction. At the same auction a pair of 19th century, figural milk glass liquor bottles fetched $1,350 for the set.
Figural glass bottles, old and vintage, have always been popular with collectors. There are many categories to choose from, ranging from historical whiskey flasks to medicine and perfume.
They have often turned up in strange places. Consider that men used to sneak booze bottles into the "out house" and toss the empties. Other times a single figural bottle may have been handed down in a family and the current owner, having no interest, puts it in the garage for a later sale.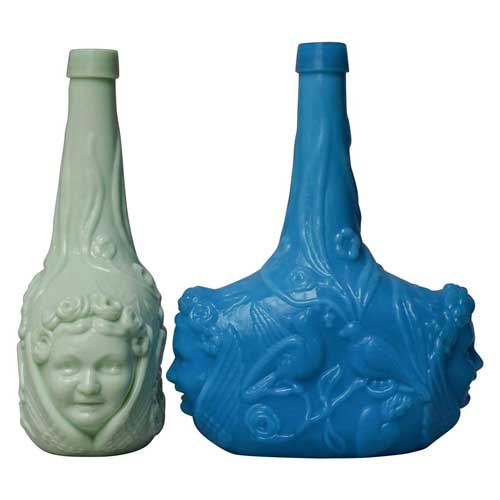 A set of milk glass liquor bottles. (Image courtesy of American Bottle Auction)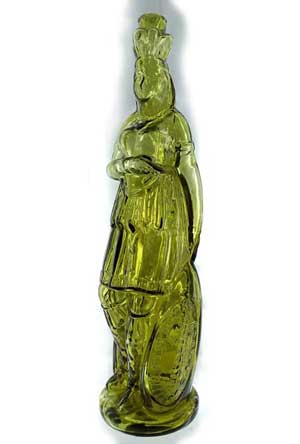 An Indian Queen bitters bottle, ca. 1868. (Image courtesy of the Federation of Historical Bottle Collections)
There's nothing new about figural bottles. They have been around for centuries, dating back to Egypt, 1546 B.C.  Fast forward to the 19th century, when hundreds of types were made in Europe and America.  Over the years they contained everything from alcohol to candy and ink. Each became a single collectible category.
Some of the most interesting celebrities of the time, many long forgotten were depicted. Others were simply busts of famous figures, such as President George Washington.
A humorous figural is known as the eye opener, "made of milk glass and painted like a human eye." It was made in 1895.
Poison bottles are always popular conversation pieces. So many types were made that many collectors specialize.
CLUES: Unfortunately, reproductions of the most unusual and popular figurals have been causing collectors problems for years. Examples of some of the repros include the log cabin "Booz" bottle and "Brown's Celebrated Native American Queen" herb bitters bottle. That repro has been made in Europe in clear glass. However, the originals came in several colors and clear glass.
Since figural bottles were made in a mold, the lip was applied last. Figurals made before 1900, such as the Native American bitters bottle, will have a mold seam running to the lip. Repros will have a seam running through it.
Other well-known reproductions are the Bennington Black Coachman, the Black bear, the seated figure of an old man for Poland Spring water, George Washington bust and Dr. Fisch's Bitters in fish form.
Once upon a time, around 1850-1870, men used bear grease as a hair preparation. Made in the form of a glass bear, they are very rare these days. The figural was made by the Boston and Sandwich Glass Co. and the New England Glass Co. They were a little over 3" high and came in opaque white, light and dark blue and dark purple. Look for marks of "XBazin Phila" or "Phalen & Sons, NY." Don't pass up vintage figurals. They are on their way up.
Anne Gilbert has been self-syndicating the ANTIQUE DETECTIVE to such papers as the Chicago Sun Times and the Miami Herald since 1983. She has authored nine books on antiques, collectibles and art and appeared on national TV. She has done appraisals for museums and private individuals.