Mustache sentiment cups make trendy bargains
Take a look — Mustaches and beards are seen everywhere! It couldn't be a better time to give a second glance to gifting or collecting antique and vintage mustache sentiment cups. You probably aren't familiar with them, but beginning in the mid-19th century they were a "hot" necessity. They have never stopped being made around the world and were part of the sentiment cup gift craze that began in the 19th century.
Sentiment cups had a variety of greetings. "Merry Christmas" was a favorite. Other popular greetings were "To a friend," "remember me" and "a friend." Among the most collectible are those with a copper luster glaze and applied-raised motifs, such as fruit and flowers.
Their decoration technique was often done during the hand painting hobby in America during the first few years of the 20th century. They were also made in sterling silver by companies such as Tiffany.
Historically, the mustache cup was invented in 1860 by an Englishman, Harvey Adams. The cup had a ledge with one semicircular opening against the side of the cup. The mustache stayed safe and dry on the guard. The new invention was soon available all over Europe and America. Companies such as Royal Crown Derby, Limoges, and Royal Bayreuth; others created their own versions.
From 1860 to 1916, the British Military actually required all of the military brass to wear mustaches as an image of authority. Since mustache wax was applied to keep mustaches stiff, drinking hot liquids would melt the wax, causing it to drip into the liquid. The rimmed mustache cup solved the problem.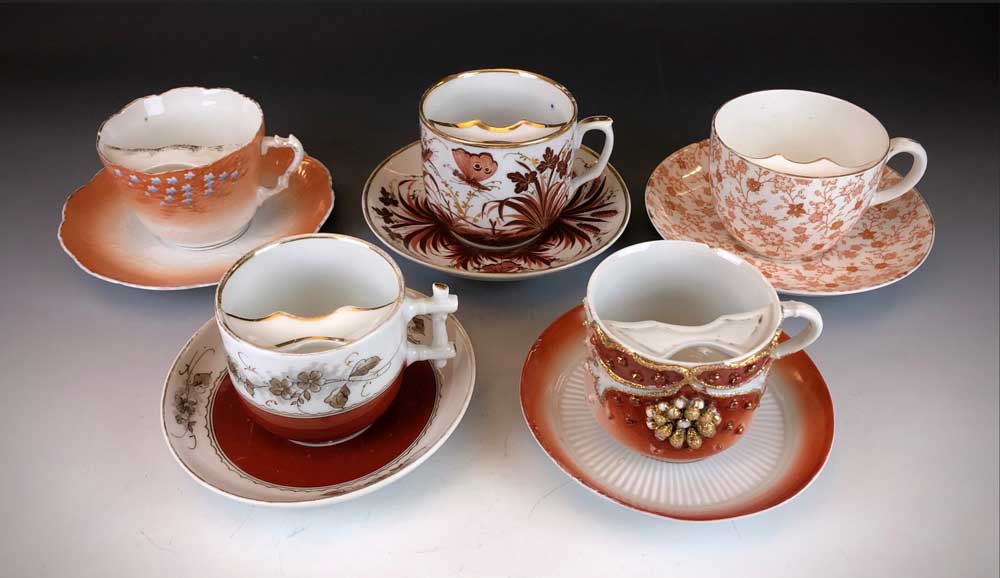 Antique Victorian mustache cups
Antique Victorian mustache cups and saucers (Image courtesy of Violet & Valley Antiques)
Mustache spoons
Mustache spoons were created at the same time to keep men's mustaches from getting entangled with soup vegetables.
The earliest made in America were marked with names, leading buyers to think they were made in England, since English ceramics were popular at the time.
Between 1920 and 1930, mustaches went out of style. As a result, few cups were made.
In the 1970s reproductions of Victorian mustache and sentiment cups were made in Japan. They were marked on the bottom, in red, R.S. Prussia.
Currently, prices are under $50, so it's a great time to start a collection.
Anne Gilbert has been self-syndicating the ANTIQUE DETECTIVE to such papers as the Chicago Sun-Times and the Miami Herald since 1983.
She has authored nine books on antiques, collectibles, and art and appeared on national TV.
She has done appraisals for museums and private individuals.