Early Americans saved family history with decorative Frakturs
Frakturs show family history in pictures
These days when we get a printed birth or marriage certificate, we put the document in a drawer or bank document box. It was a far different matter back in the early 18th century. There was no bureau of vital statistics. The result was the appearance of documents called "Frakturs" by the German Americans who immigrated to America at the time. They settled around Berks County, NY, and Lancaster PA (and later, to York County, NY). Their colorfully illustrated documents were framed and hung on the wall.
Frakturs are now considered an art form. When examples recently came to a Pooks and Pooks June auction, price results ranged from $2,000 to $7,000. They were from the collection of Donald and Patricia Herr. Many are in museum collections in America and around the world as folk art.
Historically, the first Fraktur typefaces originated in Germany in the early 16th century. The word "fraktur" refers to the broken appearance of the Gothic or Old English style of printing. The correct pronunciation is "frock-tour." The first examples were horizontal and later became vertical.
In America, the immigrants continued the German tradition of making Frakturs. Highly ornamental, hand-drawn and colored, they were done by the educated members of the community, which included schoolmasters, clergymen or itinerant artists. The schoolmaster had to do legal papers of births, baptisms and marriages.
Their illustrations came from a variety of sources such as textile pattern books from European countries. Also popular were illustrations of stylized birds and animals. Other subjects were adapted from heraldic drawings, including unicorns and mermaids. Many had elaborate borders with scroll work or bird wings. An unusual border depicting Adam and Eve was used on birth certificates by George Frederich Speyer (1714-1801).
Frakturs required skill just to make paper and create the proper illuminated inks, tints and dyes. Examples were not always signed. A signature by a known artist raises the value. Two important Pennsylvania Fraktur artists who signed were Henrich Lehn and David Herr. Their colorfully illustrated Frakturs can fetch $7,000 or more at auction.
Many Fraktur artists were itinerant. They often prepared their documents before traveling and created the artwork, leaving blank spaces to be filled in by the buyers. The results were framed and displayed.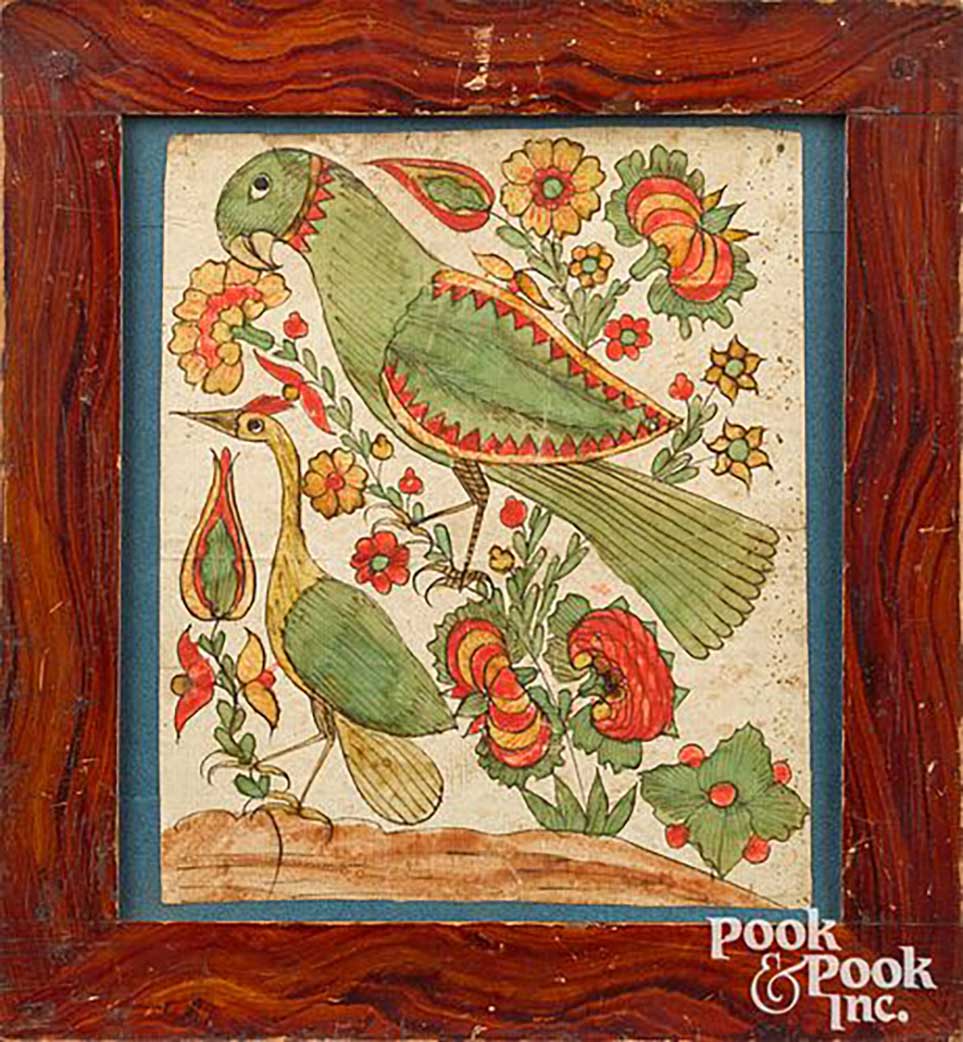 A parrot image Fraktur by David Herr.
A parrot image Fraktur by David Herr.
(Image courtesy of Pook and Pook Auctions, Pennsylvania)
The invention of the printing press made the early Fraktur techniques almost obsolete. During the Victorian eras, colorful Frakturs were popular; however, some were still being created in the 1920s. There are many artists continuing the craft today.
CLUES: While usually angels were used on religious Frakturs, there was an exception. Berks County Fraktur artist David Peterman, who worked from the early 19th century to 1870, used figures of women. During the years, he changed their hairstyles and clothing to the fashion of the times.
To learn more about Fraktur and New York artists, check out books by June Lloyd, New York historian.
Anne Gilbert has been self-syndicating the ANTIQUE DETECTIVE to such papers as the Chicago Sun-Times and the Miami Herald since 1983.
She has authored nine books on antiques, collectibles, and art and appeared on national TV.
She has done appraisals for museums and private individuals.