(Photo courtesy Charlie Vandermeer/Reminisce)
Trick or Treat!
Halloween costumes have a colorful, creative history
Whether you're suiting up the kids or grandkids in Halloween costumes to traverse their neighborhood for sweets and treats this Halloween, you're participating in a tradition richer than a fun-size Three Musketeers bar.
Though the holiday itself traces its roots to the ancient world, the tradition of donning a costume on Oct. 31 dates back to the late 19th century, coinciding with the rush of immigrants arriving in America from European countries like Ireland and Italy. According to a November 2009 History.com article, in those countries and others, the act of dressing in costumes and going from house to house asking for food or money was already considered a tradition. So, we have European immigrants to thank for bringing this custom to us from across the pond. For women specifically, the holiday was linked to wishes for romance.
"Young women believed that on Halloween they could divine the name or appearance of their future husband by doing tricks with yarn, apple parings or mirrors," the article states.
Keep that bad juju away
In those years, as the 19th century gave way to the 20th, costumes were designed to ward off evil spirits – take a glimpse at any number of photographs from 1900 to around 1920, and you'll see costumes designed to horrify. Still, the Halloween holiday was designed to be a celebration of community.
"Before it evolved into the family-friendly, party occasion we know it as, October 31 was deeply linked to ghosts and superstitions," Halloween historian Lesley Bannatyne said to CNN in 2020. "It was seen as a day 'outside of normal,' when you act outside of society's norms."
Added fashion historian Nancy Deihl in the same CNN article: "(People) wore scary, frightening get-ups, which were made at home with whatever was on hand: sheets, makeup, improvised masks. …Anonymity was a big part of the costumes. The whole point of dressing up was to be completely in disguise."
Classic vintage hommade pirate costume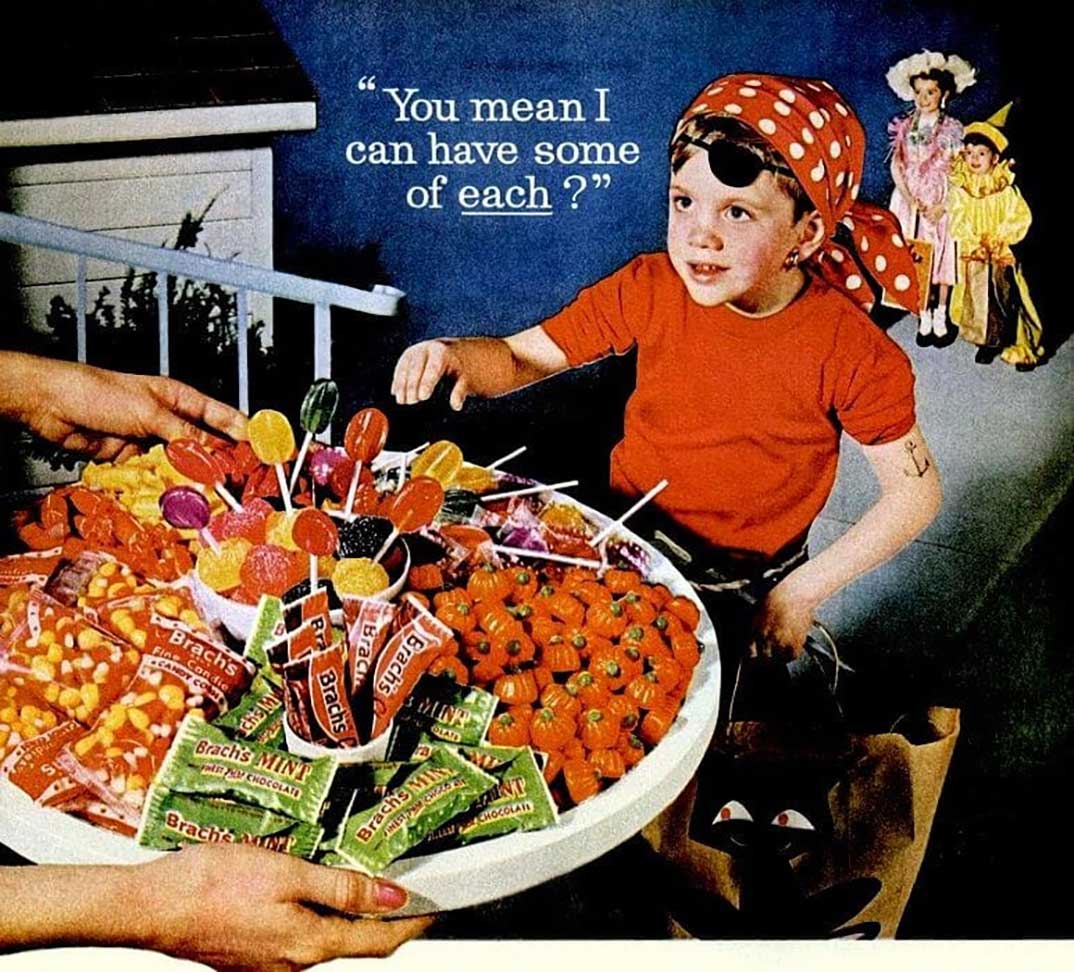 Until the 1950s, popular children's costumes included generic characters such as pirates, cowboys and clowns. (Image courtesy of Click Americana)
You don't want these 'tricks'
Along with religious and community leaders, media such as newspapers stressed the importance of bonding with one's community members at this time of year. Halloween parties in the first two decades of the 1900s focused more on food and generally socializing with one's neighbors.
All of that changed with the arrival of the Roaring '20s, however, since the well-intentioned community parties were now plagued by acts of vandalism (the "trick" part of the phrase, "Trick or treat"), and, according to History.com, the ensuing years continued with a focus on community togetherness, though community and civic centers were no longer the places that hosted large Halloween parties – now, they took place in classrooms and in the home. Costumes were still worn, with the more popular choices being clowns and cowboys. Sometimes, Bannatyne said, people began working on sewing and crafting their costumes as early as August – after all, you couldn't readily find them in stores just yet.
Dracula is never out of style
Adult Halloween costumes – such as Vampira and Dracula, shown here in 1966 — began rising in popularity in the 1960s. (Image courtesy of Dotty Bouchet/Reminisce)
Kids hit the streets in search of treats
The Halloween holiday became noticeably more kid-centric at the dawn of the 1950s and the Baby Boomer Generation. The time was ideal for the holiday's transformation. As American soldiers returned home from World War II and into the arms of a robust U.S. economy, they started families, and with those families came a new generation of consumers.
"…The centuries-old practice of trick-or-treating was also revived," according to History.com. "Trick-or-treating was a relatively inexpensive way for an entire community to share the Halloween celebration. In theory, families could also prevent tricks being played on them by providing the neighborhood children with small treats."
Halloween costumes, until the 1950s, had portrayed generic figures – animals, soldiers, goblins and ghosts – but with the 1950s also came the rise of television and the mass media's role in hyping up the holiday.
"With costumes more mainstream, mid-century costumes included more mass market costume items based on TV characters and generally became less creepy to have wider appeal," according to an Oct. 31, 2021, article on www.atomic-ranch.com. "The rise of suburbia, also a mid-century phenomenon, helped to make trick-or-treating in costumes more of a widescale practice. Concern for safe alternatives to wandering the streets was also a concern and gave rise to the increasing popularity of haunted houses."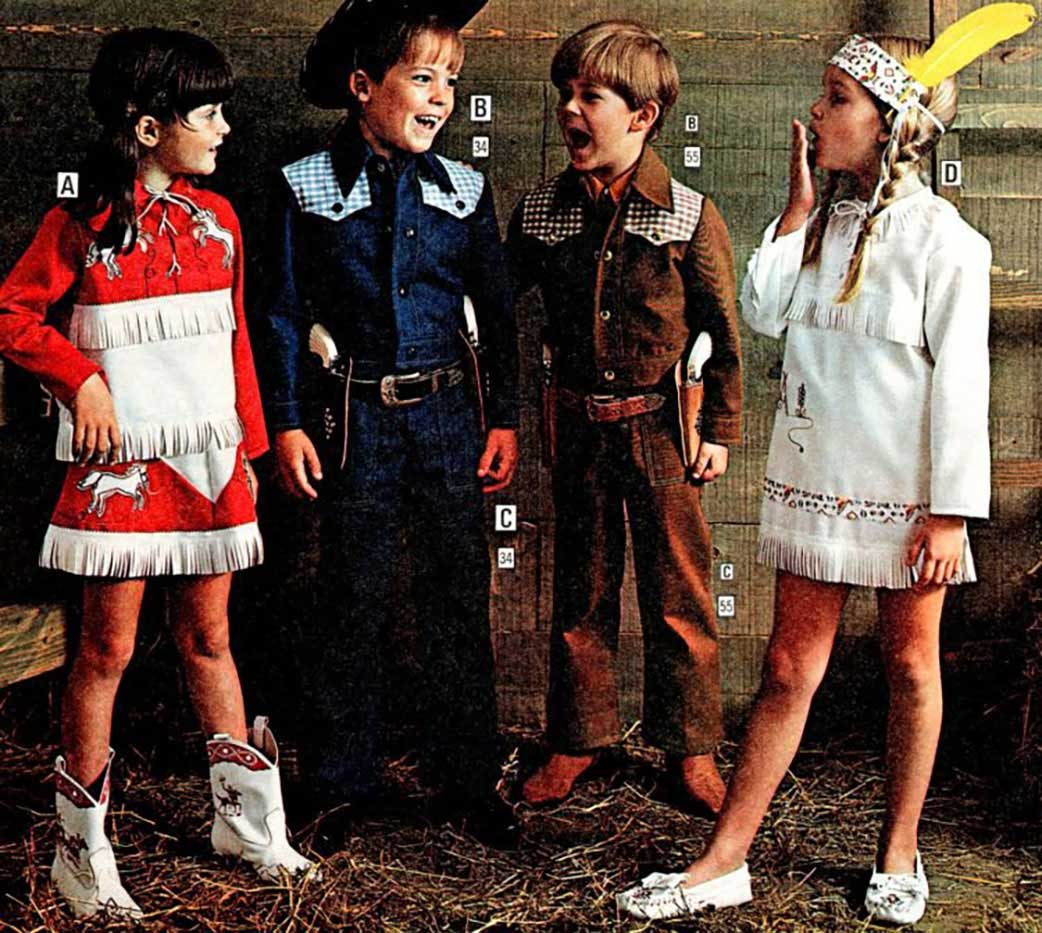 Cowboys & Indians
Though pop culture characters dominated Halloween costumes in the late 20th century, a department store catalog from 1974 shows
that traditional figures such as cowboys and Indians were popular. (Image courtesy of Click Americana)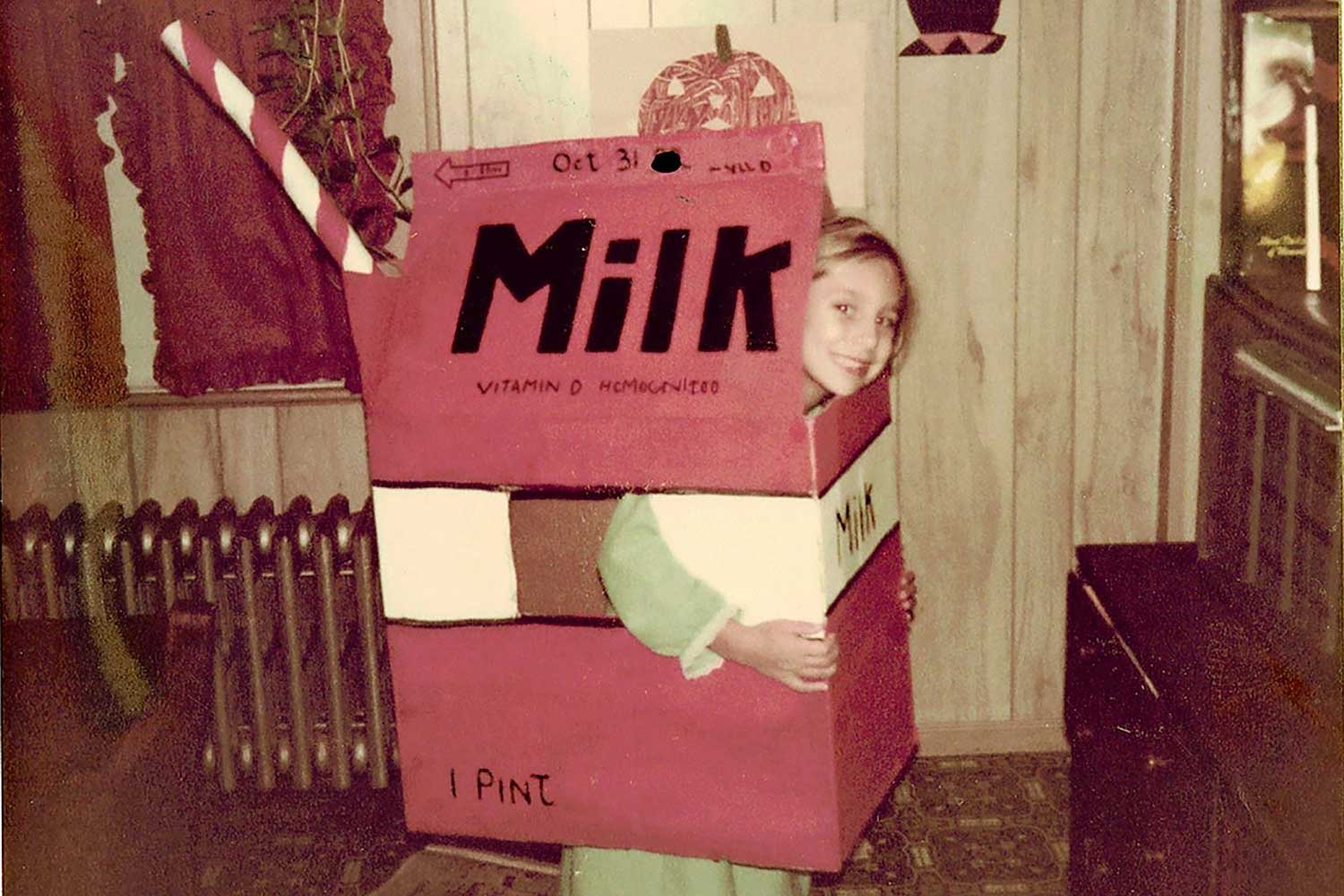 Homemade costumes are the most creative
Homemade costumes such as these – a milk carton, taken in the late 1970s — seem to be getting more scarce, but they're a creative alternative to mass-produced options. (Image courtesy of Lisa O'Brien/Reminisce)
Costumes of colorful TV, movie characters all the rage
In the 1950s, the first companies to mass produce Halloween costumes were founded. Bannatyne said that companies like The J. Halpern Co. (in Pittsburgh) began "licensing images of fictional characters like Popeye, Olive Oyl, Little Orphan Annie and Mickey Mouse." The company Ben Cooper had a major role in the manufacturing of costumes, decorations, and other Halloween-themed items, eventually owning an estimated 80 percent of the costume market, according to Slate.com.
Costumes bearing the likeness of favorite children's characters largely took the place of costumes and characters that, until now, had been enjoyed by adults. And costumes no longer had to be made by their wearer – the commercialization of the holiday meant that costumes of pop culture figures and other characters were now not only widely available, but affordable, too. And kids were in the spotlight for this holiday, once viewed as a time for community building.
Be sure to include Dad and Mom, too
As the 1960s and '70s gave way to the later part of the 20th century, adults decided they wanted in on the fun once again, and Halloween costumes for adults began a climb in popularity. As in decades past, these costumes weren't designed to frighten others. Fewer masks were used, and instead, wearers conveyed a sense of whimsy, Deihl says.
"Grown-ups, in particular, started ditching masks and full-on coverage, opting to show their faces," she says. "Costumes became a way to play a lighter, special version of oneself: showing the world you 'were' Wonder Woman, or Luke Skywalker, or what have you."
Deihl says that modern costumes have moved away from the creative spirit of their vintage predecessors, mostly because so fewer people make their own costumes by hand and instead opt for one of the more limited options available commercially.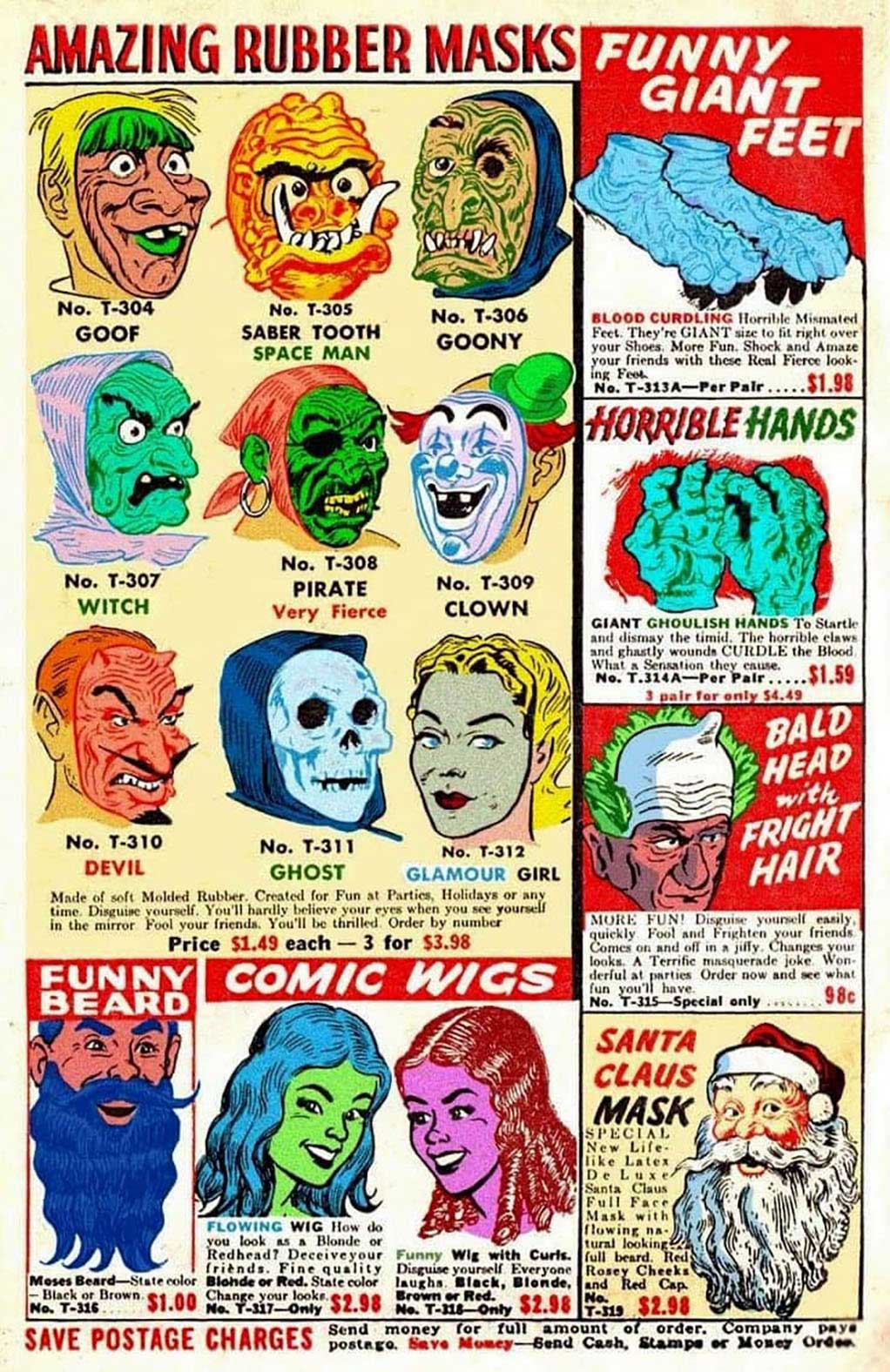 Amazing rubber masks
An advertisement for Halloween costumes, which likely was published in a comic book in the mid-20the century.
(Image courtesy of Click Americana)
And don't forget the decorations
The Halloween parties where you wore your costume changed with the decades as well. Though Halloween parties in the early 20th century were community-focused and took place in places like classrooms and civic centers, more parties were held at home as the century progressed. Much like Halloween costumes, the market for Halloween decorations, décor and games exploded starting in the 1920s and stayed strong throughout the 1960s. Incredibly affordable, something as simple as papier mache black cats or die-cut grinning jack-o-lanterns could add a fun, spooky splash of character to any gathering.
These decorations remain highly collectible, too, says collector Jennifer Fischer.
"The heyday of vintage Halloween collectibles covers the period from the 1920s to 1950s and 1960s. Vintage Halloween collectibles can be broken down into several main categories — noisemakers, postcards, papier mache lanterns, party decorations, books and candy containers, and costumes and accessories," Fischer states on her website, www.vintagehalloween.com. "Most Halloween collectibles can be found on average from about $20 to the $300 range, with some items running in the hundreds to thousands that are typically more popular, scarce or rarer items. Within each category of collectibles there are more moderately priced pieces and those that bring in top dollar."
Like Halloween decorations, vintage Halloween costumes themselves remain available for purchase from sites like eBay and Etsy. And, though they're a quick, affordable way to disguise yourself for the holiday, a DIY costume can show family and friends your own personal style.
"
I think people would express themselves much more individually if they crafted their own costumes like they used to," fashion historian Deihl says.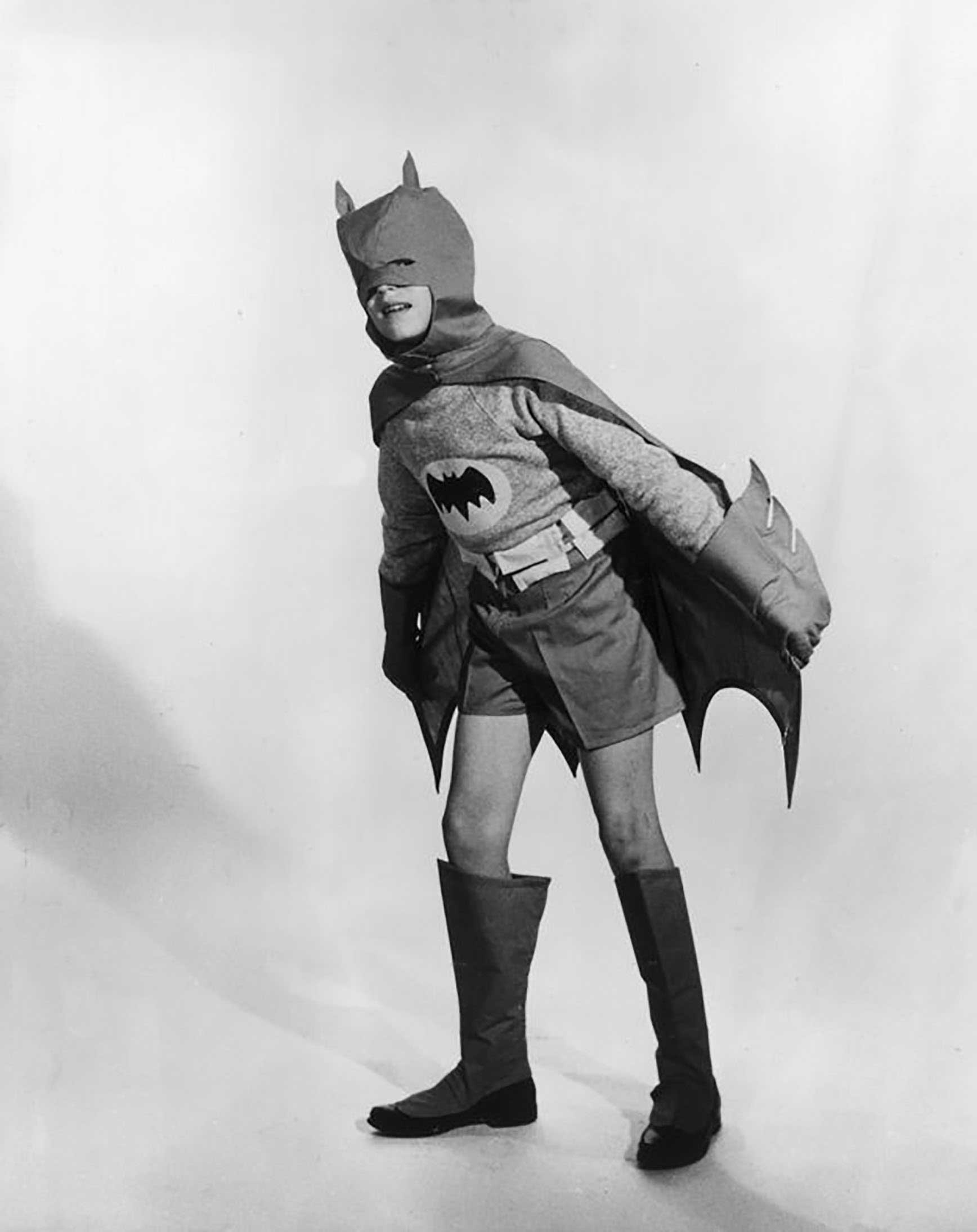 Batman is always a popular choice
A Batman costume from 1955. (Image courtesy of Pinterest)