'Tis the Season for Gifting
Affordable Gifts for the Antique Lover
The holidays, traditionally a time of reflection on days gone by as a new year approaches, hold plenty of opportunities to gift little pieces of the past to the lover of antiques, vintage or repurposed items in your life. Shopping locally at antique stores or flea markets ensures your gifts will be thoughtfully selected and well received; it will help support mom-and-pop stores in your town; and it will give Santa's workshop a much-needed break.
This month, Discover Vintage America takes a peek at affordable gifts for the antique lover on your 'nice' list:
Bottle brush Christmas trees:
Heavily produced between the 1930s and the 1950s, these diminutive Christmas trees enjoyed a resurgence in popularity during the 1980s, when artist Kurt Adler released a new series of the decoration in the shape of Santa Claus and another in a snowman shape, according to House Beautiful magazine. You can choose from bare versions or those whose branches are dotted with snow, and more contemporary versions come in different colors. If you know someone who has been working from home for the past couple of years, these little decorations are sure to brighten up any workspace with a bit of holiday cheer.
According to the Asheford Institute of Antiques, among the most popular items selling for the 2021 holiday season is jewelry, especially among younger buyers. But you don't have to break the bank to find fun jewelry pieces that will put a sparkle in a loved one's eye. Fun, kitschy, retro jewelry pieces are easy to find on sites such as Etsy, including a bejeweled poinsettia brooch from the 1950s, available from Etsy seller Holiday Season Jewelry for a mere $10.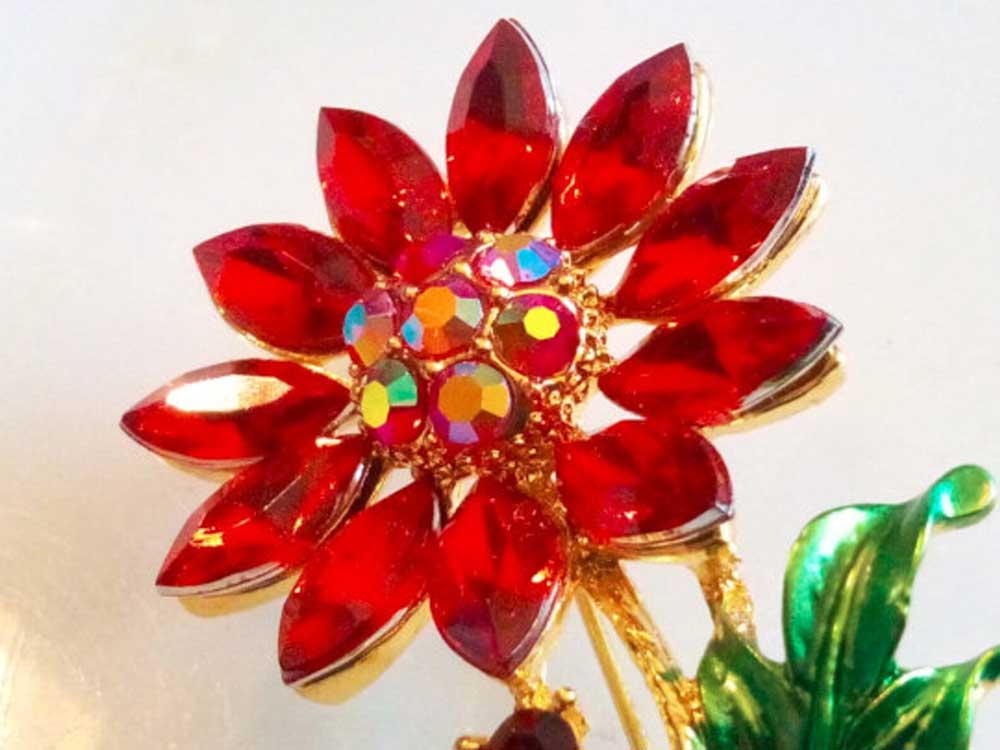 Jewelry
This poinsettia brooch, made in the 1950s, serves as one example of affordable jewelry that will make a fashion statement all year long. (Image courtesy of Etsy)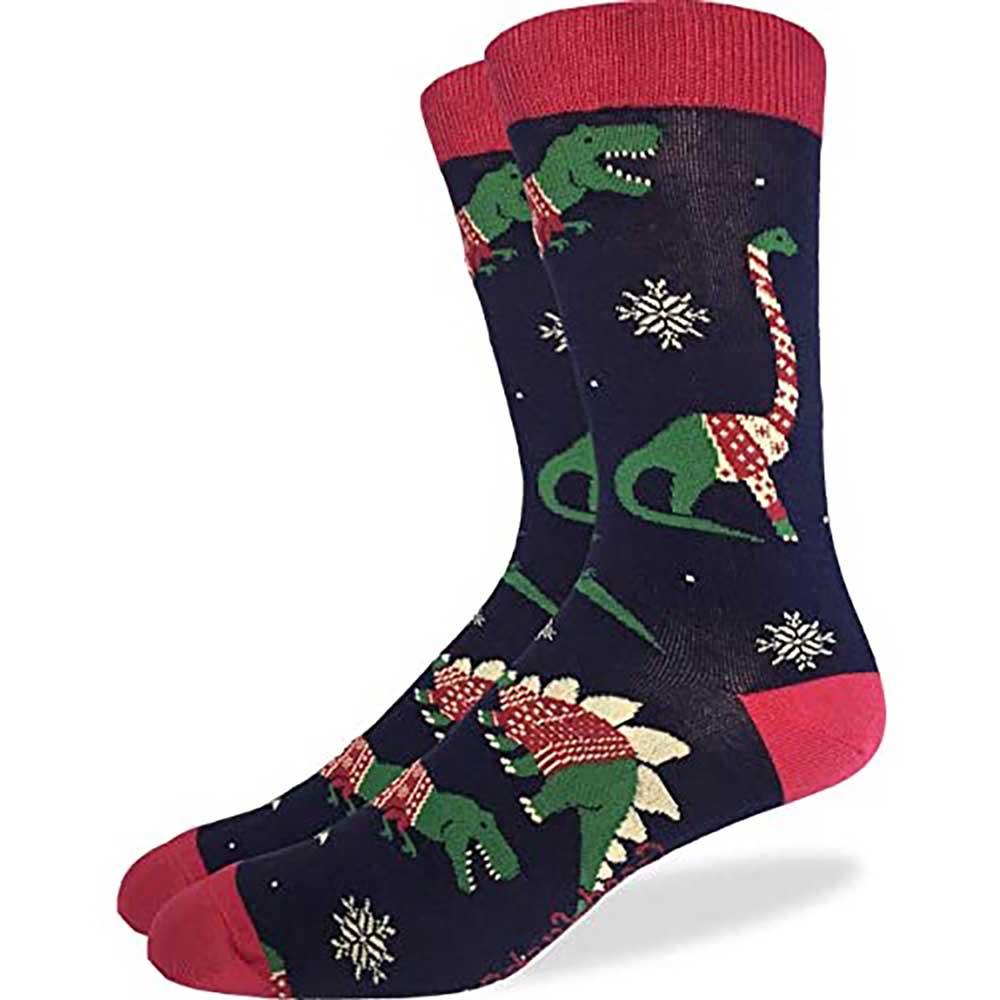 When it comes to being given as a holiday gift, ugly socks nearly always get beaten out by their more popular cousin, ugly sweaters. (Image courtesy of The Manual)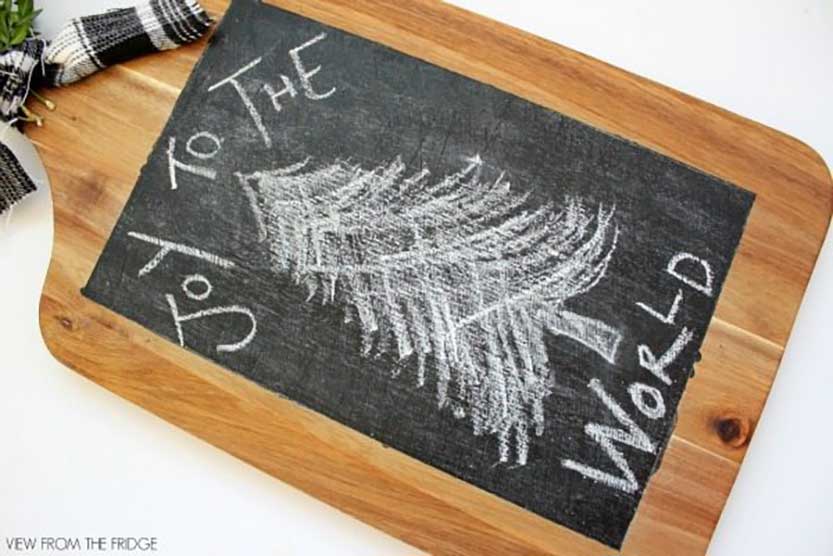 Old Cutting board
Spruce up a kitchen by repurposing a plain old cutting board into a chalkboard. (Image courtesy of Juggling Act Mama)
Before you break bread with family and friends this season, keep in mind that cutting boards made from repurposed wood are classic, sturdy gifts that will make a delightful addition to your kitchen anytime of year. Give your kitchen's prep space a rustic look with a cutting board made from old barn wood, or, make it a part of your kitchen wall by attaching a piece of slate and fashioning the bread board into a chalkboard instead.
Who doesn't love warming up with a cup of hot cocoa when the temperatures plummet outside? For a cost-effective gift that will warm bellies and hearts, buy some old canning jars at your local antique shop and fill each of them with hot cocoa mix and mini marshmallows.
If you're buying for a tea drinker, you'll find many mid-century brass and porcelain tea pots and tea sets online. You'll be the talk of the party when they're used for your next big holiday get-together.
Repurposed vintage Scrabble ornaments are a fun way to make your Christmas tree stand out among all others this year. Whether your Scrabble set has seen better days or you're on the hunt for a used copy of the popular game at a local flea market, you can personalize this fun DIY gift by spelling out the recipient's name with tiles, or string together a fun holiday message.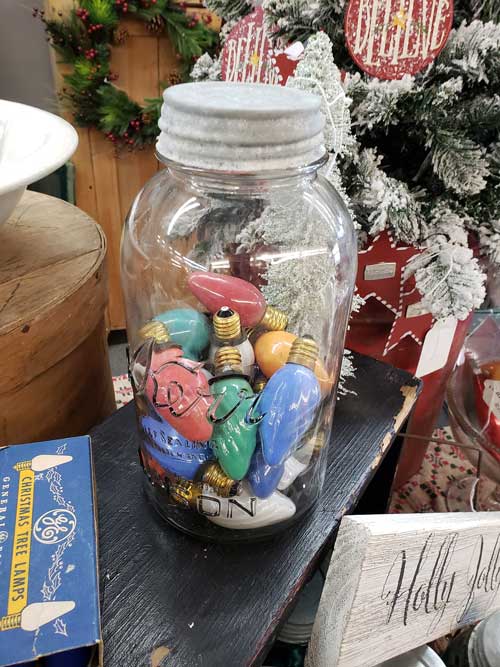 Filling a Canning Jar
Fill a canning jar with holiday-themed items, such as these colorful bulbs, to create a colorful Christmas decoration. This inspiring idea was found at Greenwood Mercantile in Greenwood, MO. (photo by Corbin Crable)
Your best Holiday wishes
Send your best holiday wishes to friends and family this year – and include a message from the past, too! For years, one of my friends has mailed those on his Christmas card list an antique holiday card along with his own personal greetings for the season. It's a fun way to look back and see how Christmas greetings have changed over the centuries – and, in some cases, how often it stays the same.
Speaking of holiday cards, I've recently found myself enjoying cards of a different sort, in the form of recipe cards. Especially common is the Betty Crocker recipe card set, produced in 1971 and usually sold in antique stores for less than $20. Your gift recipient will love remembering some of his or her favorite recipes from yesteryear – and giggle at some of the more ludicrous ones, too (why on Earth were we so obsessed with encasing every conceivable food in aspic? It's a culinary trend that should be relegated to history).
Your Christmas gifts, of course, don't need to only be focused on the season. I don't know about you, but I'm already looking forward to the beauty and renewal that will accompany spring. If your gift recipient is a gardener and loves the great outdoors, help give her garden a vintage touch by gifting antique cookie or candy tins containing a small plant, such as a succulent. Many of these tins can be found for only a few bucks at antique stores, making them an economical choice and an attractive, too.
You've heard the adage that the most thoughtful gifts are those you make yourself. If holiday baking is as enjoyable for you as it is for me, use one of those antique tins to gift a variety of holiday cookies you prepare in your own kitchen (my favorite since childhood have been my mother's Russian tea cakes – also referred to as "Mexican wedding cakes." Yum!).
We've all heard of the trend of wearing ugly Christmas sweaters to work or a family function, but if you're a fan of kitsch, it would be folly to stop there. Ugly Christmas socks complete your fun, cringe-worthy look while keeping your toes warm from the winter chill.
Parks or Road Trip
As you, your family and friends get ready to emerge from your house and take a spring road trip, get into the mood first with a retro-inspired puzzle depicting posters advertising the country's national parks, which can be found at www.uncommongoods.com. Besides providing hours of fun for the family, you just might be end up adding a park or two to your road trip bucket list.
There's no better feeling than unwinding after a long day with a dip in the bath tub. You can give your gift-exchange buddy the gift of relaxation and luxury with homemade bath bombs that you make yourself at home for just a few bucks and a little time. I've made mine thanks to the ladies at www.abeautifulmess.com, which provides step-by-step instructions to ensure your gift is made with the utmost care.
Over the course of the past year, you've likely seen more people turning to repurposed or vintage items in an effort to recycle some looks from yesteryear. This is especially apparent in the arena of clothing and accessories. If you have a fashionista in your life, consider gifting her a variety of vintage sewing patterns, wrapped up in a small basket and tied with a bow. Speaking of vintage fashion, be sure to watch Discover Vintage America this spring for a cover article about how flour mills used fabric flower sacks as fashion statements for the American housewife and mother pinching pennies during the Great Depression.
According to Vintage Source, younger antique buyers – especially Generation Xers — are turning to the power of nostalgia in their buying habits. That includes snatching up their favorite toys from their childhood. Action figures from popular epics such as "Star Wars" are plentiful, and although they might not be in pristine condition, they make the ideal stocking stuffer to delight and impress on Christmas morning.
Chinese antiques have also seen a resurgence in popularity over the last 10 years. For another great stocking stuffer idea, to send a message of goodwill and hope for the coming year, you can gift a small panda bear ceramic figurine. In Chinese culture, the panda stands as a symbol of peace and friendship.
You can never go wrong with the gift of knowledge, but if you're giving to someone simply trying to spruce up their living space, decorative books are popular items that can add a splash of color to the shelves in your living room or your study while making great conversation pieces. Many sellers of decorative books sell small bundles arranged by color theme, with Victorian tomes through mid-20th century.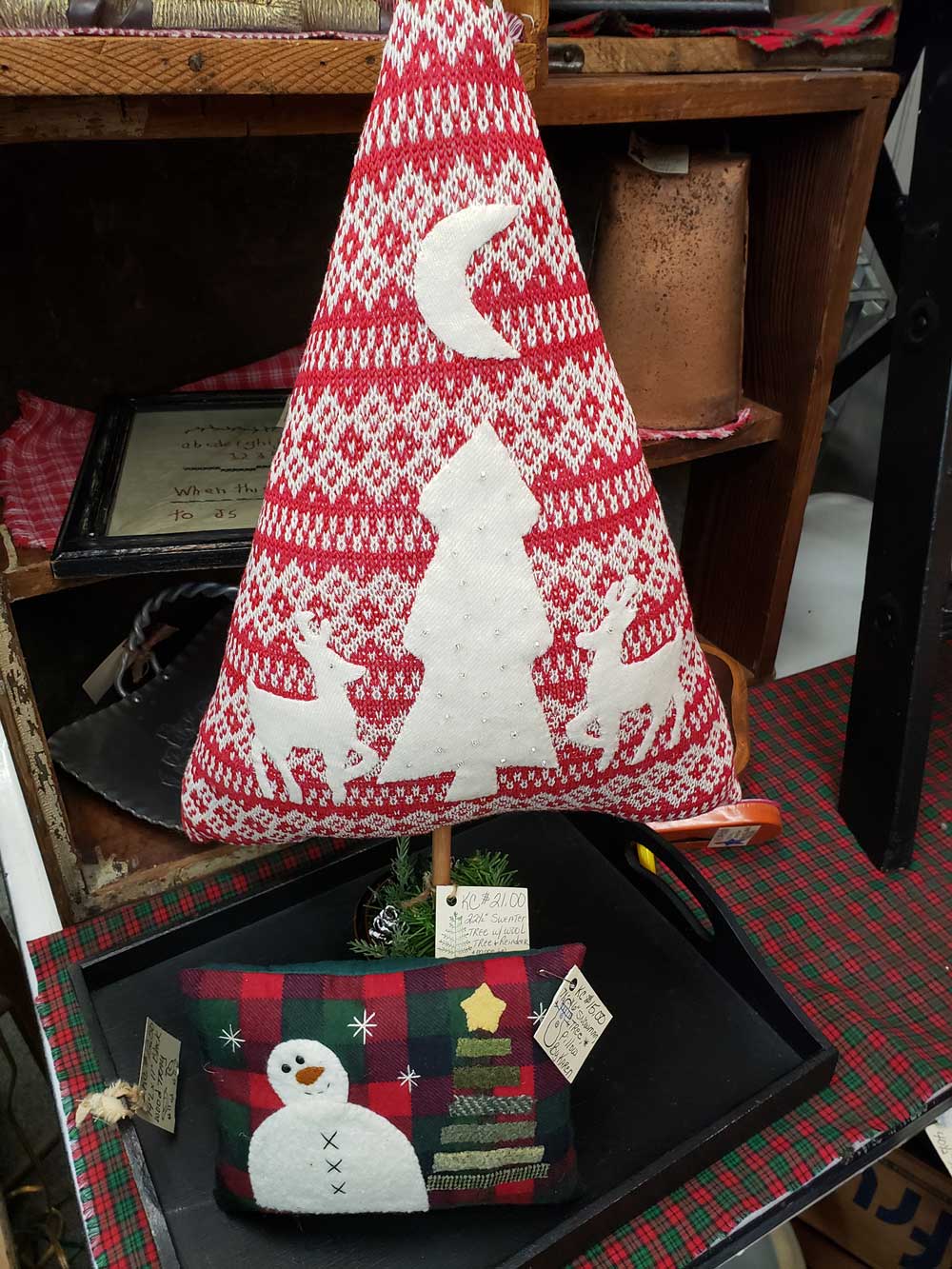 Sweater Fabric
Need help thinking warmer thoughts as it gets colder outside? Try this decorative Christmas tree found at Greenwood Mercantile, designed with sweater fabric on for size. (photo by Corbin Crable)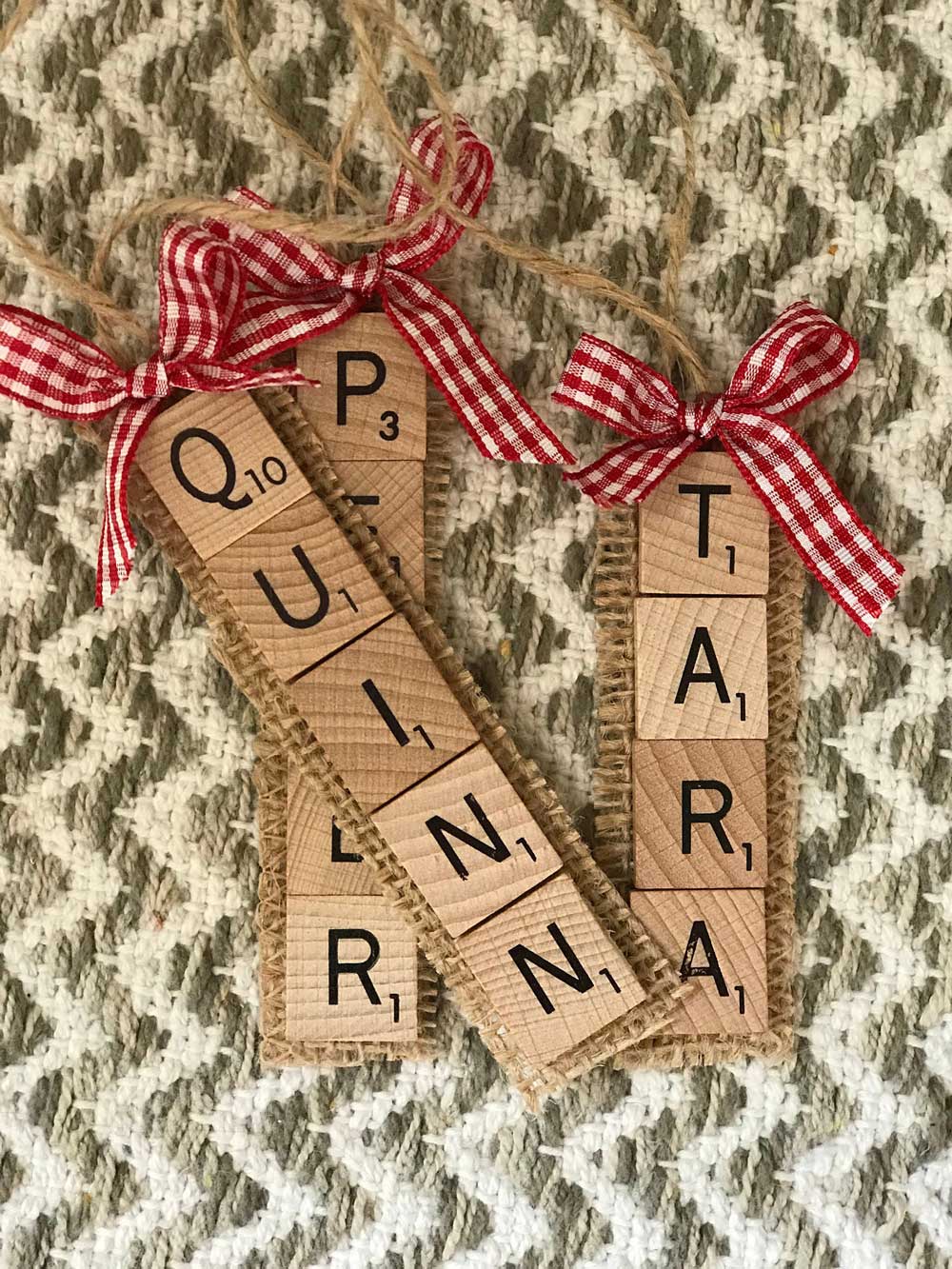 Repurposing Scrabble tiles
Repurposing Scrabble tiles into holiday ornaments will help you to better personalize your gift. (Image courtesy of Pinterest)
Hard to Shop for…
Shopping for the guy who seemingly has everything? Get him the gift of a clean shave from yesteryear. Small vintage shaving kits will spruce up your bathroom space and are increasingly affordable despite all they offer. These highly collectible items make a keen decorative statement and would look especially at home in a guest bathroom.
Say cheese! My father has collected antique cameras for as long as I can remember, and early and mid-century cameras such as Kodak's Brownie, while commonly found, will give an office space a conversation piece that is sure to be a hit. Pair the camera with a small box of flash bulbs for an illuminating gift idea for the shutterbug in your life. In these days when everyone fancies himself a photographer, cameras such as these remind us that photography is still an art.
Often, the most simple ideas are the most appreciated. It's been a tough year for everyone – with that in mind, give the gift of your time this holiday season, whether it's volunteering at your favorite charity, babysitting your beloved grandchildren, enjoying coffee with a friend you haven't seen in a while, or just popping by a neighbor's home with a cake or pie and checking up on their health and wellness, being physically present is a more meaningful present than anything you could ever find in a storefront.
Have a top-notch antique or DIY gift idea? E-mail me to have your idea shared on our website and social media. Holiday blessings to you and yours.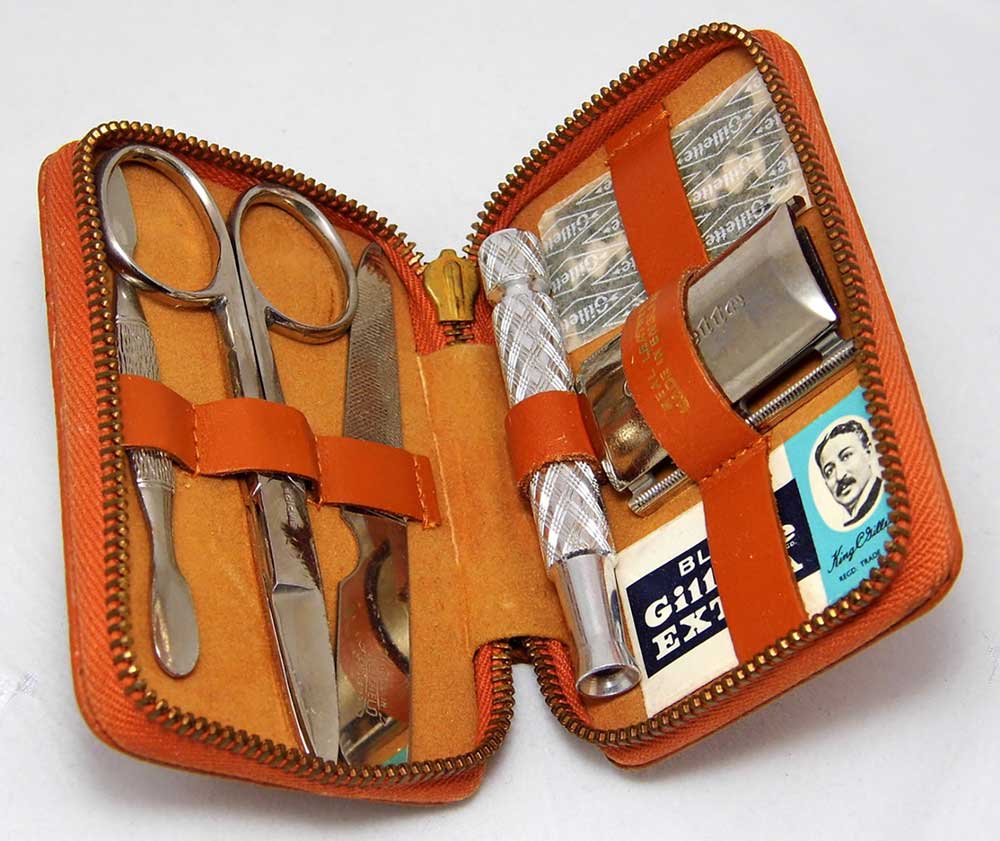 An old-school shaving kit will keep your male family member or friend looking fresh and clean. (Image courtesy of Shave Magazine).