Magic between the pages
Children's literature enjoys a storied history

You remember them fondly from your childhood – you joined them on their adventures in the fantasy worlds they inhabited, and they sparked your imagination, as well as a lifelong love of reading.
They're the books and literary characters you grew up with as a child, and whether they came from the Golden Age of children's literature (generally, from the end of the Civil War through the 1920s) or their tales were written in a postwar, midcentury world, the books and characters you hold in your heart are ones that will always live with you.
You can still find these books in your local antique store, at flea markets, or online. If you wish to take a deeper dive into their pages, the English departments at community colleges and four-year universities alike offer courses on children's literature. Let's take a glance at some of the more popular children's books throughout the 20th century that have found a place in the hearts, minds, and memories of readers of all ages.
The Golden Age
Though tales for children have existed for several hundreds of years (think Aesop's Fables and Grimm's Fairy Tales), Scholars who study children's literature generally regard the genre's Golden Age to fall between 1865 – the year "Alice's Adventures in Wonderland" was published – and 1926, the year in which the first book about Winnie the Pooh hit store shelves.
The years between gave us books that children from all backgrounds could enjoy, including "The Adventures of Pinnochio," "Treasure Island" (both published in 1883), "The Wonderful Wizard of Oz" (1900), "The Tale of Peter Rabbit" (1902), and "The Velveteen Rabbit" (1922), this period was also notable because authors began writing books in which little girls, not just little boys, were featured as the main protagonist. Kate Douglas Wiggin's "Rebecca of Sunnybrook Farm" (1903), Lucy Montgomery's "Anne of Green Gables" (1908), and Frances Hodgson Burnett's "The Secret Garden" (1909) stand as some of the most well-known works featuring young heroines in the years following the late 19th century, a time when adventure stories written for and marketed to boys were popular. Coming-of-age stories, among them, Mark Twain's "Tom Sawyer" and "The Adventures of Huckleberry Finn," also proved to be popular.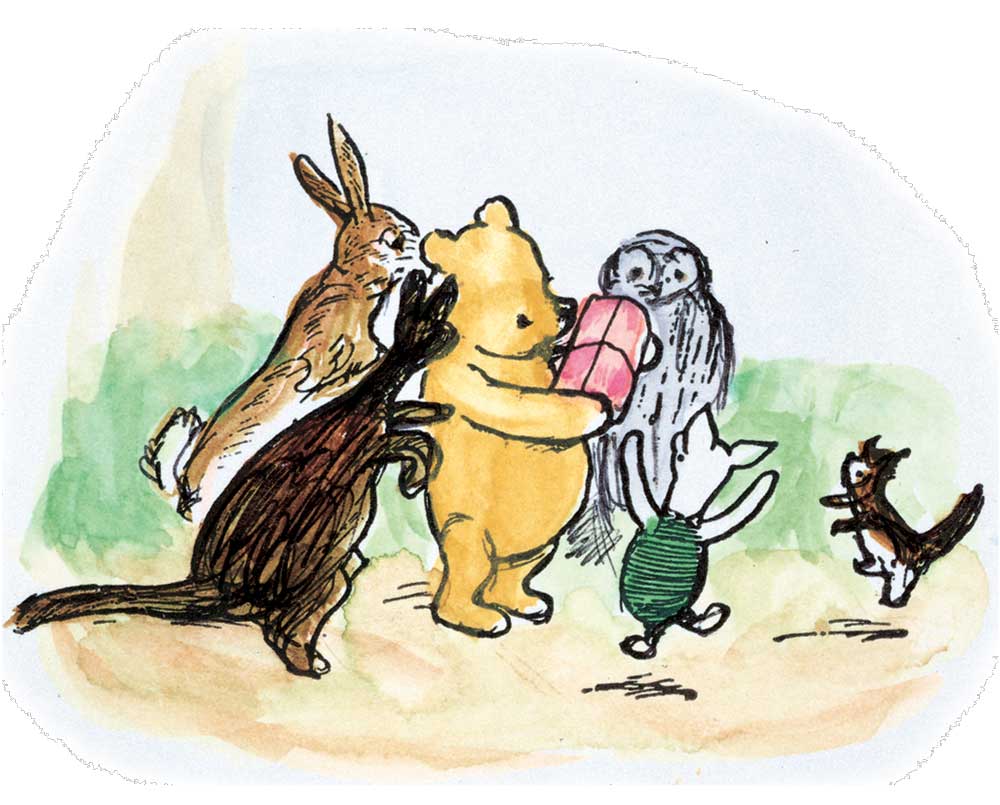 Winnie the Pooh
British author A. A. Milne spun tales of a bear named Winnie the Pooh, an anthropomorphic teddy bear. (Image courtesy of The Folio Society)
"This type of novel is still popular today and focuses on the events that mark the transition of the protagonist from innocent and naïve to more aware and responsible," says American and British literature blogger Adrienne Rivera.
In the 1920s, the genre of children's literature gained much-deserved recognition with the creation of the Newbery Medal, which has been awarded annually to the greatest contribution to children's literature. It was followed 15 years later by the creation of the Caldecott Medal, which honors children's picture books specifically.
A time for classics
Even though the Golden Age of children's literature ended in 1926, many memorable titles were released in the years following the Roaring '20s. Laura Ingalls Wilder's "Little House on the Prairie" series, semi-autobiographical books based on the author's own childhood on the American frontier, were instant best-sellers; Time Magazine, in fact, has named the Little House series as number 22 on its "100 Best Young Adult Books of All Time" list.
Before the close of the 1930s, Dr. Seuss had published his debut book, "And to Think I Saw It on Mulberry Street." Dr. Seuss' most cherished work, "The Cat in the Hat," would be published 20 years later.
"His iconic illustrations and charming rhyme scheme make him a perennial favorite of young children," Rivera says, "and his books have been adapted again and again into movies, television shows, and stage plays."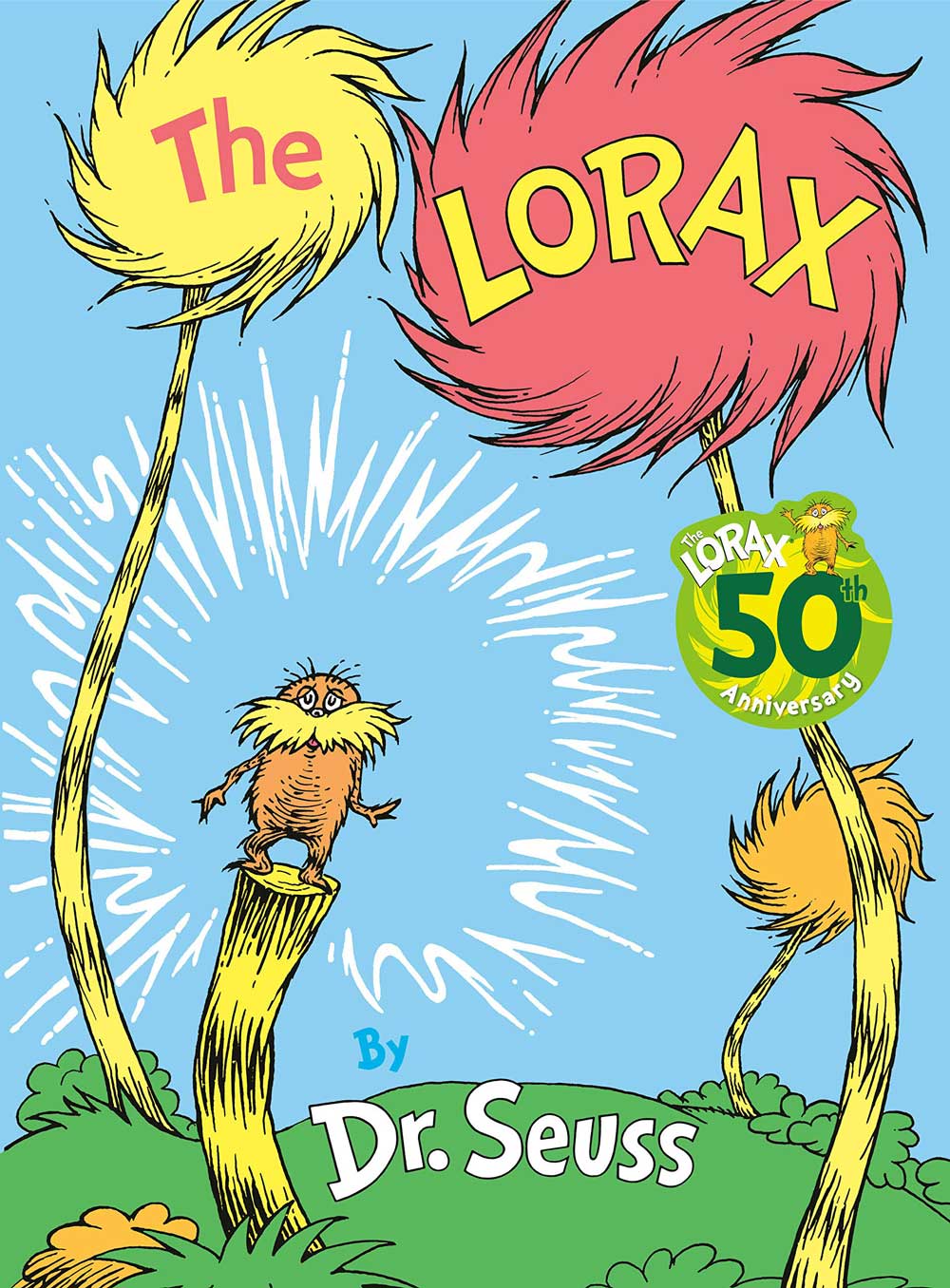 Lorax
The Lorax was Dr. Seuss' environmentally conscious character who spoke for the trees in a book by the same name. (Image courtesy of Amazon)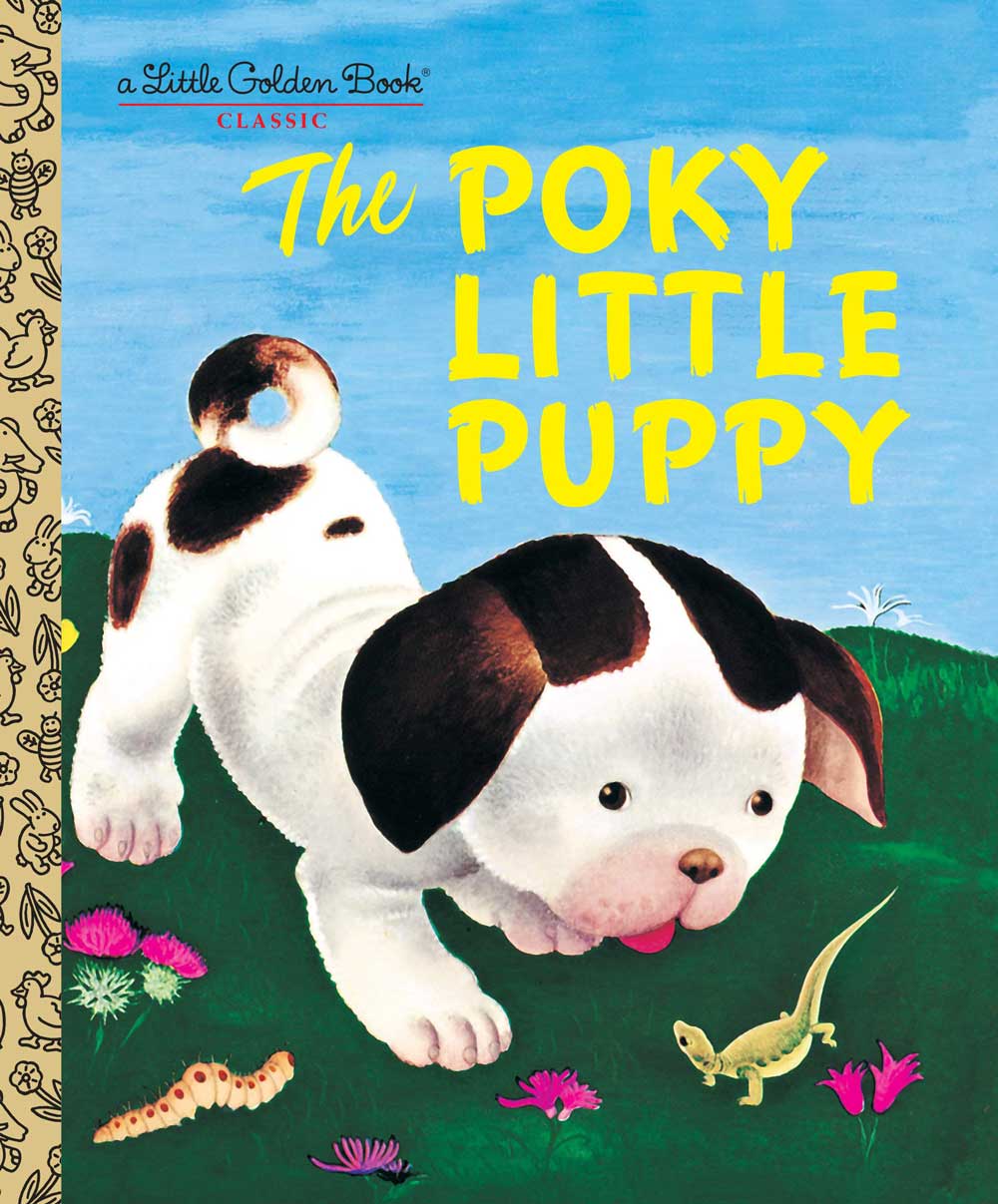 Little Golden Books series
"The Poky Little Puppy," part of the Little Golden Books series, is the best-selling children's book of all time. (Image courtesy of eBay)
Little Golden Books become the gold standard
The popular children's book series Little Golden Books was founded in 1942, and they are familiar to Baby Boomer collectors who remain drawn to the gold foil on the books' spines, as well as their richly colored cover illustrations. These books aren't just memorable for their distinctive look – the stories contained in them have gained critical acclaim, with "The Poky Little Puppy," the eighth book in the series, standing as the best-selling children's book of all time, according to Publishers' Weekly, which notes that by the 50th anniversary of the series in 1992, more than 14 million copies of "The Poky Little Puppy" had been sold.
"Mentioning the Little Golden Books in general conversation often elicits pleasant childhood memories of the gold-foil spine and the little puppy who eats all of the desserts or the tugboat who saves the day," Julie Sinn Cassidy writes in her academic article "Transporting Nostalgia: The Little Golden Books as Souvenirs of Childhood," published by John Hopkins University Press in 2008.
Cassidy continues, "(Little Golden Books) have remained a consistent and, according to sales records, popular part of American children's literature since their inception, which makes them unique in the American picture book market."
Indeed, the memories shared by those who read a variety of Little Golden Books in their childhood bear out Cassidy's hypothesis.
"From their thin hardback profile to the vibrant cover colors to the golden foil spines to the character montage on the back, Little Golden Books transport us to our earliest days of learning to read," Corey Wheeland stated on her blog, The Nostalgia Diaries, in a 2017 article to mark the series' 75th anniversary. "And that nostalgia has been passed down, generation to generation. Children, parents, grandparents all can share in the fond memories these wonderful books create."
A world of pure imagination
By midcentury, the market for children's books had seen a sizable boom, with more contributions to young readers' collective libraries, including E.B. White's "Charlotte's Web," an enduring tale of an unlikely friendship, and "Stuart Little," which documented the big adventures of a tiny hero. Since their publication, both books have found their way to adaptation in other media forms, such as cartoon and live-action movies.
The big name in children's books during the 1960s, meanwhile, was a British storyteller named Roald Dahl, who penned such children's classics as "Charlie and the Chocolate Factory," (1964) and "James and the Giant Peach" (1961) and, later, "Matilda" (1988). The heroes and heroines of Dahl's books were warm and kindhearted, often facing off against cruel, conniving adult antagonists. Dahl's playful use of language and nonsense, paired with his dazzling illustrations, made his books an instant hit. Dahl credited one of his favorite books in his childhood, "Alice's Adventures in Wonderland," as being a major influence on his writing and his imagination.
According to the British Broadcasting Corp., a 2007 TV special that aired in the United Kingdom listed Dahl's eight primary rules he applied to all of his children's books:
Just add chocolate
Adults can be scary
Bad things happen
Revenge is sweet
Keep a wicked sense of humour
Pick perfect pictures
Films are fun…but books are better
Food is fun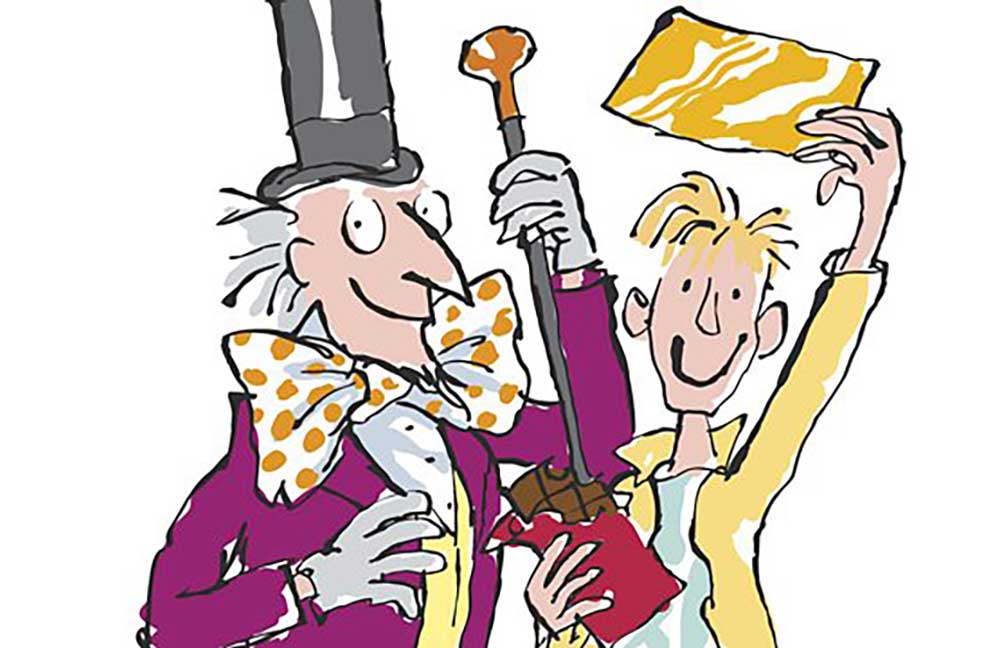 Charlie and the Chocolate Factory
Roald Dahl's "Charlie and the Chocolate Factory" has been most famously adapted into a 1971 film starring Gene Wilder. (Image courtesy of The BBC)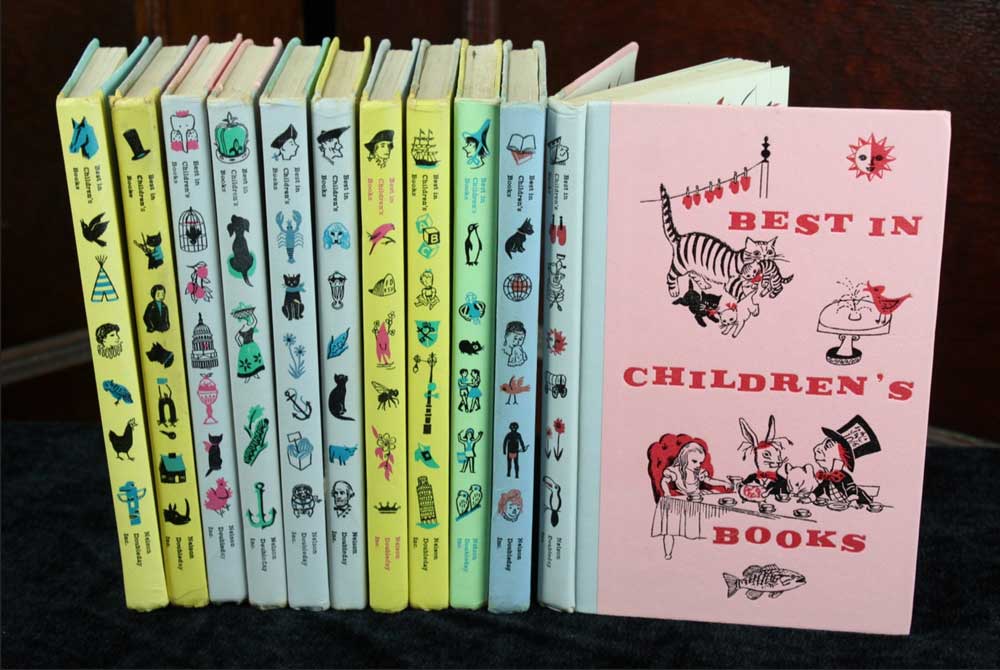 Children's Books
Sample volumns of vintage Best in Children's Books.
(Image courtesy of theembasseyantiques)
Boomers might remember these
"From 1957 to 1961, the Doubleday Book Clubs, under the Nelson Doubleday imprint, published a multi-volume work entitled Best in Children's Books. Each volume contained a mix of classics, new stories, and non-fiction. Included were numerous folk and fairy tales of the Brothers Grimm; Mother Goose rhymes; retellings of Cinderella, Little Red Riding Hood, and The Ugly Duckling; and adaptations of Robinson Crusoe, A Christmas Carol, and Gulliver's Travels. Every volume had an informational piece on a different country, complete with photographs, introducing children to new and exotic lands like Japan, Israel, and Thailand. A love of history was fostered through stories about Abraham Lincoln, Napoleon, Benjamin Franklin, Daniel Boone, Robert Fulton, Clara Barton, Marco Polo, and the Wright Brothers. Mythology was introduced with stories about Pandora, Ulysses, Pegasus, Damocles, and Jason." (excerpt courtesy of Etsy)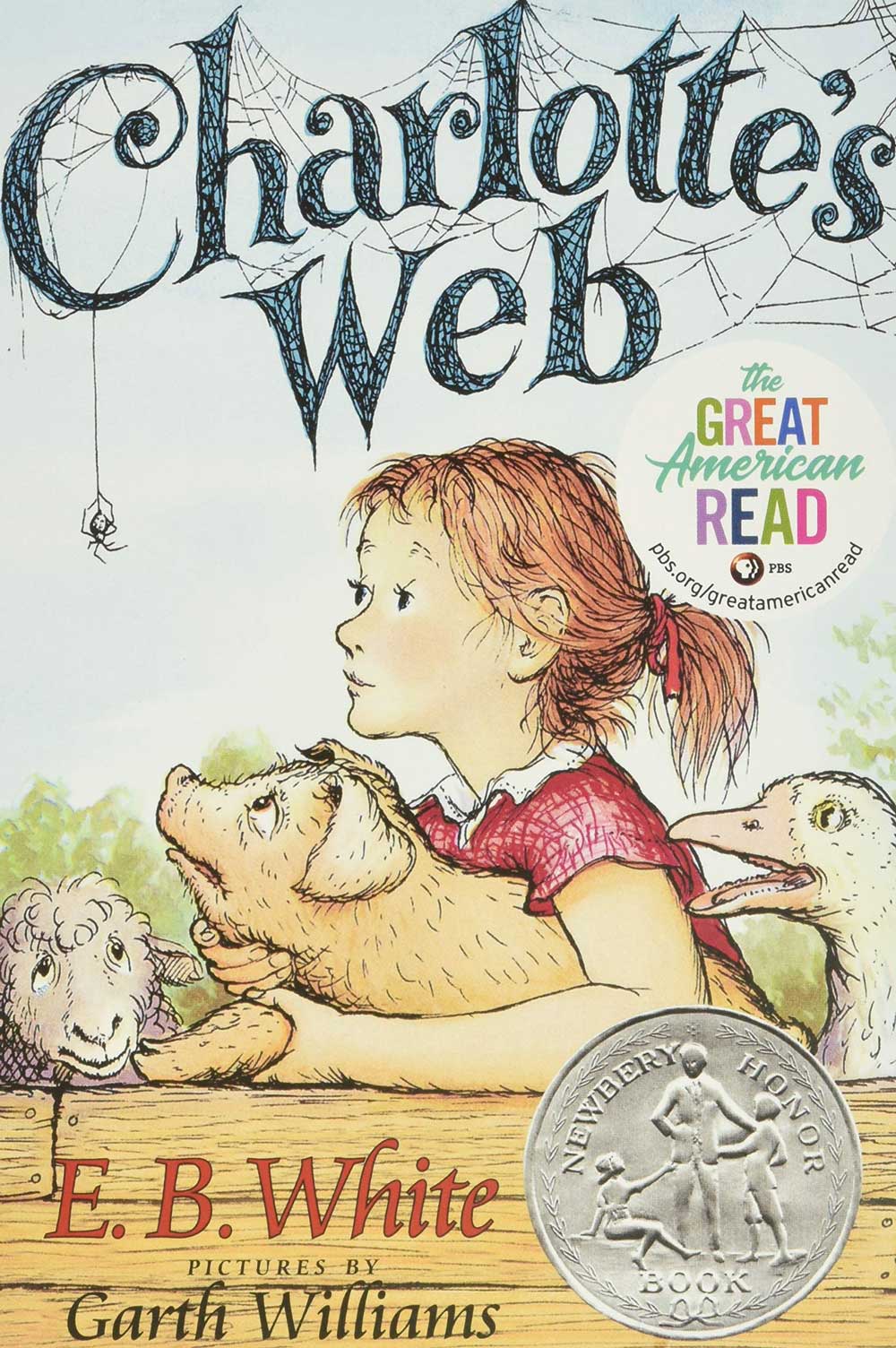 Charlotte's Web
 E.B. White's "Charlotte's Web" was a Newbery Medal winner in 1953. (Image courtesy of Sulfur Books)
A boy wizard makes reading magical
Generation Xers likely will remember Judy Blume from their own childhood. Blume's debut novel, "Are You There, God? It's Me, Margaret" became a lightning rod for controversy due to its frank examination of religion and sexuality. Her children's books, among them "Blubber" (1974) and "Tales of a Fourth-Grade Nothing" (1972), which explored the relationship between 9-year-old Peter Hatcher and his 2-year-old brother, Farley (affectionately referred to as "Fudge").
Though the number of regular readers among young children has dwindled since the mid-1980s, children's literature has enjoyed a renaissance of sorts with J.K. Rowling's hugely popular "Harry Potter" series. Other young-adult series in the years that directly preceded or followed the publication of the series, such as "His Dark Materials" and "The Hunger Games" have young people picking up books once again.
"(Harry Potter) has revolutionized the children's book market," literary critic Laura Miller claimed in a 2008 article for The Los Angeles Times.
With the arrival of the Harry Potter series on the children's and young adult literary scenes, the renewed popularity of reading among youths seems to be gaining steam, and it shows no signs of slowing, according to Rivera.
"With more books for children being written than ever before, it's safe to say the world of children's literature has exploded," she says. "Who knows where it will take readers next?"
​