Like, totally rad!: Gen X collectibles – remain popular, plentiful
Generation X like I am
For those of us of a certain age, the power of nostalgia remains a strong draw when we consider the pop culture influences of our childhood. Generation X – those Americans born between 1965 and 1980 – number roughly 51 million; they're a generation characterized as a group of people who are confident self-starters who are adaptable to change and crave independence. They're also the generation that gave us the term "latchkey kids," raised by working parents who left them alone after school.
Generation Xers were surrounded by pop culture influences – and, by extension, toys and other items – that were mass produced and left an undeniably strong effect on them. They were the first generation to have video games, the first with powerful connections between memorable characters, merchandising and mass media.
If you're a member of Generation X like I am, these are the toys you likely found under your Christmas tree and the ones you were still playing with as December became January. So, hop on your Big Wheel and take a spin down memory lane with me!
Big Wheels
Since I just mentioned them, they're the logical place to start. These hard plastic trikes came out in 1969 – the same year as Sesame Street – and were produced by The Marx Toy Co. through the early 1980s. Big Wheels sold for roughly $160 in today's currency. If you had one, you were the king or queen of the sidewalk. Big Wheels have begun to be manufactured again in recent years. In the past 50 years, more than 40 million units have been sold, according to retroplanet.com.
​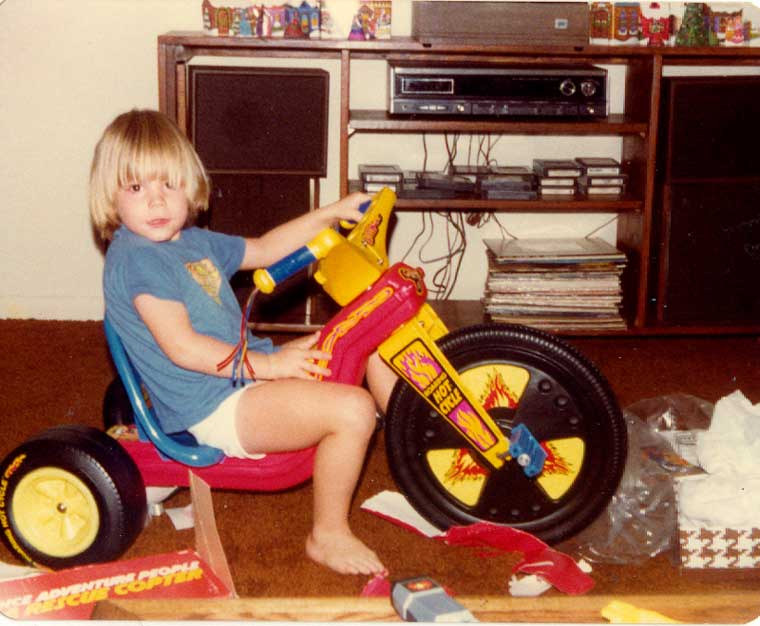 BigWheels
Every kid who had a Big Wheel felt like they played in the lap of luxury, writes the editor of a blog on 1980s pop culture, pictured here as a young boy. (Image courtesy of Branded in the '80s)
Rainbow Brite
Move over, Strawberry Shortcake! This colorful, plucky little heroine was created by Kansas City-based Hallmark Cards in 1984. Conceived as a young girl in a rainbow-colored dress and stockings, she wielded power over nature and led a band of children called the Color Kids, who were tasked with bringing brightness to the world as each stood in charge of a different color. Rainbow Brite was an immediate hit, giving rise to movies, a TV show, VHS tapes, dolls and other toys.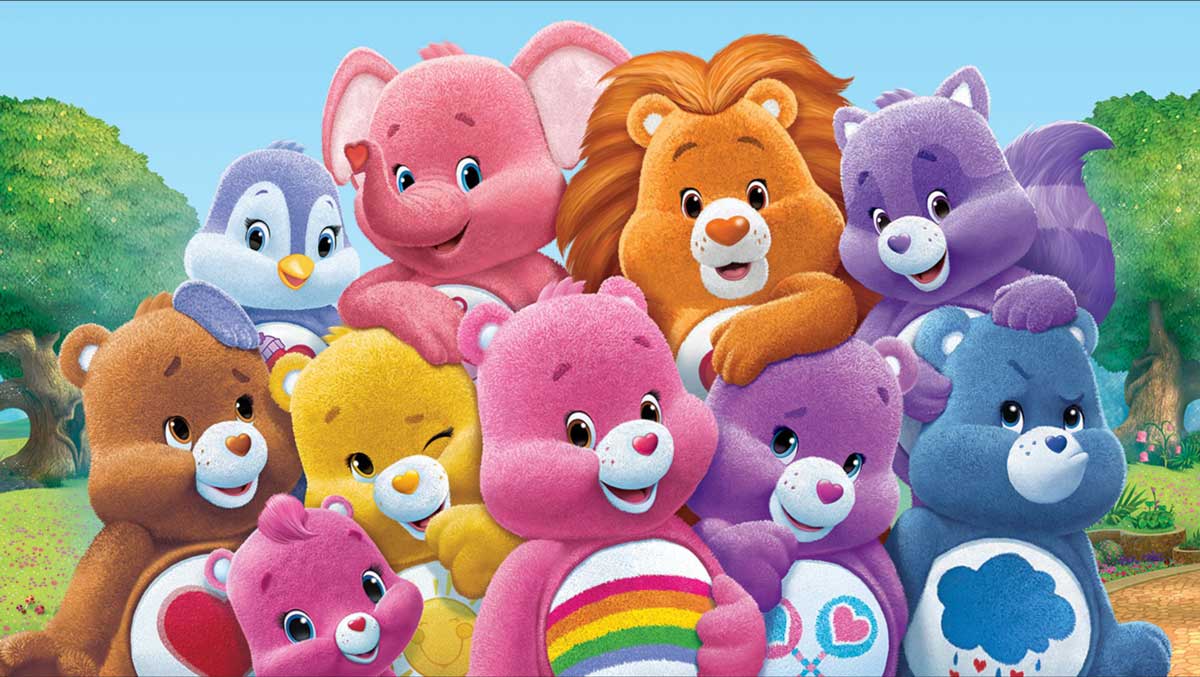 Care Bears
The Care Bear plush dolls of the 1980s have been delighting children of all ages in various forms of animated shows over the years. (Image courtesy of Netflix)
My Buddy
Admit it — you're singing the commercial jingle right now! The doll line was released by Hasbro in 1985 and was controversial at the time because it was believed that only girls were interested in playing with dolls. My Buddy was a boy, complete with red overalls; a striped, long-sleeved t-shirt, blue shoes, and a face full of freckles. A female version of My Buddy, Kid Sister, was released shortly afterward.
It's been said (but never confirmed) that the My Buddy doll served as the inspiration for Chucky, the murderous doll from the horror film series Child's Play.
Care Bears
Just like Rainbow Brite, these colorful bears were the brainchild of a greeting card company – American Greetings – but took on a life of their own and found their way into our collective hearts and memory.
Developed in 1981, each bear was identifiable by a special badge on its belly, identifying his or her dominant personality trait (Cheer Bear's badge was a rainbow, Grumpy Bear's badge was a rain cloud … you get the idea). TV shows, movies and tapes followed, but the most popular items in the Care Bears line were the plush dolls, which were introduced in 1983 and helped spice up show-and-tell day in kindergarten.
Teddy Ruxpin
Excuse the phrasing here, but Teddy Ruxpin was a bear of a different color. Launched in 1985 by toy manufacturer Worlds of Wonder, he was an animatronic bear who was sold with a cassette tape that, when inserted into a place in his back, made the bear's eyes and mouth move as he re-enacts pre-recorded stories. In addition to Teddy Ruxpin himself, consumers also could buy a doll version of his companion, a yellow and orange worm-like creature named Grubby.
Teddy Ruxpin was the hottest-selling toy of both 1985 and 1986; at the height of his popularity, actress Joanna Kearns of the TV show "Growing Pains" was the toy's official spokesperson.
e-Man and the Masters of the Universe
In 1981, toymaker Mattel gave rise to the new Masters of the Universe franchise, designed to be a mashup of medieval and science fiction whose action took place on a planet called Eternia. The animated TV shows, films, and comics portrayed the adventures of the protagonist, blonde and muscular He-Man, forever locked in battle with his nemesis, the blue-skinned, skeletal-faced villain Skeletor. Mattel released a popular Masters of the Universe action figure line, which underwent several iterations over the decades. A live-action Masters of the Universe film was released in 1987 starring Dolph Lundgren as He-Man, Frank Langella as Skeletor, and a little-known actress named Courteney Cox (yes, THAT Courteney Cox).
Teenage Mutant Ninja Turtles
Cowabunga, dude! These four anthropomorphic heroes on a half shell were introduced as a comic book in 1984 and were a runaway success in an industry already overrun by superheroes. Leonardo, Raphael, Michelangelo and Donatello were, of course, named for the famous Renaissance artists.
An action figure line sold well almost immediately, with more than $1 billion in sales between 1988 and 1992. An animated series helped promote the action figures; it was launched in 1987.
The masked, pizza-loving heroes wielded ninja weapons such as nunchucks and a katana sword in their battles against evil ninja master Shredder. They appeared in video games and live-action films throughout the 1990s and early 2000s.
Sony Walkman
Maybe you were a tad too old for dolls and instead wanted to rock out to some Michael Jackson, Madonna or Culture Club. The portable audio player Walkman was the must-have item on many a teen's Christmas wish list throughout the 1980s. Released in 1979 by Sony, more than 30,000 units sold within its first two months on the American market. Limited edition models were released for Walkman's 10th anniversary in 1989 – one made of brass and one in sterling silver. By 1999, 186 million Walkmans had been sold worldwide.
Of course, the release of portable CD players spelled doom for the cassette player, and the last Walkman model was released in 2004.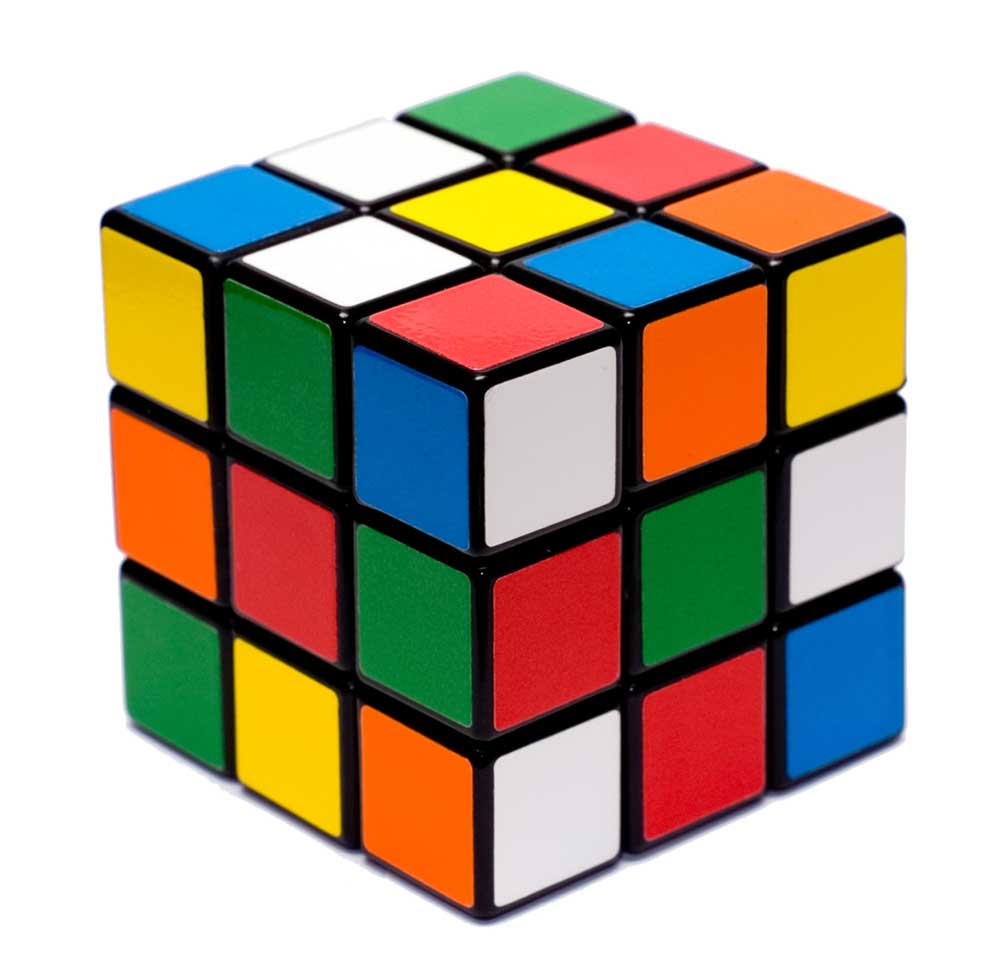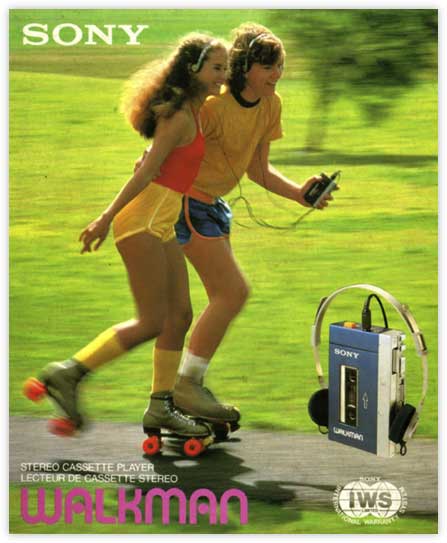 Walkman
An advertisement for the Sony Walkman from the 1980s. (Image courtesy of Timeline)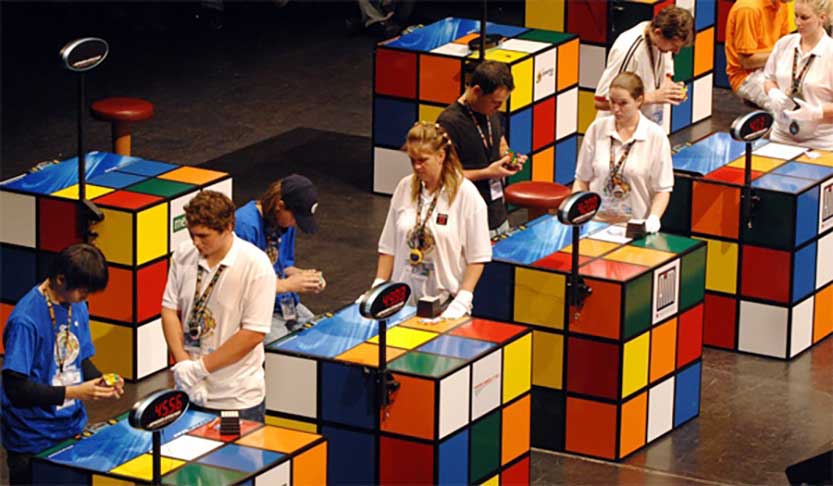 Rubik's Cube
A recent Rubik's Cube competition, sponsored by the World Cube Association. (Image courtesy of GoCube)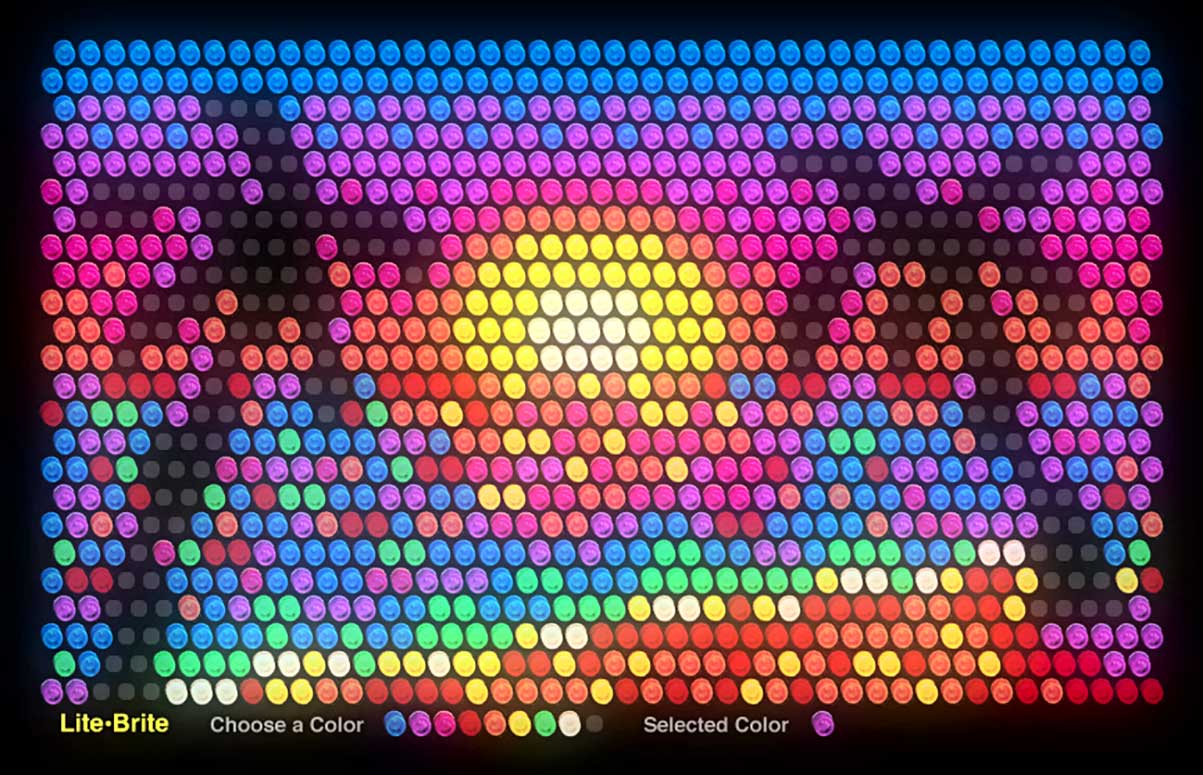 Lite Brite
Children of the '70s and '80s used Lite Brite's colored pegs to bring their imagination to life. (Image courtesy of Pinterest)
Rubik's Cube
Possibly the world's most frustrating puzzle toy, each of the six faces of this puzzle cube display one color of sticker on each pivoting panel, and each face must show only one solid color.
Invented by Erno Rubik in Hungary in 1974, the Rubik's Cube reached the height of its popularity in the 1980s. Expert-level players known as "speedcubers," competed in competitions around the world; during the past 20 years, as the Cube has enjoyed a renaissance of sorts in popularity, solving the puzzle has become an increasingly competitive activity, with an actual governing body of the Rubik's Cube recognizing world speed records.
Slinky
The Slinky, older than the other items listed here, was invented in 1943 by a naval engineer and later the patent was owned by James Industries. The spring toy was designed, among other feats, to travel down a flight of steps (though if you ever owned one, you know this didn't always go the way you planned).
In the 1960s, toy inventor Helen Herrick Malsed sent to James Industries ideas for Slinky pull toys; the company liked her idea, and thus, Slinky Train and Slinky Dog were born, the latter appearing as a supporting character in the animated Toy Story films.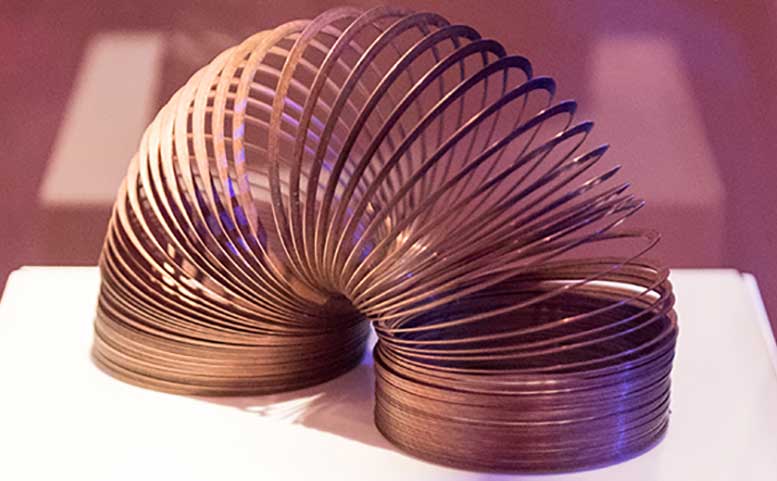 Slinky
For most kids of the late 20th century, the Slinky was easy to get tangled up, but difficult to master. (Image courtesy of Heinz History Center)
Lite-Brite
Older members of Generation X likely will be familiar with this toy, which allows the user to place multi-colored pegs on a black background lit from behind by a light bulb. The user – or artist, in this case – can create any number of colorful designs based on the arrangement of the pegs.
Lite-Brite was created in the late 1960s by the game design company Marvin Glass & Associates (Hasbro now owns the rights to the game). Due to its immense popularity throughout the 1970s and '80s, the game has been named one of the top 100 toys of all time by Time Magazine. Just last year, it was named a finalist for induction into the National Toy Hall of Fame.
Etch-a-Sketch
Older Generation Xers will well remember the Etch-A-Sketch, invented at the end of the Baby Boomer Generation. The Ohio Toy Co. launched the drawing toy in 1960, which was initially criticized for including a glass screen that would be dangerous to children. The glass was later replaced with plastic. The inside surface of the screen is coated with a powder , scraped off by a movable stylus and leaving a dark line on the screen. Users could control the stylus with two knobs situated on opposite ends of the toy.
Like the Slinky, the Etch-a-Sketch saw a sizable boost in sales after being featured in Disney's original "Toy Story" film in 1995.
What toys did we miss, Gen Xers? Send us your memories to editor@discovervintage.com for a chance to be featured in our next issue.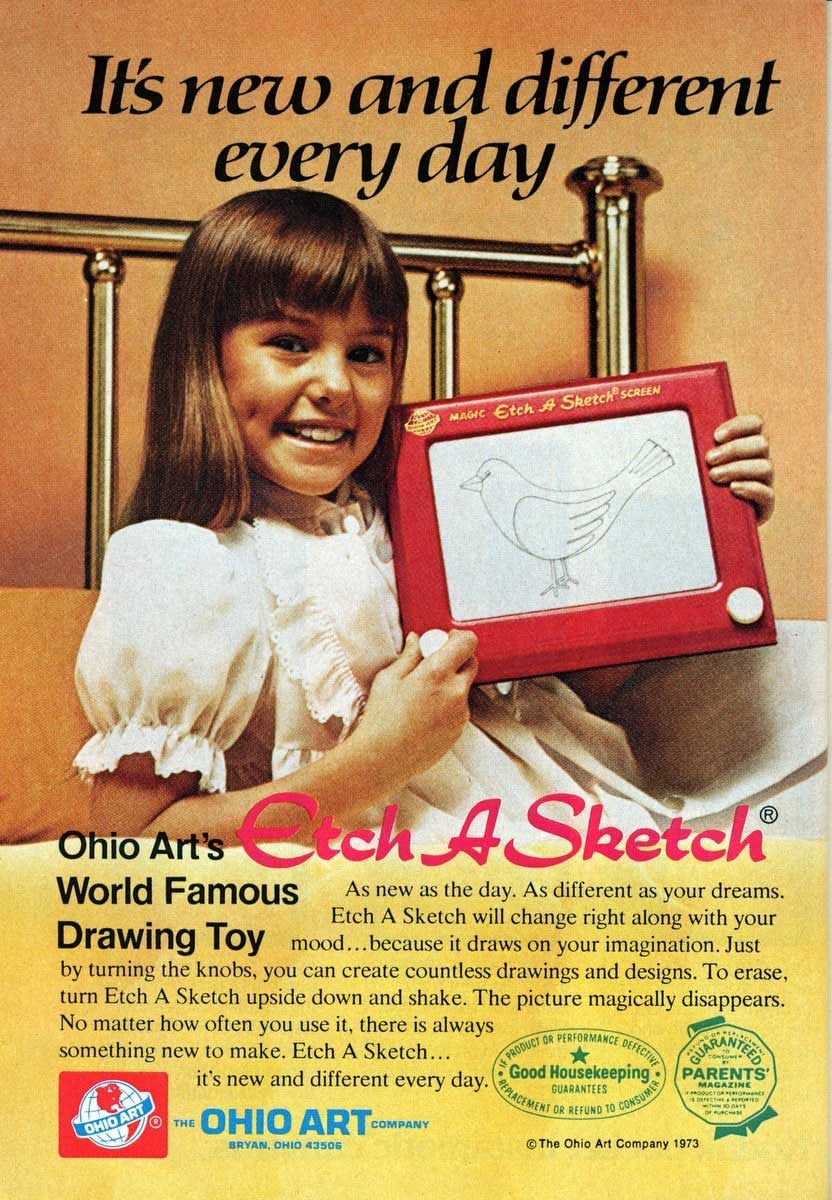 Etch-a-Sketch
An Etch-a-Sketch advertisement from 1973. (Image courtesy of Click Americana)