Hey, wanna go to the mall?
Shopping malls exist as snapshot of America during one moment in time
"All right, I'll pick you up at the food court entrance 3 p.m. Have fun and be safe!"
The words – or something like them – are familiar to anyone who grew up in America's suburbs during the late 20th century, when going to a shopping mall with your friends (and without parents in tow) was a rite of passage for young teens and tweens.
Shopping Mall
The shopping mall, that ubiquitous symbol of American culture, consumerism, and, if you were of a certain age, unbridled freedom, is older than you might think. According to a 2018 article by Ian Bogost in The Atlantic, the first enclosed shopping mall opened in 1956 in Edina, MN, designed by Austrian architect Victor Gruen. It was an invention that heralded the peak of the Baby Boomer generation – soldiers returning home from fighting overseas in 1945 settled into what would become known as suburbs, got married and started a family. The purchase of items such as television sets and electric washers and dryers showed us that these weren't merely conveniences of the modern era – they were indeed status symbols. And where else would these new families, whose numbers exploded in the 1950s, spend their money than in the shopping mall – that logical next step in the evolution of commercialism and post-war America? After all, more shoppers meant more retail spaces and department stores were needed.
"Gruen wanted to import the pedestrian experience of modernist, European cities like Vienna and Paris into America, where the automobile was king," Bogost wrote. "By creating places for community in the deserts of suburbia, he hoped to lure people from their cars and into contact with one another. The malls would be for shopping, yes, but also offer food, relaxation, and green space. … (It was) A place to gather, a place to shop, a place to relax, a place to live."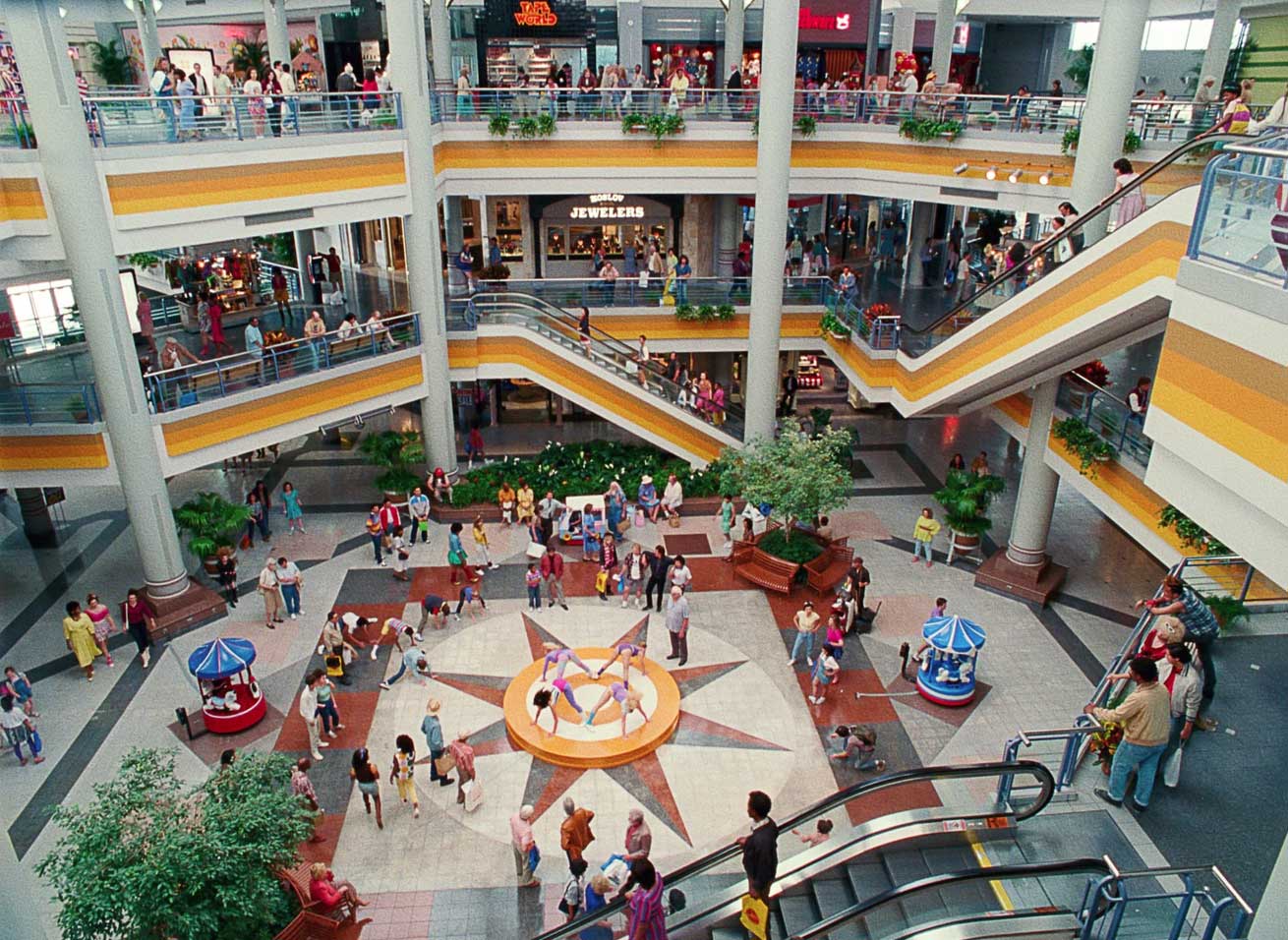 Landmark Shopping Center
In its day, Landmark Shopping Center was the epicenter of retail industry in Alexandria, VA. More recently, it was featured in the filmimg of "Wonder Woman 2:1984" (image courtesy of nostalgicvirginian.com)
Younger Baby Boomers and Generation Xers well remember the mall as all of these things and more, the experiences invariably tied to the names of stores that still exist both inside and outside its concrete walls, as well as those that have long since disappeared from our lexicon.
The mall was a world unto itself, a place where one could purchase goods and services in real-time and, more importantly to younger people, a place where they could put their finger on the proverbial pulse of what was hot and popular, a place where friendships began, blossomed and eventually died.
The decades that made up the second half of the 20th century saw the number of malls in American cities grow quickly; in fact, more than 16,000 were constructed in the 1980s alone, according to Business Insider. Those years gave rise, of course, to products, names and brands that populated these malls, as well as interior design and fashion trends that wouldn't be seen again. Chances are, you recognize a few of these features, products and merchants from the shopping malls of yesteryear.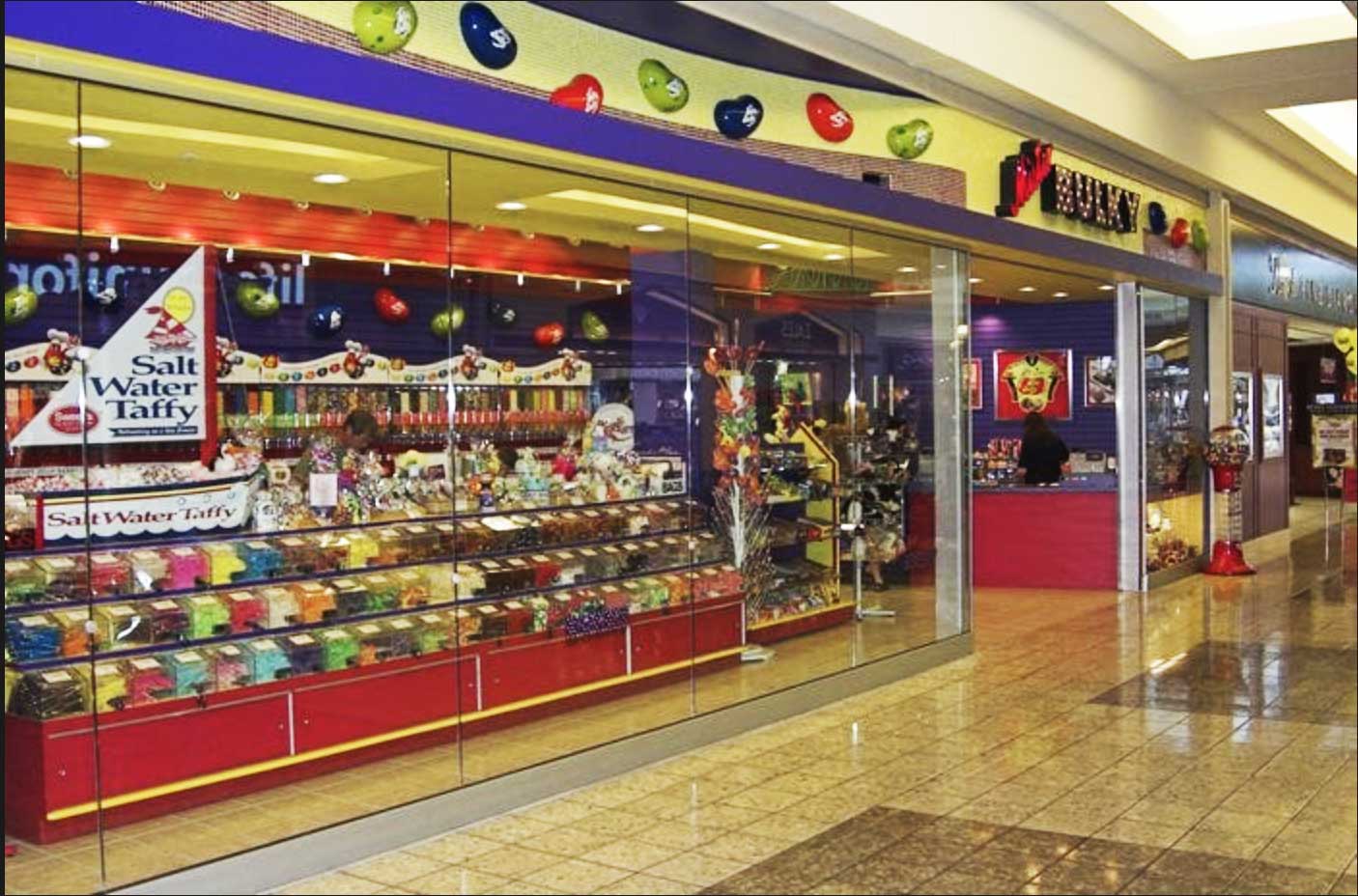 Mr. Bulky candy store
Along with the food court and the arcade, Mr. Bulky candy store was a popular hangout for the kids. (image courtesy of yelp.com)
Pop-star appearances
Between the 1970s and the 1990s, it was common to enjoy mall concerts by young up-and-coming musical stars – none as memorable as 1980s pop sensation Tiffany, queen of the mall tour. Her performances at American malls throughout the '80s launched Tiffany to stardom (and her smash hit "I Think We're Alone Now" could be found in teens' cassette players throughout the country).
Smokers
Strolling through your local mall with a thick cloud of smoke swirling in the air above your head used to be the norm in malls, as were ashtrays stationed next to benches and rest areas inside the mall. But public opinion began to change in the early 1990s as more malls began to ban smoking in food courts, inside stores and restrooms.
Orange Julius
Those mouth-watering, thick, creamy drinks were synonymous with malls. The beverage – a mixture of ice, sweetener, orange juice, milk and powdered egg whites – has been made and sold since the 1920s at stands across the U.S. Orange Julius is still made and sold by Dairy Queen, which has owned the rights to the drink since the late 1980s.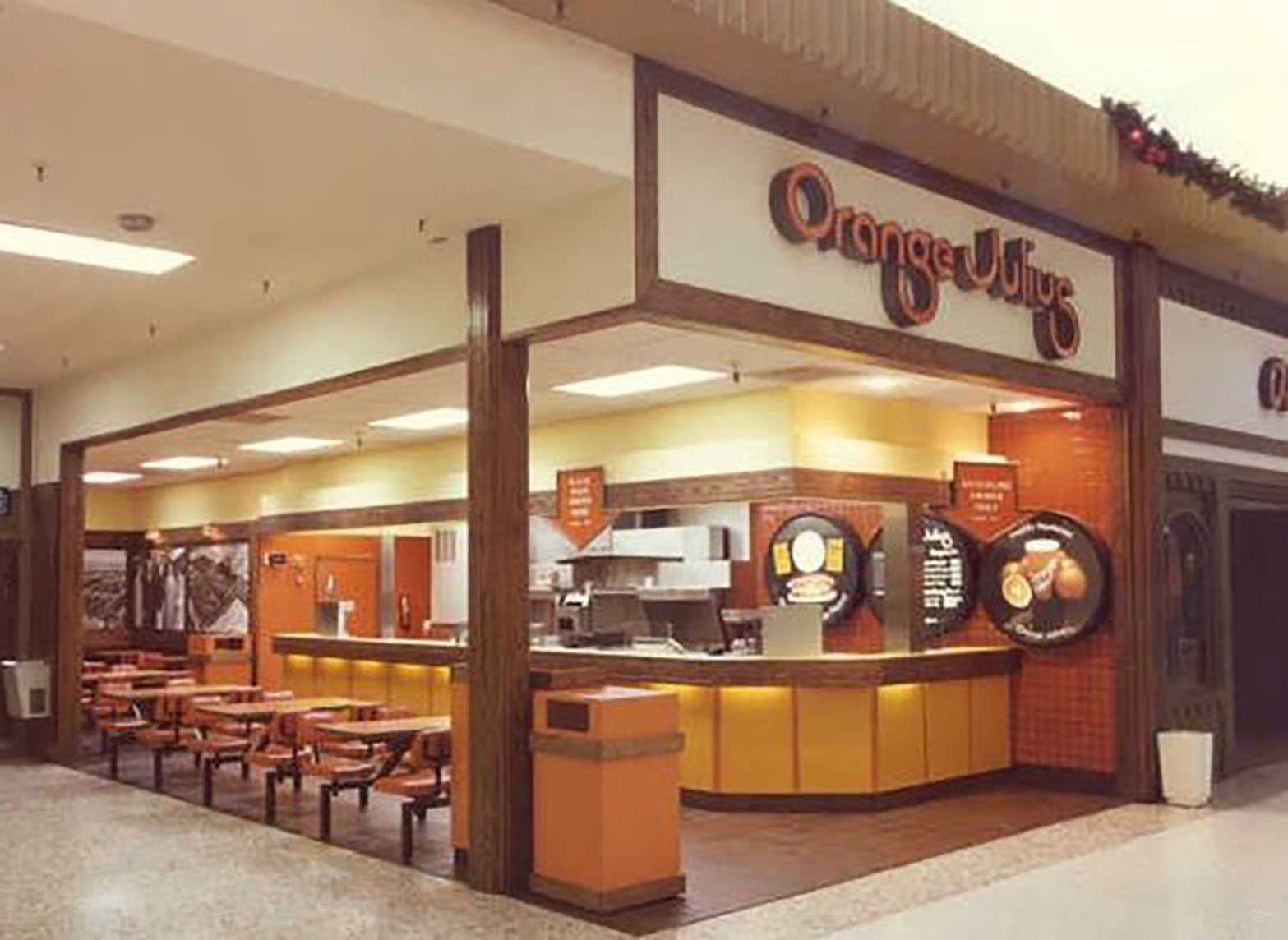 Orange Julius
Orange Julius was a mall staple in the 1980s, with its uniquely flavored smoothies on tap. (image courtesy of Pinterest)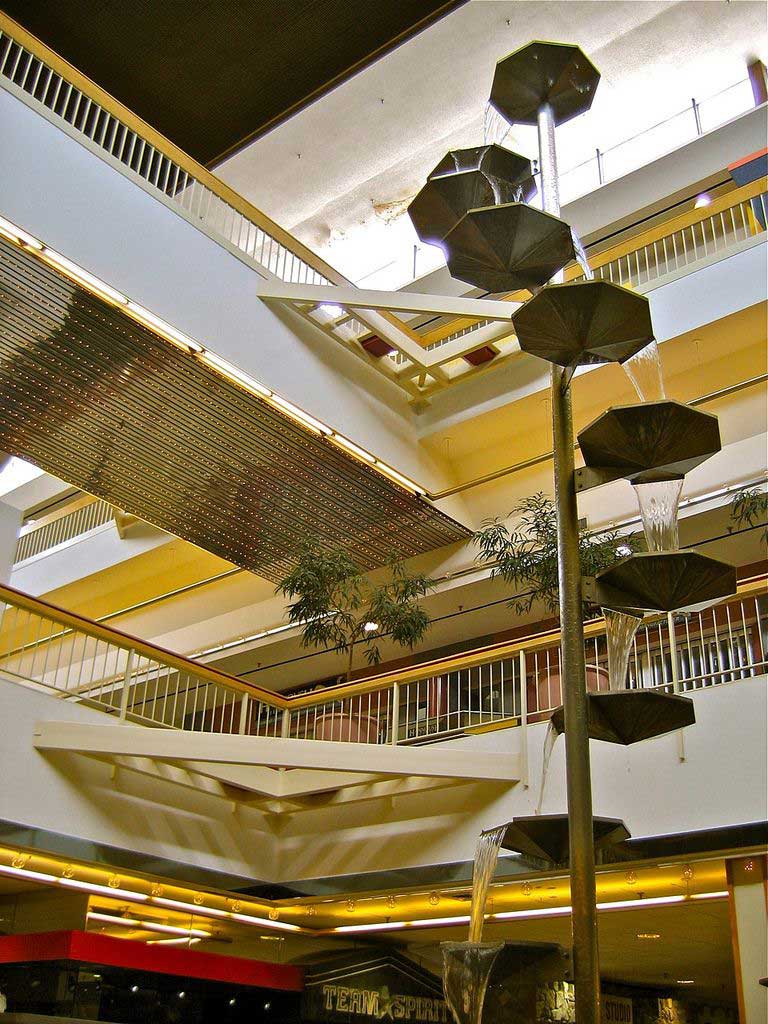 Tall cascading fountain
This tall, cascading fountain was the talk of shoppers at Metcalf South Mall in Overland Park, KS. The mall was demolished several years ago. (image courtesy of Facebook)
Sharper Image
Did anyone actually ever buy anything from Sharper Image? I only remember going into the store to try out every cool gadget – especially the massaging chair. Sharper Image, that gift store for the rich guy who seemingly has everything, went bankrupt in 2008 after a little more than 30 years in business; it has since relaunched, and its expensive luxury items are now mostly sold via catalog and third-party retailers.
B. Dalton Booksellers
Much like the very first enclosed mall, the first B. Dalton bookstore opened in Edina, MN, in 1966. The chain, which sold hardcover new-release books alongside paperbacks, was specifically designed to cater to customers living in suburbs. By 1986, at the business' peak, B. Dalton had 798 locations open in the U.S. The B. Dalton name was sold to Barnes & Noble in the late 1990s, and the last location closed in 2013.
K.B. Toys
Named for the Kauffman Brothers – that's Harry and Joseph – the company was originally a candy seller but entered into the toy industry in 1946, more than 20 years after its founding. It focused solely on its shopping mall locations for the remainder of its existence until the company went bankrupt and liquidated in early 2009. But let's face it: what you remember most about K.B. Toys were those adorable electronic pig and dog plushies that barked, oinked and walked on a little platform outside the store.
Fountains
These water features were everywhere you turned when you went to the mall, whether they were gurgling and babbling lightly or shooting jets of water into the air, illuminated by colored lights below. As a child, you might have plunged your hands into the water or tossed a coin or two into the fountain to make a wish.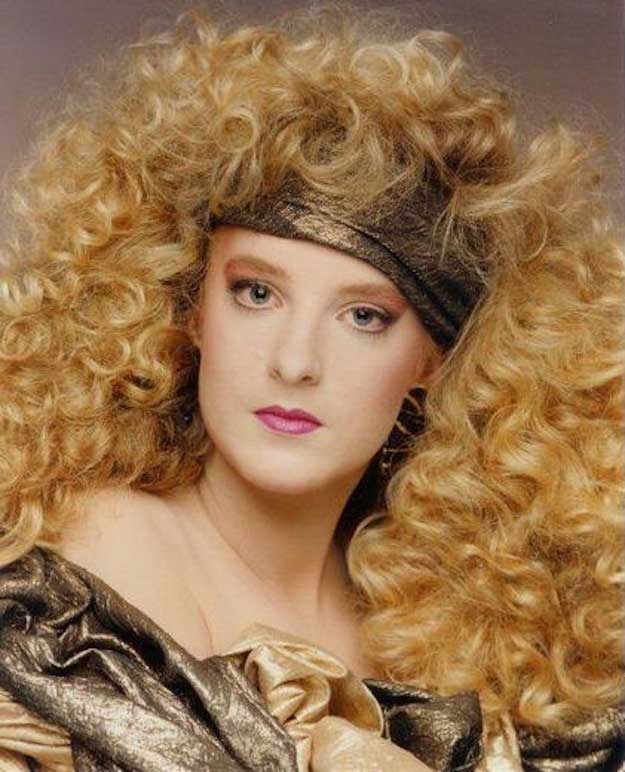 Glamour Shots
Tease up that hair and pick out the classiest gold lamé outfit you can find, because it's time to look 1980s gorgeous at Glamour Shots. (image courtesy of Reddit)
Suncoast Motion Picture Co.
As more movie and TV viewers opt for the digital experience in relaxing with a good show or film, this retailer that sold physical media such as DVDs and vinyl records (and even printed reproductions of movie scripts) seems almost quaint by comparison. Owned by the same parent company that owned music retailer Sam Goody (remember putting on a set of bid headphones at Sam Goody to listen to cassettes and vinyls?), today only three Suncoast stores remain open – one of them in Omaha, NE.
Payphones
If you needed a quiet place to talk to your crush for a dime (or, later, a quarter), you likely just looked to the bank of payphones next to the restrooms, down a separate hallway and away from the hustle and bustle of shoppers. Payphones can still be found, of course, and, according to Slate.com, there are still more payphones in the U.S. than McDonald's locations or public libraries.
Arcades
Going to the mall with a pocket full of quarters could mean only one thing – a day of playing games like Pac-Man or Space Invaders with your friends at your mall's video game arcade. Throw in a cup of delicious Orange Julius and you've got the perfect Saturday afternoon as a kid in the 1970s.
Free samples from Hickory Farms
Did you spend all that money at the arcade and now have none for the food court? Not to worry; there was always a Hickory Farms store somewhere in the mall, where a teenager stood at the entrance armed with free samples of smoked sausages and cheeses. Bring a trenchcoat and fake mustache along in order to disguise yourself when going back for seconds!
Glamour Shots
The photography studio that transformed awkward teenage girls and housewives into awkward wanna-be models in sequins and jean jackets peaked in the late 1980s to mid-1990s, but fear not, lovers of teased hair; as of two years ago, five Glamour Shots studios were still open in the U.S. and offering the makeover of your dreams (or nightmares). You know what they say – the higher the hair, the closer to God.
Movie theaters
Movie theaters began popping up in malls in the 1970s and offered something different to do with your friends. Just be on the lookout for that pesky usher as you sneak into "Nightmare on Elm Street," you rebel, you.
Mallwalkers
Out of the way, young people! The teenagers might rule the mall during its operating hours, but before the stores open for the day, the halls belong to the older folks who get their exercise by joining a group of like-minded fitness enthusiasts and doing laps around all levels of the mall before things get busy for the day. You could usually find them clad in sneakers and track suits. Just don't get in their path, and be sure to wave if you happen to see them.
Do you still frequent the shopping mall where you live? What do you remember from its heyday? What are the sights, sounds and tastes that you miss? Write to us and let us know! You might be featured in a future column by the editor.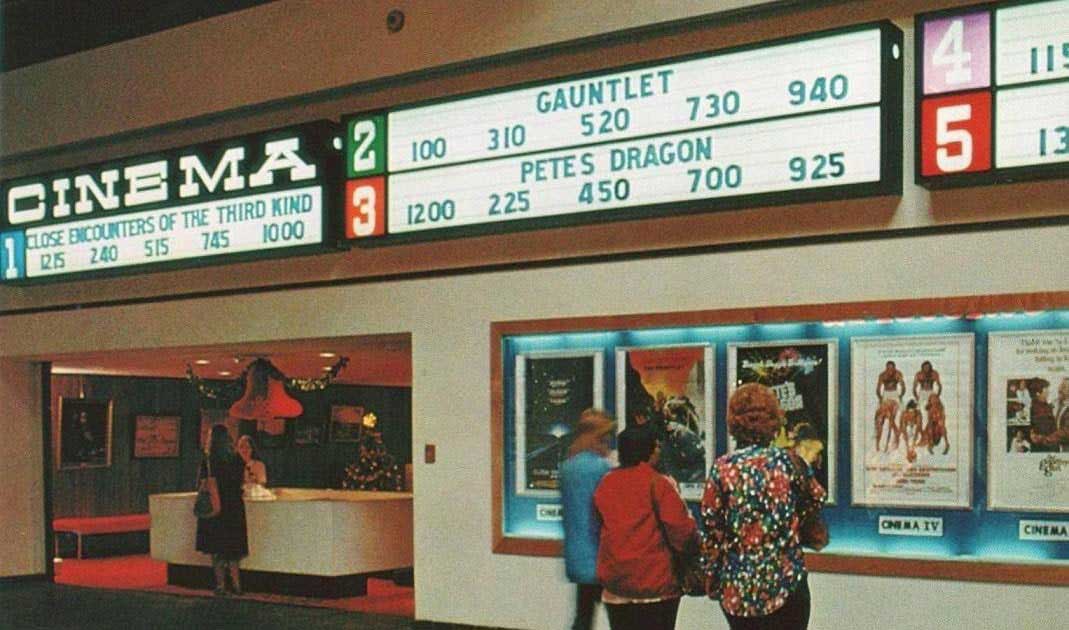 Movie Theater in Mall
Customers check out the offerings at a movie theater inside a Houston mall in the 1970s. (image courtesy of Facebook)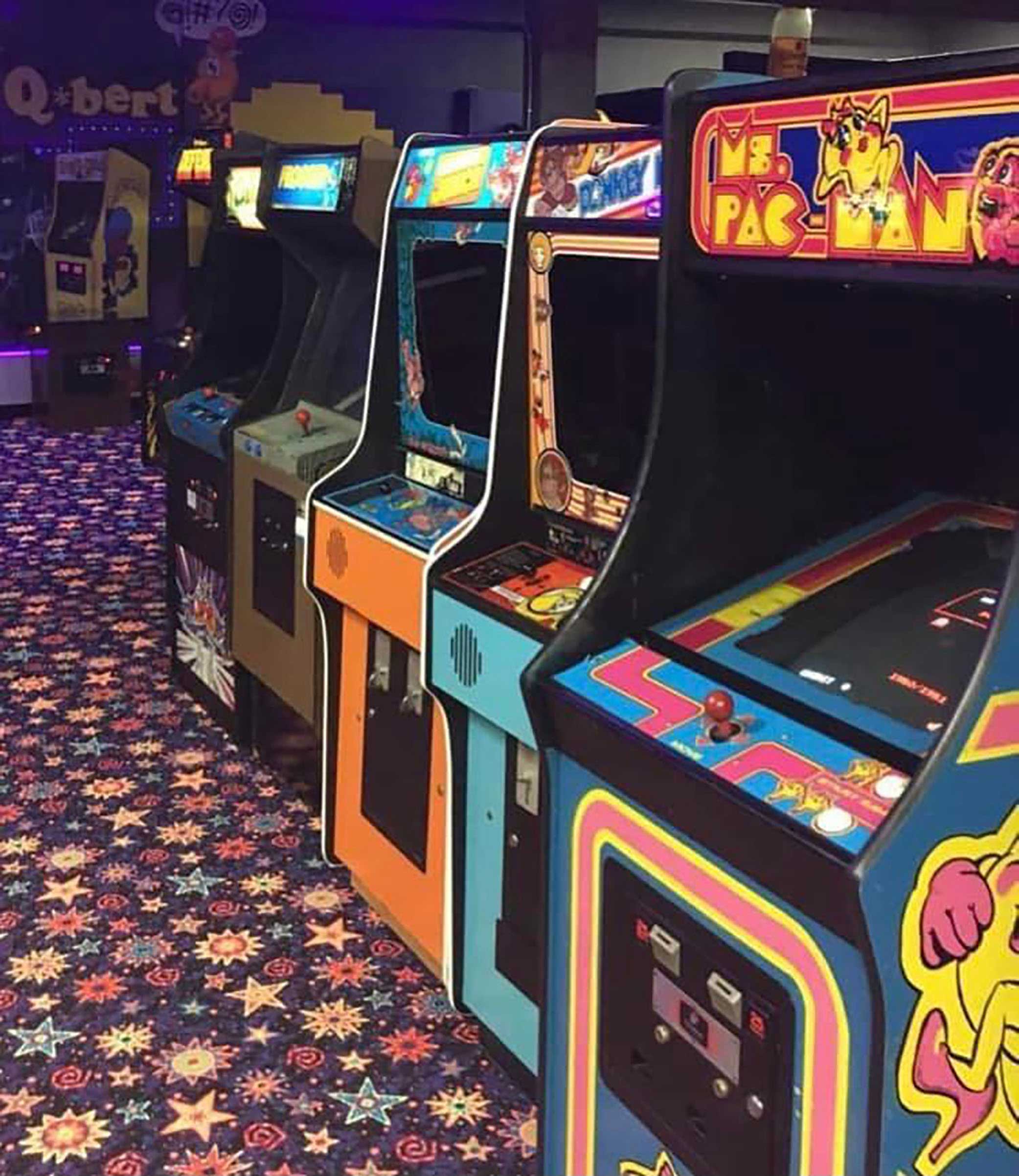 Mall Arcade
Leave the shopping to Mom and Dad – you had levels and villains to conquer at your local mall's arcade. (image courtesy of Totally Rad Times)