Get into the Groove
Vintage concert posters are collectible pieces of music history
Whether tacked onto the wall of a bar or plastered onto a streetlamp post, vintage concert posters announced small, intimate shows and big, earth-shaking cultural events alike – and years after the music has stopped, they remain fun collectibles, reminders of the soundtrack of one's youth.
Record stores, antique shops, bars and restaurants display them prominently – both as colorful conversation starters and as decorations designed to get you in the mood for good times.
In the Kansas City metro area, vintage concert posters feature heavily into the interior decoration of at least three merchants. At BB's Lawn Side BBQ, a perennial favorite for barbecue and blues, concert posters cover the interior walls of the restaurant known for a savory treat called the BBQ Sundae. Hastily affixed to the walls with large staples, the concert posters advertise blues and jazz musicians of bygone performances, giving the establishment a roadhouse feel.
"The décor is eclectic," one reviewer wrote on Trip Advisor. "So much cool blues history and artwork."
In the Kansas City suburb of Overland Park, Vinyl Renaissance has been keeping music lovers' turntables active for more than two decades. Their store features not just a listening studio and wine tasting room, but also walls decked out in album covers and some concert posters. And on the other side of the state line, in St. Joseph, MO, St. Joseph Auction and Antiques boasts another large space called The Kool Kat Music Exchange where you will find walls decked out in vintage rock 'n' roll posters – and crateful after crateful of vinyl records just waiting to be sold to music lovers.
Collectible memories
And not only are these con- cert posters harbingers of nostalgia, of fun times from the not-too-recent past, but they're increasing in value, too.
"Collectors are willing to pay a considerable premium for the prestige that comes with being able to display their rare acquisitions right on their walls," says Glen Trosch, founder of the the Baltimore-based Psychedelic Art Exchange in a 2019 blog post. Trosch says he considers any "vintage" concert poster to be at least 50 years old.
Although early collectors of concert posters and other related art might have been only die-hard fans of the band or artist displayed, Trosch says the posters' appeal has not only expanded to mainstream collectors, but art galleries and museums as well.
"Over the past several years, vintage rock concert posters have enjoyed major, highly successful exhibitions in many of our nation's most prestigious museums, including The New York Museum of Modern Art, The San Francisco Museum of Modern Art, The Whitney Museum of American Art, The Laguna Art Museum, The San Diego Museum of Art, and The Smithsonian Institution," he writes. "These exhibitions have been —and will continue to be—instrumental in broadening the awareness and appeal of vintage concert posters as millions of new people are exposed to their unique beauty, rarity, and historical importance."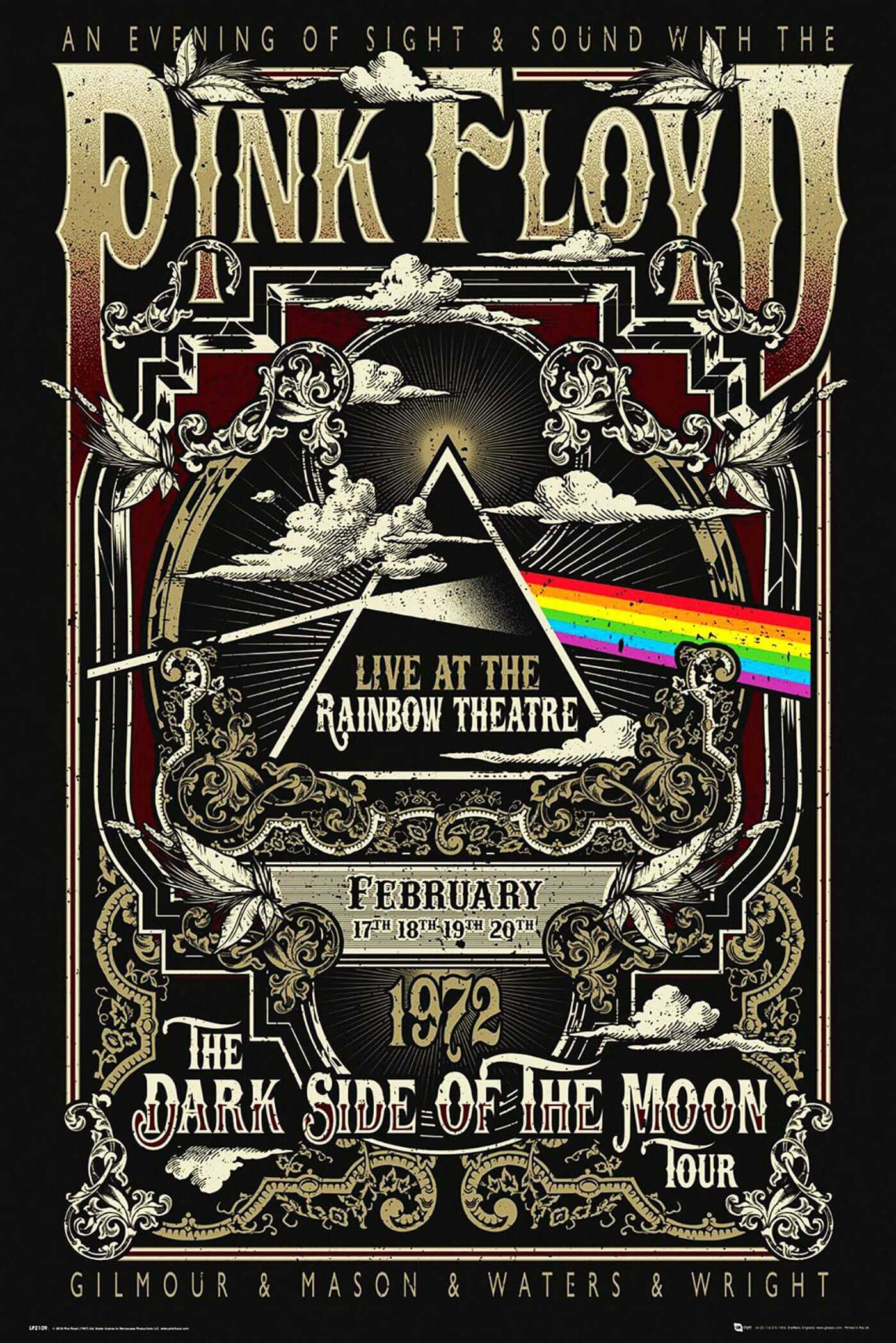 1972 Dark Side of the Moon Tour
A poster advertising Pink Floyd during the band's 1972 Dark Side of the Moon Tour.( Image courtesy of The Tallenge Store)
Art in the Age of Aquarius
Trosch says that currently, some of the most popular and sought-after vintage concert posters are those from the 1960s – after all, they're eye-catching, colorful, and, well, psychedelic. Be ready to shell out some dough for mint-condition posters from the decade, however, as posters in pristine condition can be fetch thousands of dollars, and even those in fair condition can command prices in the high hundreds.
The value of such posters is so high because they were produced in such small numbers and because mint copies are rare – after all, Trosch says, posters are examples of ephemera, or items that are designed to last only a short time.
These works of art were initially produced as advertisements for live events. They were posted on telephone poles, bus stops, bulletin boards, store windows and other places all over town.
"After the event, they served no purpose, so they were quickly torn down and replaced with a new poster advertising the next big concert," Trosch writes. "The only ones interested in this groundbreaking art were teenagers passionate about the bands and music, or hippies that were attracted to the poster's cosmic visual appeal."
Since these free spirits were the only ones collecting at the time, very little (if any) attention was paid to the state of preservation. Any knowledgeable collector will tell you that this is the primary factor in determining the value of any collectible. Very few of these works of art were carefully saved, and it is indeed a miracle that any have survived in mint condition today."
One of the most well-known posters produced in the 1967 Summer of Love was by artist Bonnie MacLean, advertising a joint concert from The Doors and The Yardbirds beginning on July 25 in San Francisco. Featuring striking, vibrant oranges and greens, the centerpiece image on the poster showed a peacock, with a woman's face on the right side of the poster.
"The Yardbirds performed three days, The Doors performed three days, and all six shows featured the James Cotton Blues Band and Richie Havens," Bill Graham, owner of Wolfgang's, writes of the piece. "The serene visage of this maiden was a clear reference to the detached spirituality of the era."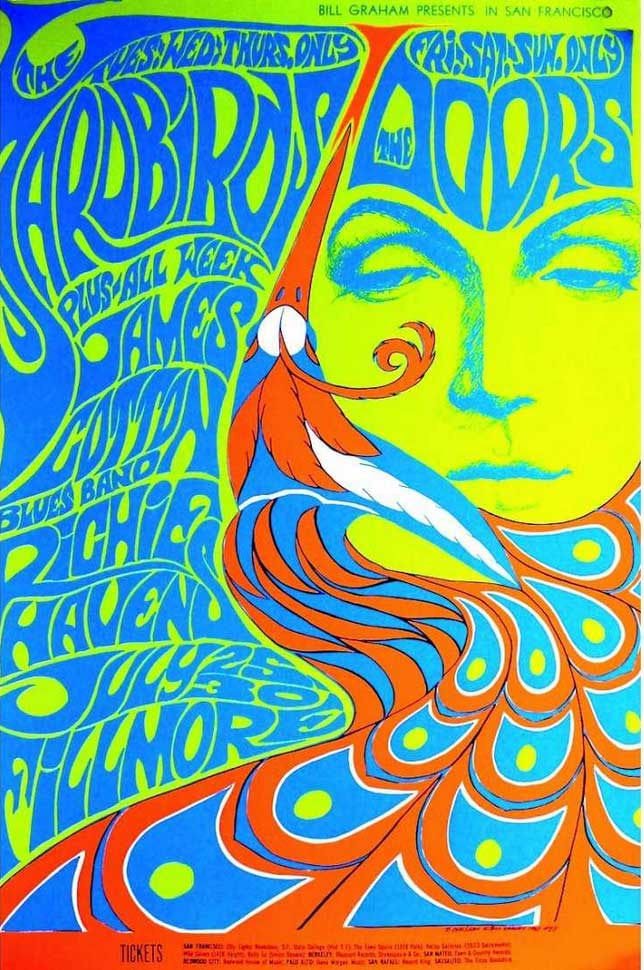 The Yardbirds and The Doors poster
A 1967 poster advertising a joint concert between The Yardbirds and The Doors. (Image courtesy of liveauctioneers.com)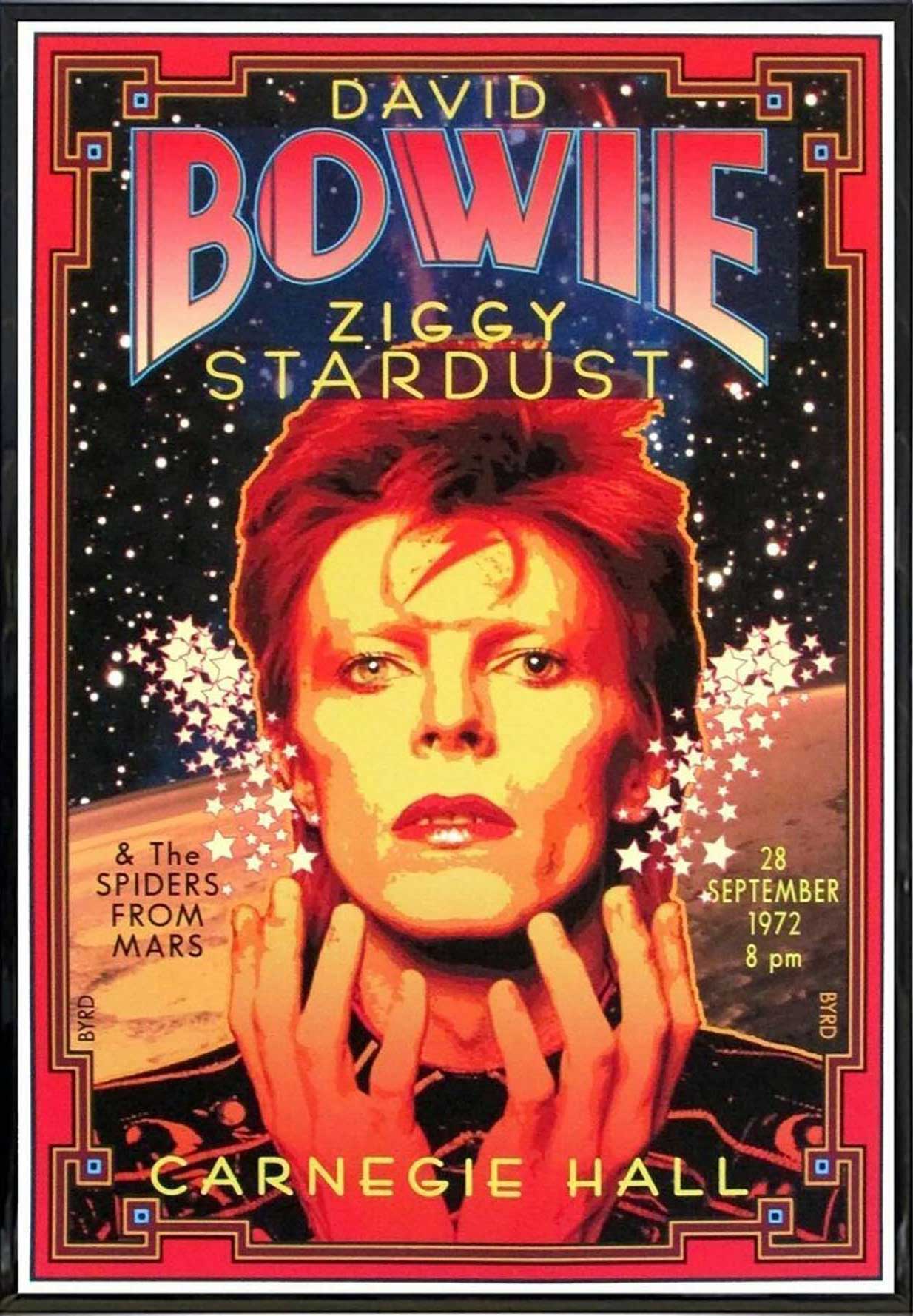 David Bowie concert posters
Many David Bowie concert posters of the 1970s displayed the musician portrayed as his alter ego, Ziggy Stardust. (Image courtesy of Notoriously Morbid)
Colorful lettering and images
Wolfgang's sells original poster artwork of famed musical artists; Graham himself worked as a concert promoter for many years. Other posters by MacLean, a self-taught artist, include Jefferson Airplane (May 12); Martha and the Vandellas (May 19-20); Pink Floyd (Oct. 26), all from 1967 performances at The Fillmore Auditorium in San Francisco, the epicenter of the counterculture movement. Artist David Byrd, as The Fillmore's exclusive concert poster artist, drew Jimi Hendrix at his peak in 1968 for The Jimi Hendrix Experience. On the other side of the country, color was splashed across the most popular concert posters of the 1960s and 1970s as they advertised artists playing New York City's Radio City Music Hall. A Feb. 15, 1973, poster shows David Bowie as his androgynous alter ego Ziggy Stardust, while that same year, Pink Floyd was advertised as the headliner in concert there on March 17, during the band's Dark Side of the Moon Tour (an original copy of that poster, listed in 'poor' condition, was recently sold at auction for $375).
Concert poster artists of the 1960s made liberal use of the Art Nouveau style, popular during the turn of the century. Their psychedelic posters, then, featured large, bulbous letters and sensuously drawn women, inspired using a little LSD, of course. According to Rachael Myrow of KQED Interactive Media, the Art Nouveau style "celebrated organic life: curling tendrils of vegetation, vivid colors, and lots and lots of curvaceous women."
Individual artists and bands aside, concert posters also announced the arrivals of the 20th century's biggest and best music festivals, chief among them the Monterey Pop Festival and Woodstock, arguably one of the most widely recognized concert posters ever created.
The three-day Monterey Pop Festival, from June 16-18, 1967, is considered to be one of the beginnings of the hippie/flower child movement; the festival boasted a lineup of musical giants, including Jimi Hendrix, Ravi Shankar, Janis Joplin with Big Brother and the Holding Company (still an up-and-coming talent), Otis Redding, and the Who. The poster itself features stage and silent film actress Maud Allen in costume as the biblical title character in the 1908 play "Vision of Salome."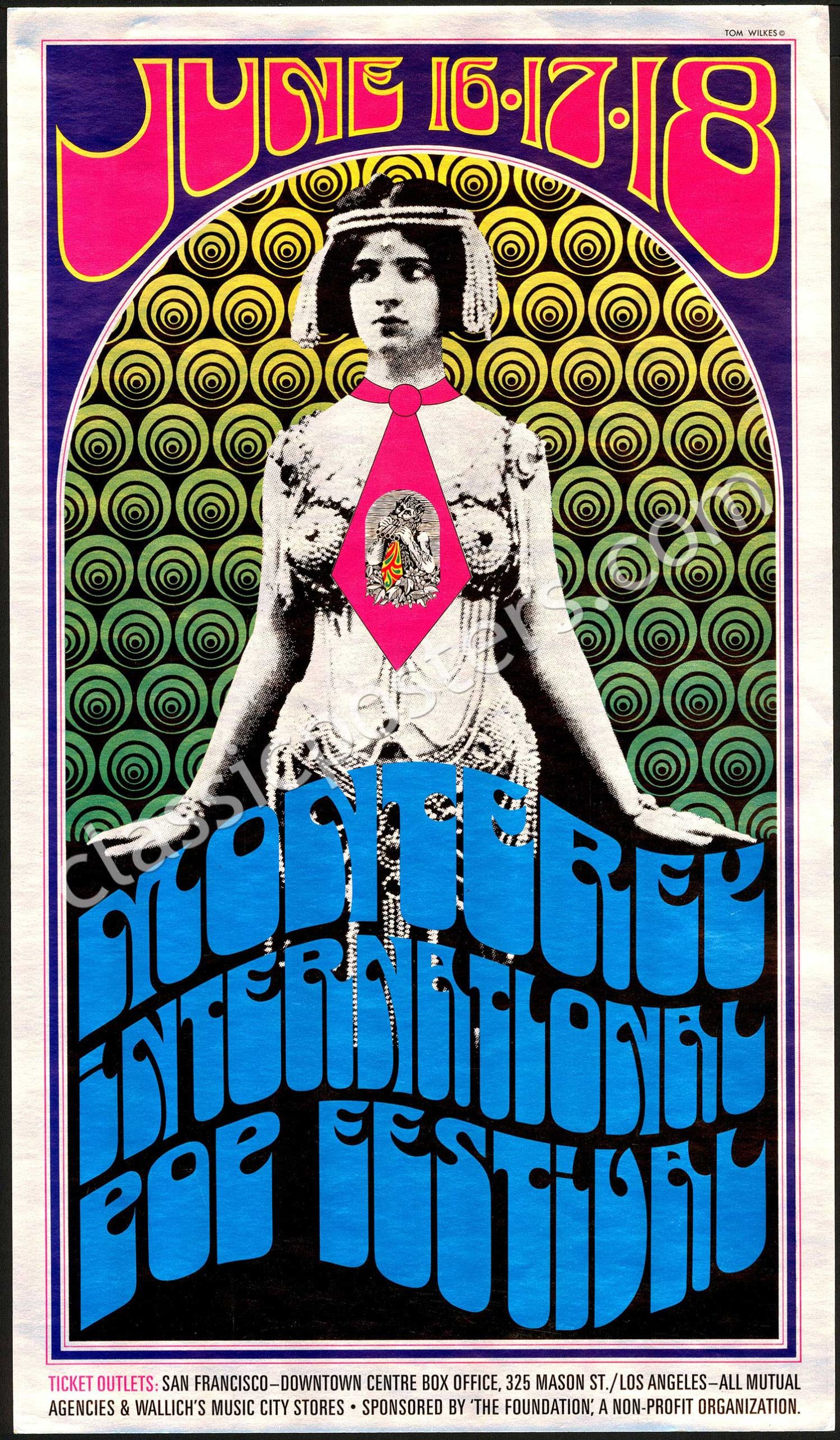 The Monterey Pop Festival poster
Art advertising The Monterey Pop Festival in the summer of 1967 mixed psychedelic lettering with a reference to silent film star Maud Allen. (Image courtesy of Lofty)
An iconic image
The poster advertising the August 1969 Woodstock Festival in Bethel, NY, now fetches nearly $7,000 for those original posters in mint condition, according to a 2019 podcast from New England Public Media, celebrating the 50th anniversary of the event.
Massachusetts artist Arnold Skolnick, the graphic designer who created the original poster while living in New York in 1969.
"(They) said, 'We're going to have a festival with arts and crafts and music,'" Skolnick recalled in his initial conversation with festival organizers. "And I turned it around to say, 'three days of peace and music.' So, it started with the words.'"
Unlike the elaborately designed psychedelic concert posters of the latter part of the decade, Skolnick decided that a simple design was better.
"Everybody was doing psychedelic posters, which I think are awful," he said. "A poster is supposed to be so simple that if you're driving by slowly in a car, you can see it."
Skolnick's finished product featured simple images – a guitar and a bird.
"I used a catbird instead of a dove, because a catbird is fat, and a dove is like a pigeon. It has no shape whatsoever," Skolnick said. "When you say the word 'peace,' you think of a dove. It's just a symbol."
Skolnick's iconic design was later incorporated into a monument at the site of the festival.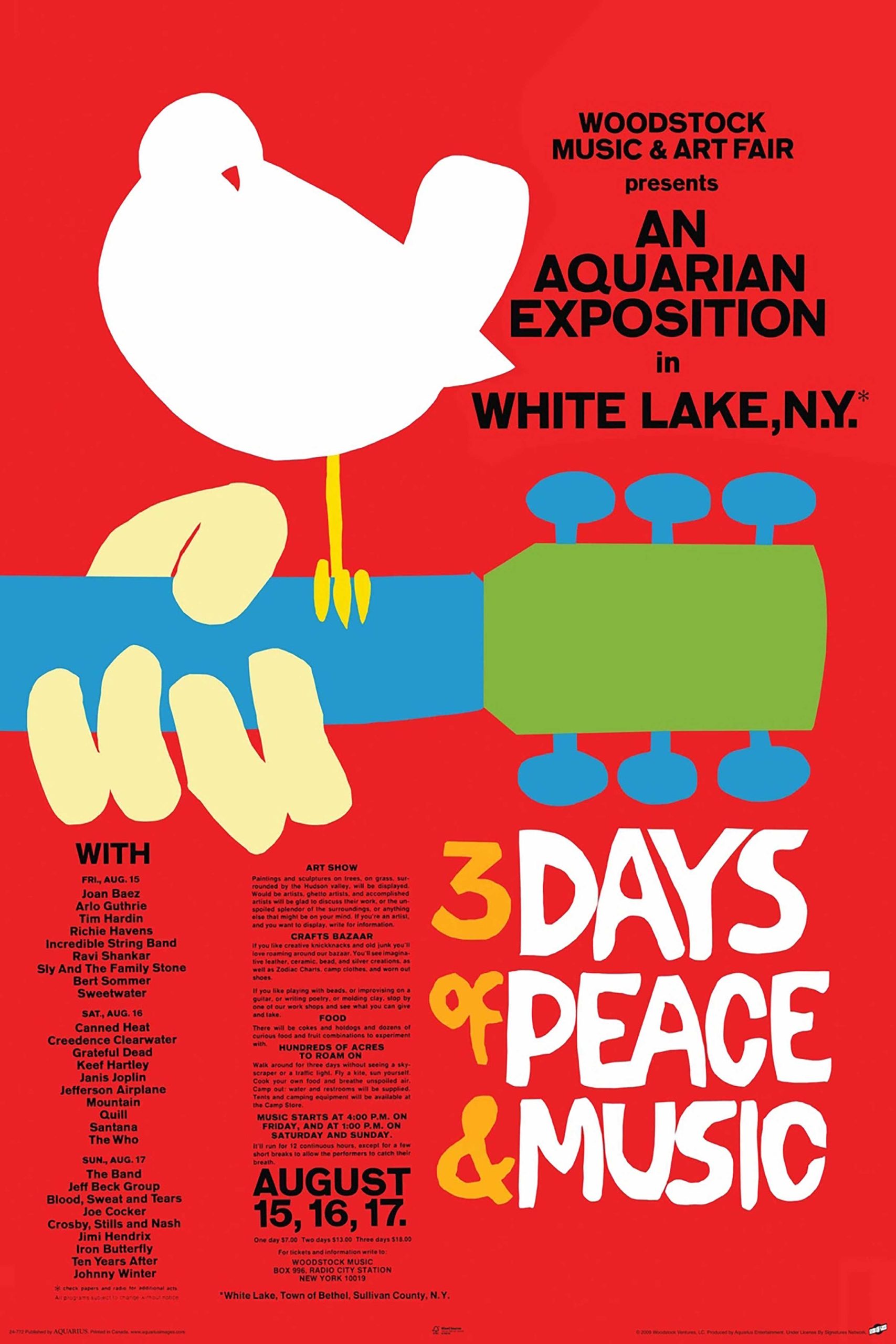 Woodstock concert poster
The design and the message of the iconic Woodstock concert poster are both simple and striking. (Image courtesy of Fine Art America)
Led Zeppelin
Rock legends Led Zeppelin traversed North America while on tour in 1973. (Image courtesy of Pinterest)
Collectibles you can afford
Trosch of the Psychedelic Art Exchange says that quite often, collectors just starting their collection don't realize how affordable some vintage concert posters can be, making it easy to jump into collecting. And even better – these pieces document major gatherings in the history of music.
"These fantastic works of art are, without a doubt, the most authentic historical artifacts of this historical era. Unlike any other collectible or art in the world, they most closely represent and embody the ideals and values that helped shape our nation — then and now," he writes. "For this reason alone, the appreciation and importance of these unique works of art are guaranteed to grow with each passing year."