"Valentine Treasury: A Century of Valentine's Day Cards"
What would the month of February be without the traditional exchanging of Valentine's Day cards with your sweetheart or best friend? It's a ritual we all remember from elementary school – decorating a shoebox with hearts, then placing it on the edge of our desk at school, just waiting for our crush to walk by and slip an envelope into the slot cut at the top of the box.
Author Robert Brenner explores the history of Valentine's Day cards and their place in our society with his book, "Valentine Treasury: A Century of Valentine's Day Cards." The book traces the long history of the cards, from its earliest reference in the 17th century to the present day. The book features pages of colorful, eye-catching designs that range from more detailed, pull-down varieties such as those from the Victorian era, to the simpler ones we all remember from childhood. In addition to learning about the cards themselves, you'll learn all about the customs surrounding Valentine's Day celebrations in both America and Europe; card designs; and manufacturers, from the corporations such as Hallmark and American Greetings to the smaller, lesser-known manufacturers from decades past.
"Valentine Treasury: A Century of Valentine's Day Cards" will surely find a special place in your heart – and on your shelf – for the wealth of knowledge and visuals it provides on such a beloved holiday.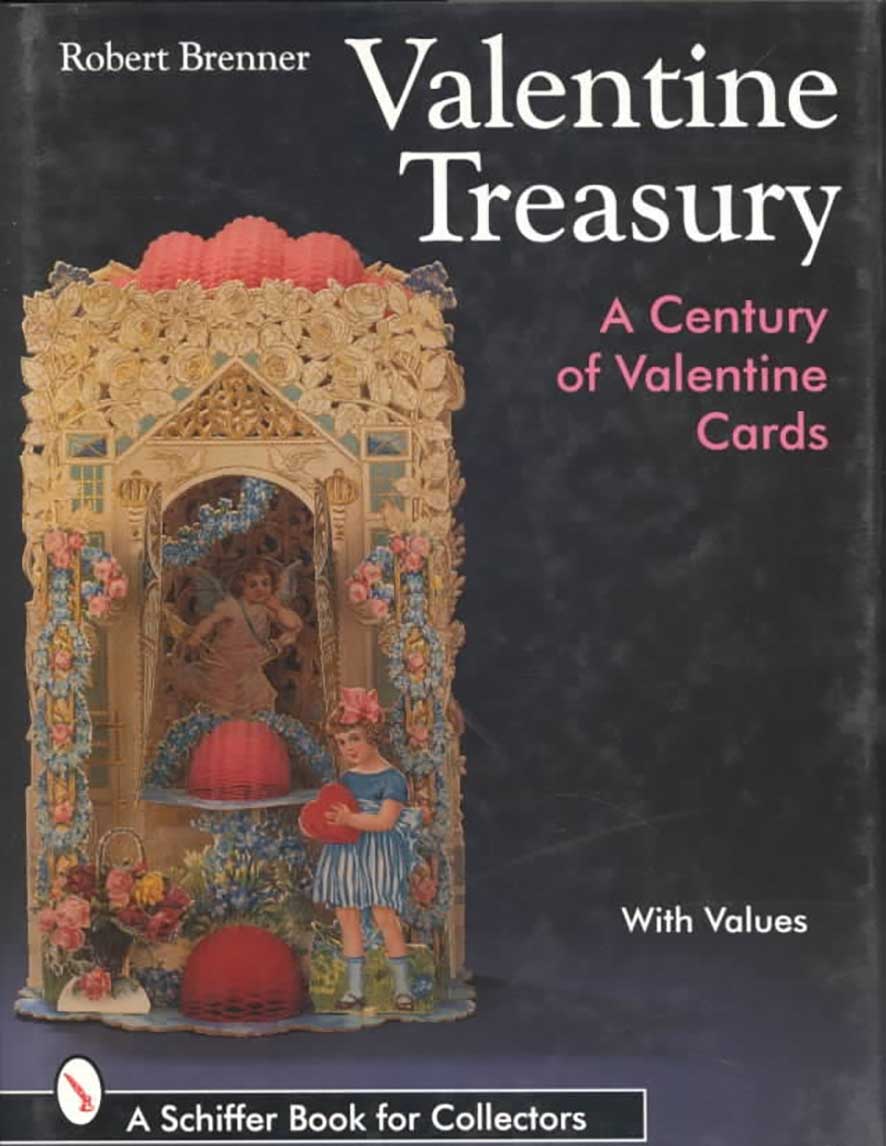 "Valentine Treasury: A Century of Valentine's Day Cards"
About the author
Bob Brenner, of Princeton, WI, is a leading authority on the traditions of Christmas and other holidays. He lectures and curates major holiday exhibits for the Smithsonian and other museums.
About the publisher
A family-owned, independent publisher of high-quality nonfiction books since 1974, Schiffer has published thousands of titles on the diverse subjects that fuel our readers' passion. From our traditional subjects of antiques and collectibles, arts and crafts, and military history, Schiffer has expanded its catalog to publish books on contemporary art and artists; architecture and design; food and entertaining; the metaphysical, paranormal, and folklore; and pop and fringe culture, as well as books for children.
Schiffer Publishing is located in Atglen, PA. Website: www.schifferbooks.com.
Size: 8 ½" x 11", 565 color photographs, price guide, 262 pages, ISBN13: 9780764301957
binding: soft cover, price: $49.95