"Christmas Through the Decades"
Christmas history
Those interested in Christmas history will find Robert Brenner's "Christmas Through the Decades" a colorful, informative and easily accessible guide to Christmas traditions from long ago to the late 20th century.
Brenner takes the reader back hundreds of years, to the first Christmases celebrated in Colonial America (the first Christmas was celebrated in the original 13 Colonies in the early 17th century and, of course, included many traditions brought over from England), and explores in detail the Victorian era and midcentury periods as well. The author explains preparations and celebrations as part and parcel to Christmas observances in the U.S., but also does a deep dive into the items that really complete Christmas and play a sizable role in its evolution – the ornaments, the shimmering lights, the decorations. In all, the book features a whopping 500 color photographs and more than 3,000 images documenting the highlights and the history of Christmas in America. The observance to detail and sound research makes "Christmas Through the Decades" an invaluable resource to those casual readers who truly love Christmas, as well as scholars and researchers.
A note to collectors specifically: The book includes a price index alongside the photographs included, for ease of reference.
Readers should take note that the book covers decades throughout the 1990s but no later.
About the Author
Christmas that Robert Brenner has published. The previous two volumes, "Christmas Past" and "Christmas Revisited,' have attained the status of classics and are widely respected in the field. Brenner teaches school in Princeton, WI. He has lectured widely on the history of Christmas and has developed a vast international network of fellow collectors, manufacturers, and historians of Christmas items.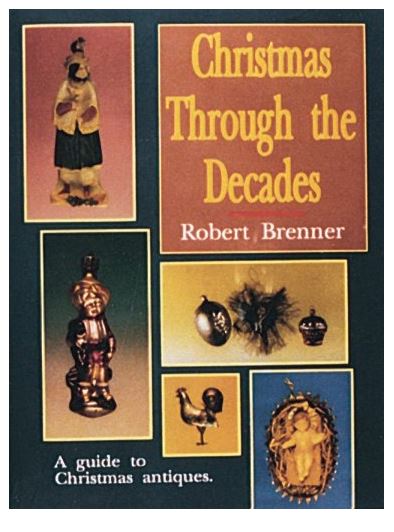 About the publisher
A family-owned, independent publisher of high-quality nonfiction books since 1974, Schiffer has published thousands of titles on the diverse subjects that fuel our readers' passion. From our traditional subjects of antiques and collectibles, arts and crafts and military history, Schiffer has expanded its catalog to publish books on contemporary art and artists; architecture and design; food and entertaining; the metaphysical, paranormal and folklore; and pop and fringe culture, as well as books for children.
Schiffer Publishing is located in Atglen, PA. Website: www.schifferbooks.com.
Size: 9" x 12", 500 color photographs, price guide and index, 256 pages, ISBN13: 9780887405457, binding: hard cover, price: $69.65