Kansas woman makes vintage camper all her own
Everywhere Cyndi Swall goes in her vintage camper, she attracts attention.
"It's impossible to drive down the street without everybody honking and waving," the Mission, KS, resident says. "Anything that small and old gets attention."
Swall's small wonder is her 1967 Oberlin Spot, a mobile treasure she bought four years ago from a former neighbor in the hip, bustling Kansas City suburb of Brookside. The man, who was considering turning it into a wine store on wheels, was more than happy to sell it to a friendly face.
Saw Potential
Where others saw lots of work to be done, Swall saw nothing but potential.
"The first time I saw her, it was the cutest thing I'd ever seen," Swall recalls. "I knew I wanted to see this through. I wanted it to be something I could live in."
To Swall's delight, most of the camper's original features were intact, but there was plenty to do in order to get it road-ready.
"It was fairly original, which I know a lot of people prefer, but nothing functioned," Swall explains. "It still had the brown cabinetry, which I kept, but I painted it. The basic structure was there; it was mostly cosmetic. You could've camped in it, but it wouldn't be very comfortable."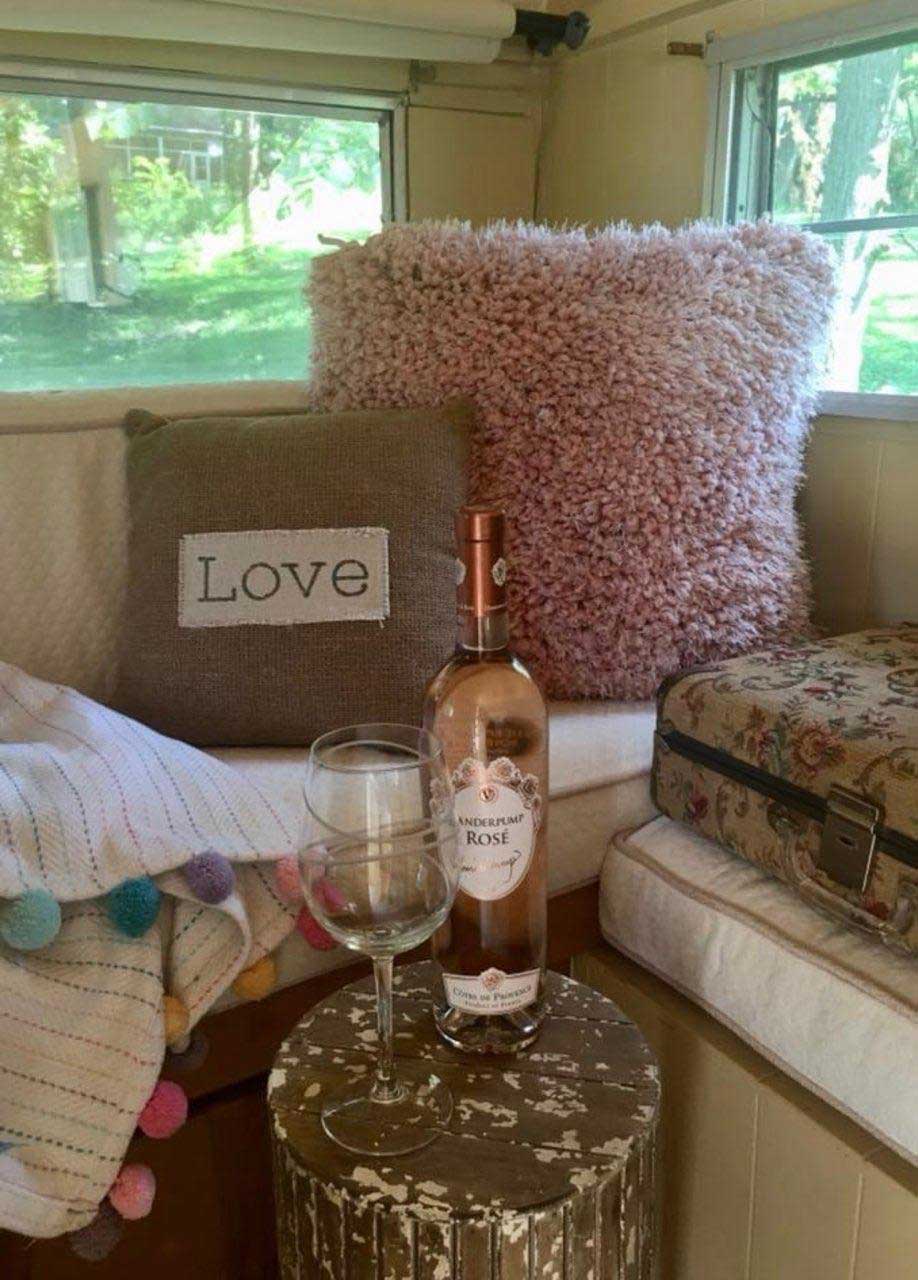 Cozy Nook
A cozy nook to relax and enjoy a glass of wine.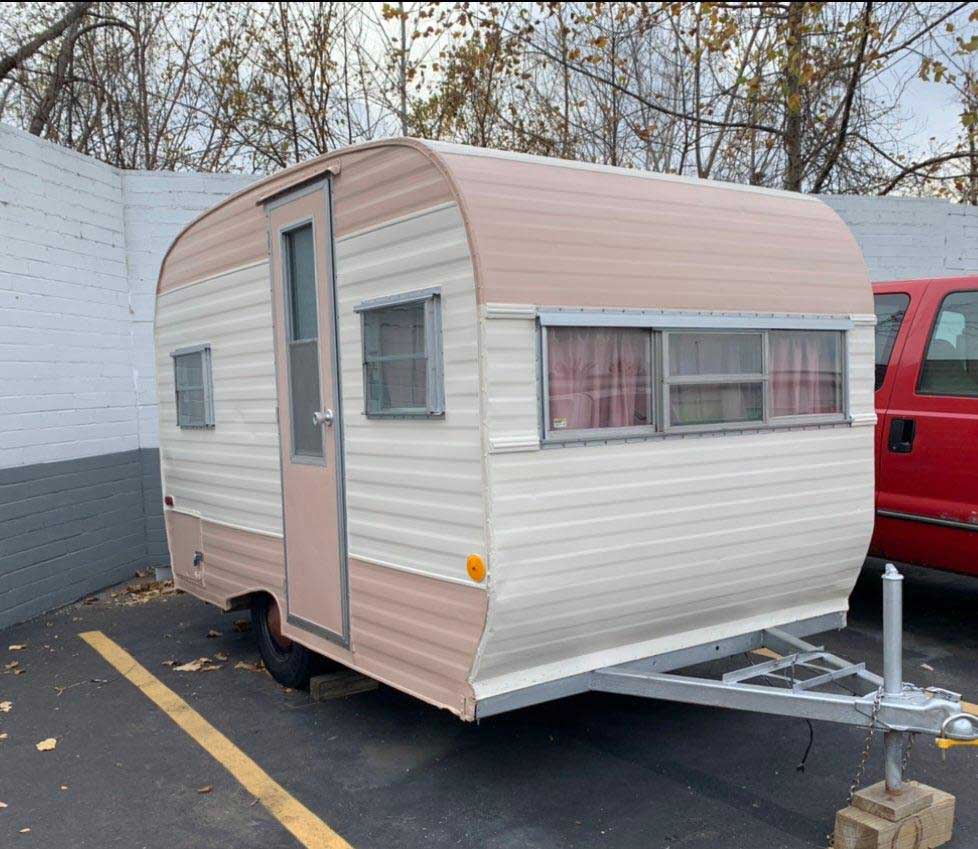 Vintage Look
Pretty in pink… Cyndi used touches of a pale pink (inside and out) for a soft, vintage look. (photos by Cyndi Swall)
Swall rolled up her sleeves and got to work – no easy task because, in addition to the care the camper required, she also was taking care of her daughter.
"I knew I needed to take out anything that needed to be taken out, so I took the stove, refrigerator and the sink out. I took out everything that didn't work and I put in (electrical). I had a friend come over and they wired the whole thing backwards. It was only working intermittently, so I called in an electrician."
As Swall continued her renovation work, the re-quests for updates came from friends and family: How's it going? How much more needs to be done? When can we see it?
Facebook page about Renovation
Eventually, Swall created a Facebook page in which she traced her path of camper renovation.
"I never tried to market it; I just started doing it because so many people asked (about the project)," she says. "It's easier to say, 'Just go here and watch me.' I was tired of sending people pictures. They got excited about it with me."
After two years of hard work, Swall wrapped up the camper's renovations just a couple of months ago, and it has been a refuge for her, a place where she can go not just to relax but also to create (Swall has written a book in the camper, in fact).
"When I'd get writers block, I'd just go out there and write," she notes.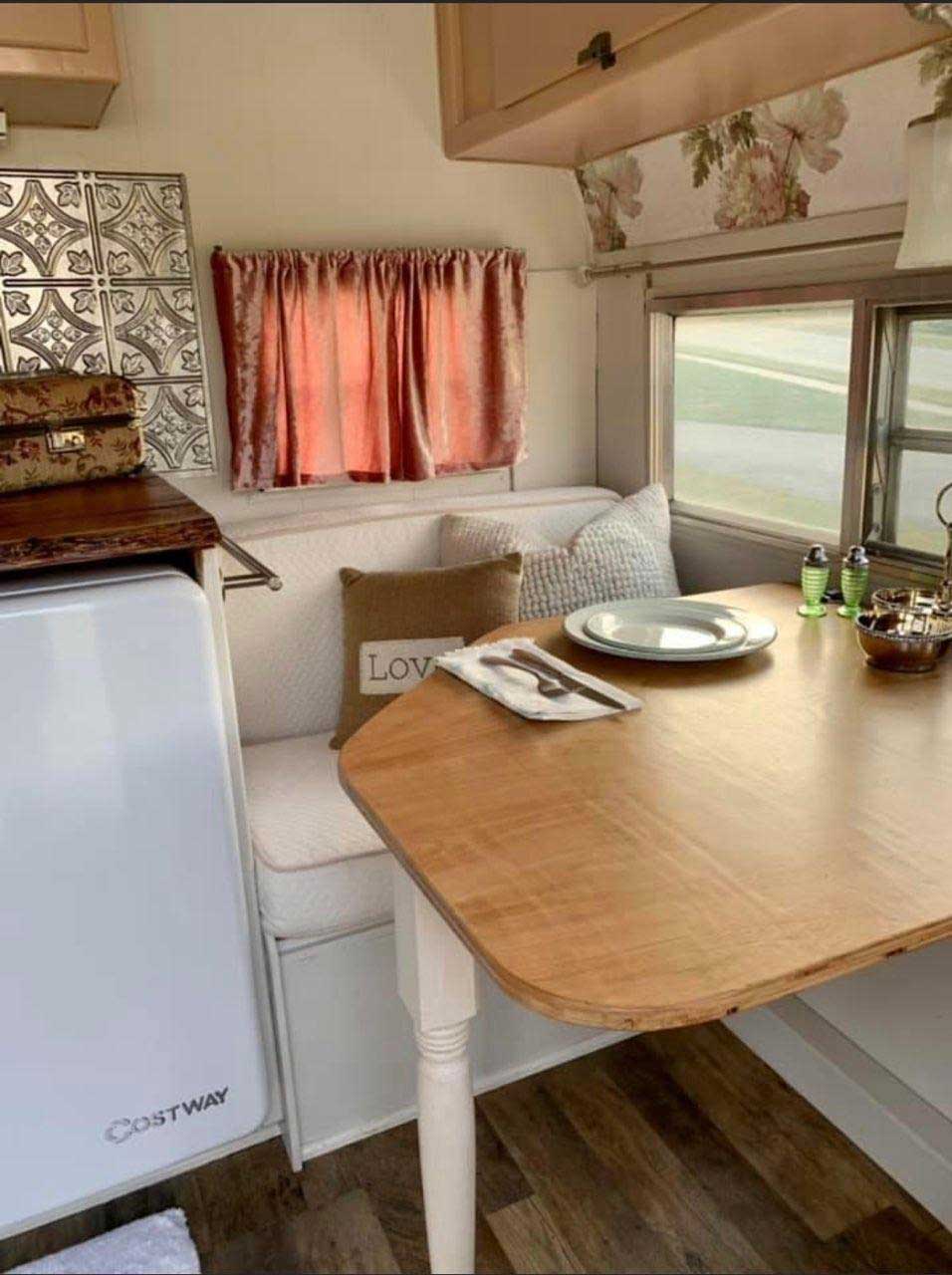 Writing Desk or Table
A table that can be used for meals or as a writing desk.
In addition to her writing, Swall also works as an executive coach, organizing and leading leadership retreats and women's retreats.
"When I bought it, my original thought was I would do it for my business," Swall says. "If I have WiFi, I can work in my camper. I think that's why people are ditching their houses and buying their RVs. It has changed the way people work."
The end product is a testament to Swall's creative mind, the exterior a vintage pink ("I feel it's simple and elegant"), and the interior warm and cozy, with a small electric fireplace and a wooden table in place of the original linoleum.
Like-minded Hobbyist
Swall also has found a community of like-minded hobbyists in a group called Sisters on the Fly, a group for women who are outdoor enthusiasts, many of whom own vintage campers themselves.
"People with these old campers make it an extension of their family," she observes.
If others have read Swall's tale and feel similarly in-spired to get into vintage camper renovation, she says she has some advice for them.
"Know what you can do yourself and what you should hire for," Swall advises. "There might be things you think you can do. But there is so much to learn. "
See the evolution of Swalls' camper renovation by searching for the page "Cyndi's Vintage Camper Renovation 2019" on Facebook.