Brothers open vintage clothing store in Kansas City
"They've taken a dream… and watched it become a reality"
If local youths Reade and Thomas Rex are any indication of where the vintage collectibles industry is headed, the future is indeed looking bright.
Reade, 17, and Thomas, 21, recently teamed up to open a new vintage clothing store near Kansas City's Crossroads Arts District.
The younger of the two brothers, who has been selling vintage clothing online for two years, says he's always been interested in vintage clothing, and this year, he decided to parlay that interest into a brick-and-mortar storefront.
"There are a few vintage clothing stores in Kansas City, but I noticed they lacked diversity in their clothing," Reade says. "My brother was very supportive. I didn't know if my mom thought I was going to do it first, but once she realized I was turning my thoughts into actions, she was very supportive."
Reade, who does the purchasing and marketing for the store, says he and Thomas work well together.
"I know my way around the clothing," Reade says, with Thomas adding, "I'm the operations and Reade is the creative lead. He knows the ins and outs of the vintage community. Making everything work logistically is my game."
Thomas and Reade likely inherited their interest in vintage clothing from their mother Nancy, who has had her own booth at pop-up events.
It's always been near and dear to my heart," Nancy says. "Watching Reade teach himself is fascinating. They'll run new ideas by myself and their dad and stepdad. The two of them have done 98 percent of it, I'd say."
Reade says he recalls going thrifting with his mother over the course of the past five years, and that's when his interest grew. He says he's learned a lot, too, about what buyers are after nowadays.
"Definitely any kind of clothing related to old music, I get a lot of requests for," he says. "That is very popular, and also old denim pre-1960s is very sought after."
He adds that he's excited to expand his business from cyberspace onto Kansas City's streets.
"The retail storefront ex-perience will help me understand the fundamentals of what it takes to make a small business happen," he says, "as well with customer interaction, building a following, a community."
Nancy says that Thomas, a University of Kansas alumnus, has his own media production company as well, and that the two brothers continue to learn much from each other.
"They are very close," she says. "Reade also has had the opportunity to watch Thomas — they started a small production company — so Thomas is running a small company on his own. Reade watched him do that, so the two of them can lean on each other."
Nancy adds that she's proud of the path her sons have chosen, and that their skill and knowledge will take them far.
"They've taken a dream in less than six months and watched it become a reality. It makes a mom's heart proud. The most exciting thing is, it doesn't seem like work to either one of them," Nancy says. "They have different personalities. Reade is the creative one and Tom is the logistics/operations one, but it's been a journey that's been fun. When I tell a friend of mine and they see the unconventional journey these two are on that isn't just straight through high school and college, it's fun to have a friend say, 'Wow, I'm so impressed with what they're doing.' We're not making the success, they are on their own."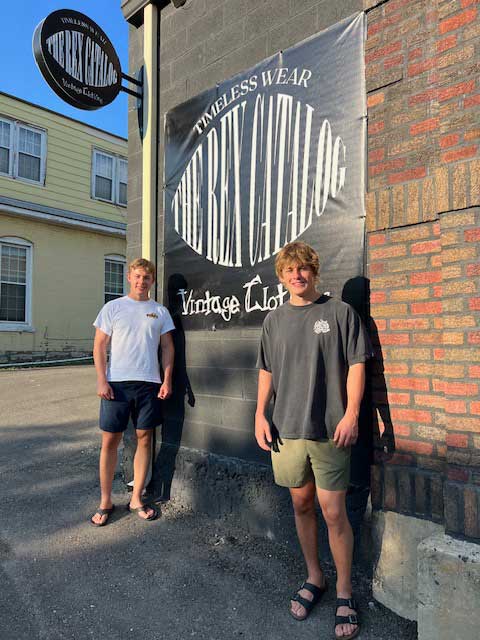 Thomas Rex (left) and his brother Reade stand in front of their new vintage clothing store, The Rex Catalog. The store opened in July near Kansas City's Crossroads Arts District. (Image courtesy of Nancy Rink)
As for advice they might offer other young people who want to follow a similar trajectory, the brothers have advice gained from their own experiences.
"Try to present yourself in a distinct way to your target audience," Thomas says. "Make yourself unique."
Adds Reade: "Don't wait on yourself to do something great. Start today and make a plan and how you're going to get there."
The Rex Catalog is located at 2645 Madison Ave. in Kansas City, MO. For more information, visit www.facebook.com/therexcatalog or call 918-499-0073.
**Note** – The guys held a pop-up on July 7th at the venue, but the shop doesn't open until late August. Follow them on Facebook to watch for updates.