A tisket, a tasket – the story of Easter baskets
Easter baskets
Easter baskets are synonymous with the annual holiday, but they're much more than just chocolate, colorful eggs, and plastic blades of grass.
According to Southern Living, the origins of these displays can be traced back to the 17th century, when the Germans began to tell stories to their children about a hare who would lay eggs only for well-behaved children in a nest, made up in a basket or hat. In Easter lore, German Protestant parents referred to the magical egg-layer as the "Osterhase," or "Easter Hare." It was only appropriate that a hare was used in these tales since the animal is a symbol of the spring season.
Dutch immigrants brought the Osterhase tale with them to America, where the hare became more commonly known as the "Easter Bunny." The Easter Bunny exploded in popularity during the Victorian Era, when its fluffy visage appeared on greeting cards, papier-mache eggs, and candy wrappers, among other items. The night before Easter, children were to set their Easter baskets out for the Easter Bunny to fill with goodies – much like the idea behind hanging a Christmas stocking out for Santa Claus to fill.
"They're symbolic nests and are specifically used by children in modern Easter egg hunts to carry their prizes," explains Krystal D'Costa in a 2017 article published in Scientific American. "Filled to the brim with eggs and other treasures, they are the epitome of birth and potential. The idea of the basket itself is also very old, so as a vehicle of transmission, it's not hard to imagine that they were featured in Spring visitations throughout history; perhaps they were used to bear gifts or transport seedlings or simply to bring food to communal meals."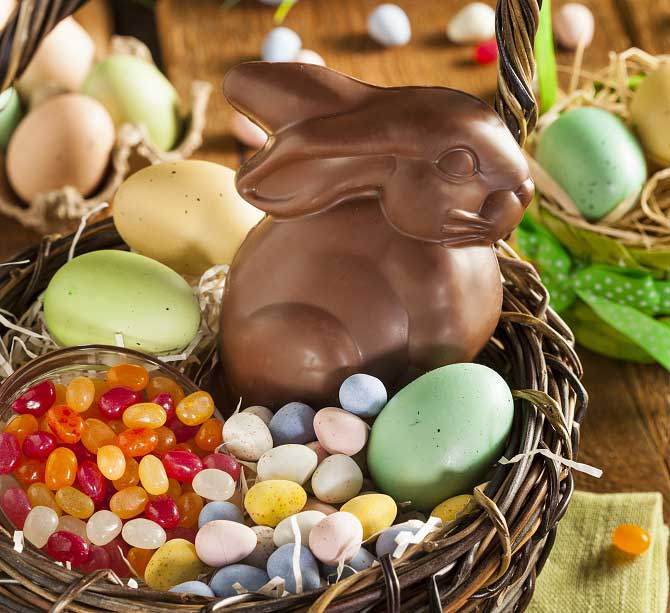 Colorful Sweets
Easter baskets filled with colorful sweets have been a standard during the holiday for hundreds of years. (Image courtesy of Chowhound)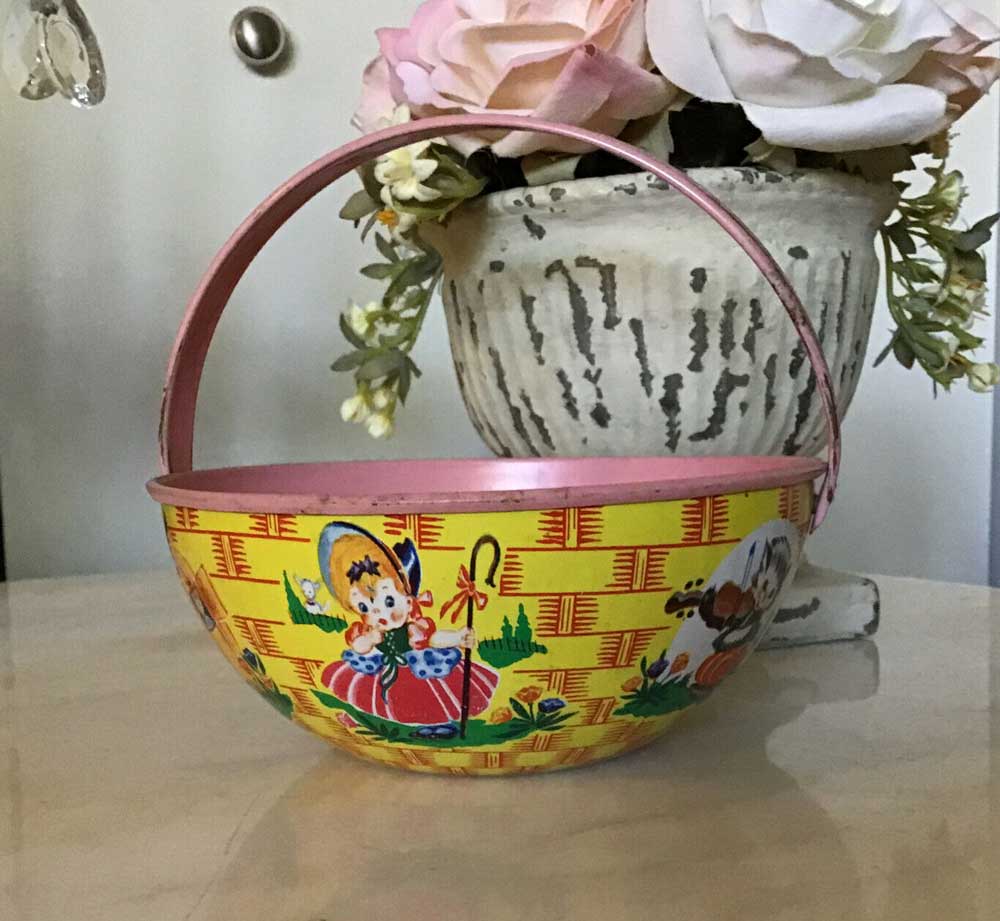 Tin Easter basket
Not all Easter baskets are made of wicker, straw or wood. Tin Easter baskets like this one, made by Chein & Co. and estimated to be worth $75-$100, were commonly sold in midcentury America.
(Image courtesy of Etsy)
 If you grew up in the mid-20th century onward, you're likely familiar with all of the beloved staples you'd find in your Easter basket – Cadbury Crème Eggs (have they gotten smaller?), chocolate bunnies, malted milk balls, jelly beans, Jordan Almonds, candy buttons, and neon-colored, marshmallow Peeps. The favorite Easter candy of most Americans this year, according to a survey disbursed by RetailMeNot, is Reese's Mini Peanut Butter Eggs.
Meant to only hold eggs and candy for the past few hundred years, in recent decades the Easter basket it has become customary to add any variety of toys and small gifts to baskets given to children on Easter Sunday.  
In recent years, the article notes, spending on Easter-related gifts has exceeded $680 million, and it only continues to become an industry whose growth continues – as do the cost of the items found in a basket.
In other words, Easter baskets aren't just for candy any longer.
More recently, parents are viewing these baskets as a way to gift items to children they can use – school supplies, books, gift cards, even articles of clothing.
"Easter baskets have become an indicator of status and means as much as they are a part of the Easter tradition," D'Costa writes.
And they're not just for kids, either. Adults in recent years have begun trading baskets as well.
"Like so many Easter traditions, the Easter basket has come a generic event that is tenuously tied to Easter and the religious tones of the holiday," according to D'Costa's article. "This broad appeal further drives its marketability and opens the door for greater displays of status."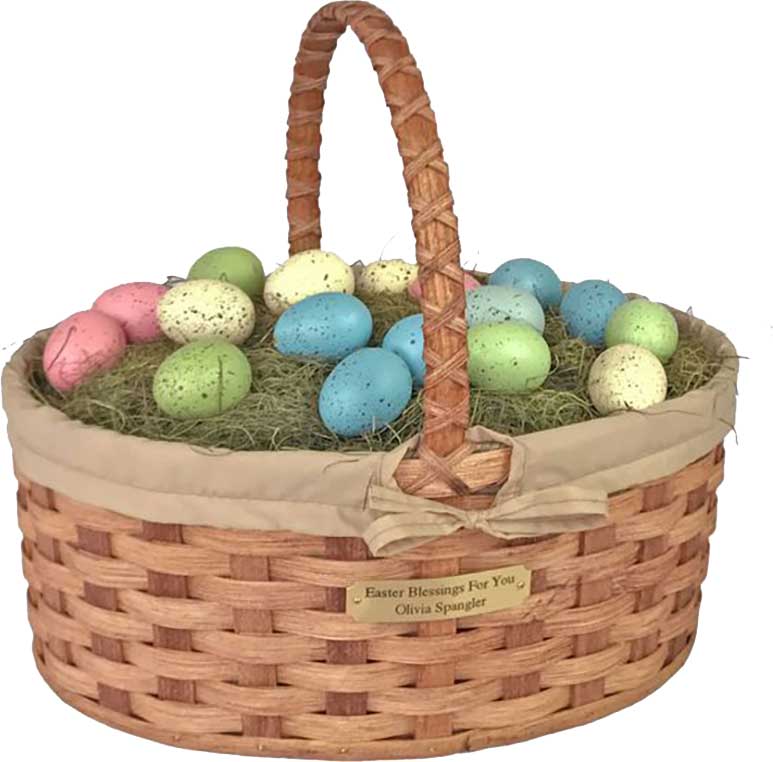 Woven wicker basket
This woven wicker basket and others like it are hand-made by an Amish family living in the Midwest. (Image courtesy of Amishbaskets.com)
Still, despite their growing appeal to adults, Easter baskets remain a special treat coveted by children the world over. At least one writer, Hope Yancey of Our State Magazine, says that she and her sister delighted in their quest to discover more treats hidden within the basket's plastic grass.
"(My sister's) best basket memory is the suspense of rifling through it and not knowing what would be in it. That, and the Cadbury Creme Eggs," Yancey wrote in a 2014 column. "Even now, she proclaims them her all-time favorite candy, with their filling the color of egg albumen and yolk, surrounded by a milk chocolate shell. On occasion, we might receive sugar egg dioramas with miniature scenes of rabbits or ducks displayed inside. (Those, we enjoyed more as keepsakes than for consumption, and they lasted practically forever). Like hungry rabbits in search of a tender patch of clover to nibble, we pawed through the Easter grass to find forgotten items hiding in the depths of the baskets."
Now, as an adult, Yancey wrote, she appreciates not just the basket's contents, but also the time and care her mother took in making them special – something parents had been doing on behalf of the Easter Bunny for years.
"Their presentation, and the fact that our mother took the time to pull it all together, made the difference," Yancey wrote. "Somehow, the end result was always something greater than the sum of its parts."